Kemp's walk-off single in 10th keeps LA rolling
Greinke strikes out 13 Braves as Dodgers win fifth straight game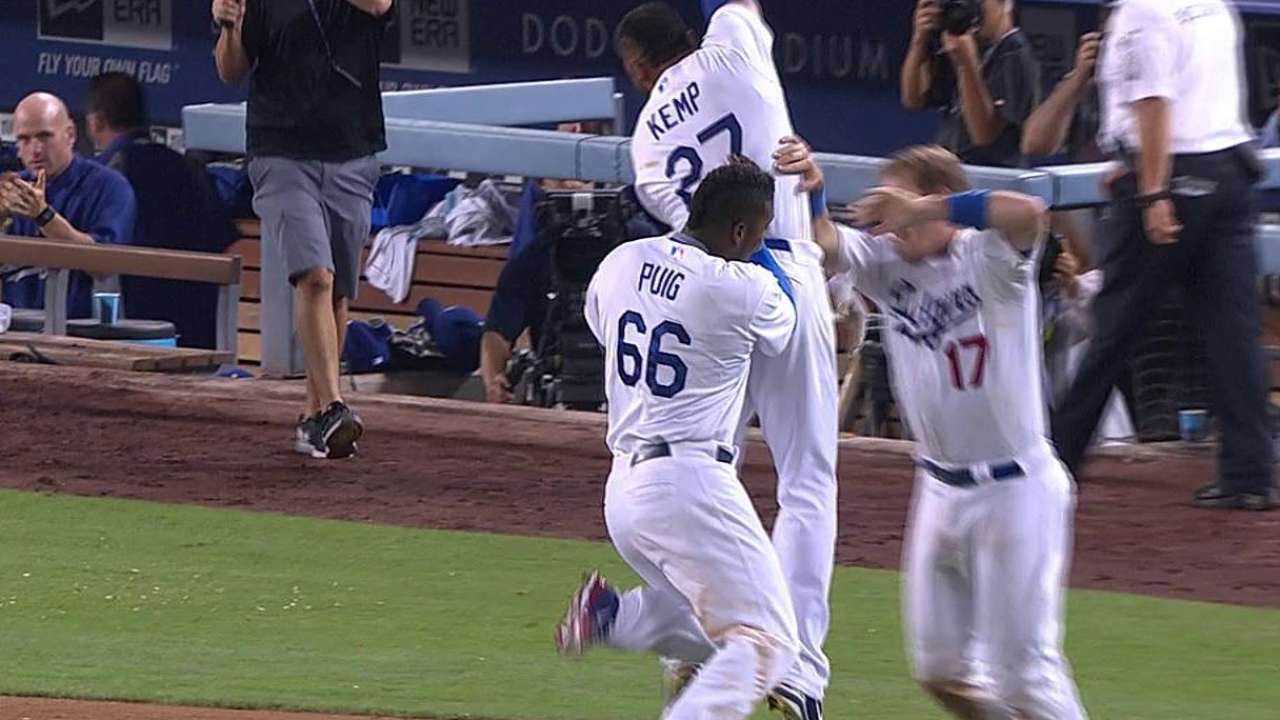 LOS ANGELES -- Matt Kemp hasn't been traded, which is why the Dodgers' win streak is a season-high five with Clayton Kershaw shooting for a series sweep against the Braves on Thursday night.
On Wednesday night, Kemp homered for the first Dodgers run, hustled home from second on an infield single for the second run and singled home the game-winner in the bottom of the 10th for a 3-2 walk-off win. The night before, Kemp led an 8-4 win with a pair of two-run homers.
"It's a great feeling to know that you helped your team to win a game, especially at the end," said Kemp.
During the game -- which included a 13-strikeout no-decision from Zack Greinke -- general manager Ned Colletti scoffed at rumors that he's been shopping Kemp, who has landed as the everyday right fielder after a first half in which he lost his starting job in center field and played uncomfortably in left field.
Pinch-hitting machine Justin Turner led off the 10th with a pinch-single off David Hale and was wild-pitched to second. Kemp, on a 3-2 pitch, singled into left field and Turner slid home while Kemp flung his helmet in celebration.
"When he's hot, it just makes this lineup even more potent," Turner said of Kemp. "We have the type of lineup that it could be a different guy every night contributing to a win. Right now, it's him. He's carrying us right now."
It was the team's third walk-off win of the year and the ninth walk-off at-bat of Kemp's career. Turner is 8-for-19 (.421) pinch-hitting.
Kemp's second-inning homer came off left-handed starter Alex Wood.
"I made that one mistake to Kemp, and boy is he locked in right now, not just on that home run, but yesterday and today," Wood said. "Any time you get a hitter who is capable of doing what he is doing, you've got to be careful. He made me pay early."
Manager Don Mattingly said Kemp has been working on hitting mechanics, but repeated his belief that Kemp has looked more comfortable all around since he was moved to right field last weekend in San Francisco.
Kemp finished the game 3-for-4 with a walk, two runs scored and two driven in. In five games since moving to right field, Kemp is 12-for-19 with three homers.
He's also showing glimpses of the baserunning speed that made him one of the game's most potent multiple threats, until last year's ankle stress fracture threatened his career and slowed him down.
"It's coming. It's coming. Keep grinding. It's coming," he said. "If I keep hitting home runs, I won't have to worry about it.
"It's always good to run. Right now, I'm not as fast as I want to be, but be aggressive, make some things happen, and it feels good to be in a position to score a run or take an extra base. That's important, especially with the guys that we've got in our lineup."
Kemp made a winner out of reliever J.P. Howell and took Kenley Jansen off the hook after he was saddled with his fourth blown save by allowing a 421-foot game-tying homer to Justin Upton leading off the ninth inning.
Greinke drew a tough-luck no-decision, having held Atlanta to one run in eight innings to lower his ERA to 2.65. It was Greinke's fifth start with double-digit strikeouts and the 13 K's were his most as a Dodger, accomplishing it despite a recurrence of the right calf stiffness that bothered him in Spring Training.
"My calf got a little sore, similar to Spring Training, but not to the same level," he said. "Sore the first couple of innings and got better as the game went on. We'll see tomorrow, but it should be fine."
Greinke seemed pleased he didn't need to face Kemp.
"He's been swinging the bat pretty well for a while now, but has obviously gotten a lot better the past week," Greinke said. "The biggest difference is probably the power that's come with it. For the past month he's been swinging pretty good, but it's been a lot of singles, where the past week the ball has been driven. I've never seem him play like that because I wasn't here when he was doing what he was doing. So it was pretty exciting to see."
The Dodgers thought they had scored the winning run for Greinke with two outs in the bottom of the eighth. Kemp started it with a walk. Carl Crawford, batting for Scott Van Slyke, singled up the middle with Kemp stopping at second. Juan Uribe's bouncer up the middle was stopped by a diving shortstop Andrelton Simmons, but Kemp hustled home to score standing up.
But Jansen hung a 2-2 slider to Upton and he sent it into the Dodgers bullpen to tie the game.
In the top of the 10th, Howell walked his first batter, Jordan Schafer, who was bunted to second by Ramiro Pena. But Howell picked Schafer off second base, only to then walk B.J. Upton, who struck out four times against Greinke. Upton stole second, but Howell struck out Tommy La Stella.
Ken Gurnick is a reporter for MLB.com. This story was not subject to the approval of Major League Baseball or its clubs.