Royals' bats come alive in sixth to even series
Fine defensive plays and great relief back up Duffy's strong effort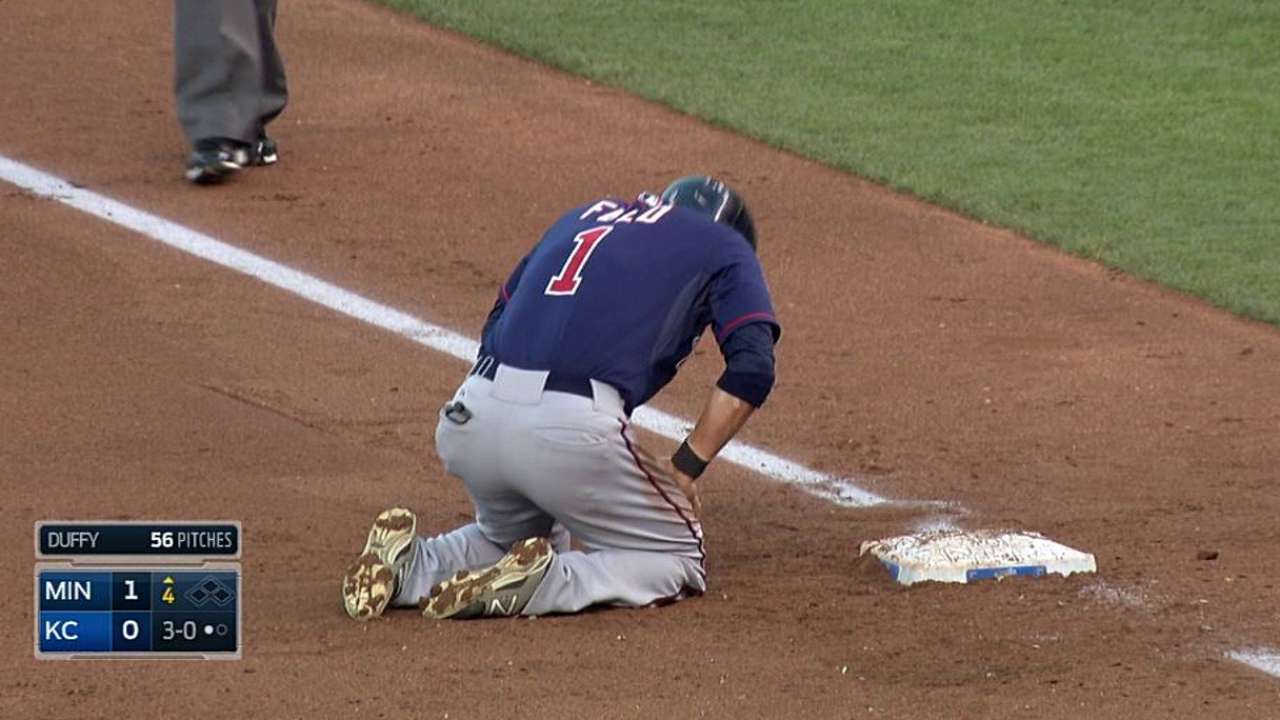 KANSAS CITY -- Hit the brakes. The streaky Royals didn't want to find themselves suddenly going in reverse again.
After two losses, the Royals came to life with a 3-2 victory over the Minnesota Twins on Wednesday night as 20,747 fans savored a pleasant 78 degrees at Kauffman Stadium.
The Royals had won five straight games just before losing a game to Cleveland and then one to Minnesota. Was more trouble brewing?
They'd been through some extreme ups and downs before. Five consecutive victories in April were followed by five losses in the next seven games. A 10-game winning streak in June was sidetracked by four straight losses.
"We really don't think about that. We're just going out there and trying to win each game," said the Royals' Mike Moustakas. "It doesn't matter what happened the night before. We can't change that, you can't go back and do anything about it so we're worried about today's game."
Moustakas drove in the deciding run as the Royals scored all three of their runs in the sixth inning off Twins starter Phil Hughes. He'd shut them down on three hits in the first five innings.
But by the sixth the Royals were seeing Hughes for the third time around, which can be an advantage.
"You know what he's got command with that day, you know what he's trying to get you out with. The more times you see anybody, the better off you'll be," Moustakas said.
So the sixth began with Omar Infante's single and, after an out, he scored as Salvador Perez hammered a double to left field and went to third on a throwing error. Alex Gordon followed with an RBI double to deep left center and, after a second out, he scored on Moustakas' double to the right-field corner.
That's a real case of double trouble.
"That's what's crazy about baseball. You can be cruising through the whole game and then, all of a sudden, one inning comes by where we're up," Moustakas said.
Josh Willingham gave the Twins a 1-0 lead against Danny Duffy when he took the left-hander's 0-1 pitch over the left-field bullpen to start the second inning.
After that, the Twins encountered some difficulties running the bases. In the third, catcher Perez picked off Eduardo Nunez at first base. In the fourth, Duffy picked off Sam Fuld at first.
Then, after two walks, the Twins pulled off a double steal and when Perez's throw got away from Moustakas at third, Brian Dozier tried to score. But shortstop Alcides Escobar retrieved the loose ball and fired to Perez in time to get Dozier.
"I saw the ball got past him and rolling down the line but did not see Escobar," Dozier said. "I just tried to make an aggressive play."
Duffy pitched until the Twins loaded the bases with two outs in the sixth. Two walks and Dozier's single threatened damage but right-hander Jason Frasor, after a battle with Chris Colabello, slipped a 3-2 pitch past him to end the inning.
"Frasor was huge coming in with the bases loaded right there to get us out of that jam, to keep it at one," manger Ned Yost said.
Frasor's reward was his first victory as a Royals' pitcher.
Kelvin Herrera also did some clutch pitching in the seventh. After lefty Scott Downs began the inning by giving up a double by Chris Parmelee, Herrera was summoned. He gave up successive singles by Nunez and Danny Salazar, making it 3-2. Both runners advanced on Fuld's sacrifice bunt, which Perez scooped up to make the first out.
Then Herrera ended the inning with two strikeouts.
"He created a little bit of excitement there with a couple of base hits, but held the fort when he needed to," Yost said.
Wade Davis pitched a perfect eighth with two strikeouts, his 12th straight scoreless inning.
Closer Greg Holland worked a scoreless ninth for his 28th save, surviving a walk and two wild pitches. With the tying run at third, he threw a third strike past Fuld to end the game.
So the specter of a losing streak was avoided.
"It was a big win," Duffy said. "They're all really big right now, they're all really big for the rest of the year."
As August looms, Duffy was hoping the Royals could improve on 2013's late-season run at a postseason berth this season and make it this time.
"I'm just very, very grateful to be a part of this team, and I just hope we can keep riding, because this city deserves the best," he said.
Dick Kaegel is a reporter for MLB.com. This story was not subject to the approval of Major League Baseball or its clubs.