Twins strand too many runners in loss to Royals
Hughes' first quality start in three weeks, but gets little support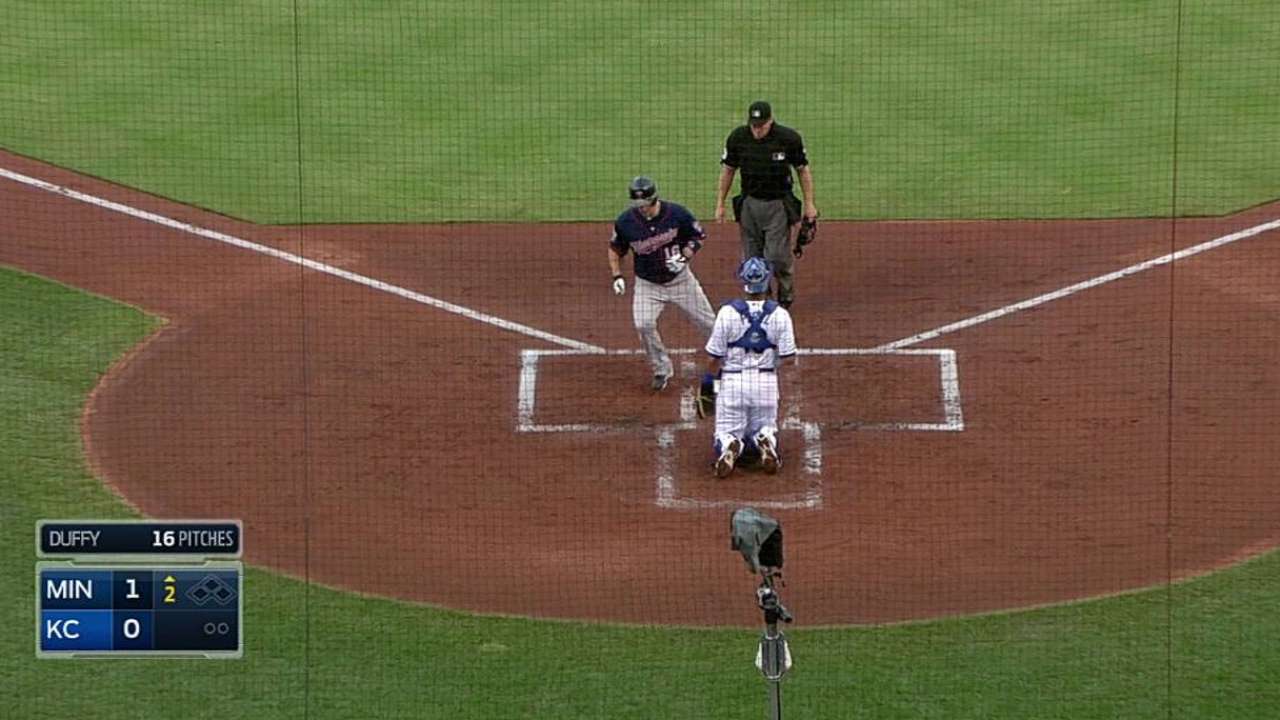 KANSAS CITY -- It's telling that the Twins went just 2-for-12 with runners in scoring position against the Royals on Wednesday night, and yet slightly improved their average in those situations since the All-Star break.
Phil Hughes turned in his first quality start in more than three weeks, but Minnesota's offense faltered with runners in scoring position yet again to leave nine runners on base in a 3-2 loss to Kansas City at Kauffman Stadium.
It's become a disturbing trend for the Twins, as they're hitting just .165 (14-for-85) with runners in scoring position in their 12 games since the All-Star break and have just a 4-8 record over that span.
"We left plenty of guys out there," Twins manager Ron Gardenhire said. "We had chances with men on third and less than two outs and we struck out in a lot of those situations."
Hughes, who left his last start after just three-plus innings after being hit on his right shin by a comebacker, cruised through five scoreless innings before running into trouble in the sixth.
The Royals scored three runs that frame keyed by RBI doubles from Salvador Perez, Alex Gordon and Mike Moustakas. It was all the damage the Royals would do against Hughes, who gave up three runs on seven hits and a walk with five strikeouts. He registered his first quality start since July 8, but was stuck with his third straight loss.
"That's what's crazy about baseball," Moustakas said. "You can be cruising through the whole game and then, all of a sudden, one inning comes by where we're up. But the more times you see a guy, see what he's throwing the better off you're going to be."
Hughes said the Royals simply made it a mission to go after first-pitch fastballs that inning and it paid off, as the doubles from Perez and Moustakas both came on first-pitch heaters.
"Their approach to jump on first-pitch fastballs turned out to be a good one," Hughes said. "I left a few balls over the plate for doubles and that's the game. It's unfortunate. I felt like I had good stuff all night."
Hughes simply wasn't helped by the offense, as the Twins had plenty of chances but could not cash in and struck out 11 times on the night.
Minnesota opened the scoring in the second on a solo homer from Josh Willingham off Royals left-hander Danny Duffy.
But they ran themselves out of a potential big inning in the fourth, as Brian Dozier and Willingham executed a double steal with one out but Dozier was thrown out easily at home plate by shortstop Alcides Escobar while trying to advance after the ball got away from Moustakas at third base.
"I saw the ball got past him and rolling down the line but did not see Escobar," Dozier said. "I just tried to make an aggressive play."
It was the third out on the bases for the Twins on the night, as Eduardo Nunez and Sam Fuld were both picked off first base earlier in the game.
"That guy is really quick to first base but the 3-0 one with Sammy on first base is inexcusable," Gardenhire said. "With three balls and no strikes, you can't get picked off."
The Twins had another prime opportunity in the sixth with the bases loaded and two outs, but reliever Jason Frasor struck out Chris Colabello looking to get out of the inning.
Minnesota made it a one-run game in the seventh on an RBI single from Danny Santana off reliever Kelvin Herrera with nobody out after a double from Chris Parmelee and a single from Nunez. Fuld bunted over both runners but they were left there, as Dozier and Willingham struck out on 101 mph fastballs to end the frame.
Royals reliever Wade Davis tossed a perfect eighth before handing it over to closer Greg Holland, who labored through the ninth but was able to strand Nunez at third base by striking out Fuld looking on a curveball to end the game.
"It was frustrating," Fuld said. "Any time you lose a good battle like that it's frustrating, especially with the game on the line. So you have to tip your cap to Holland. He made a good pitch there."
Rhett Bollinger is a reporter for MLB.com. Read his blog, Bollinger Beat, and follow him on Twitter @RhettBollinger. This story was not subject to the approval of Major League Baseball or its clubs.