Lewis solves Yankees as Rangers earn series victory
Righty goes seven innings for first career regular-season win over NY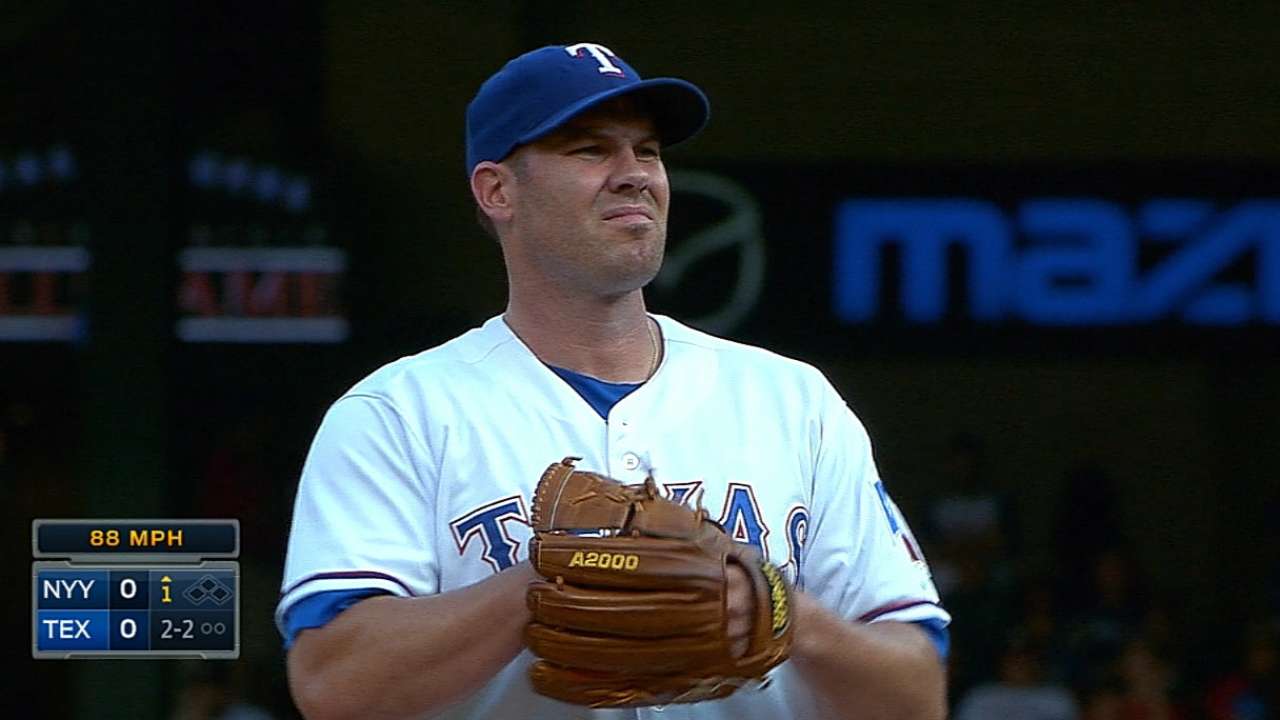 ARLINGTON -- There was a sellout crowd in Arlington on Wednesday night with the Yankees in town, former President Bush on hand and Colby Lewis on the mound for the Rangers.
The last time the planets lined up like that was in 2010, when Lewis won Game 6 of the American League Championship Series over the Yankees and sent the Rangers to their first World Series.
This sellout might have had something more to do with Derek Jeter making his last appearance in Arlington, but on a night when the Rangers paid tribute to Jeter and his great career, Lewis conjured up some memories of his own with a terrific seven-inning performance that snapped his own three-game losing streak.
"Warming up, I looked around at the packed house, it reminded me of 2010," Lewis said, "It was nice to see all the fans. It was good for baseball. It was a good all-around night."
Lewis held the Yankees to two runs over seven innings, and the Rangers held on for a 3-2 victory in the finale of a three-game series. Neftali Feliz picked up the save, just as he did four years ago in Game 6, and the Rangers took two of three from the Yankees.
"It felt great," Feliz said after earning his third save. "Colby threw a nice game. It felt exciting to come into a 3-2 game, keep the Yankees down and get the job done."
It's the first time the Rangers have taken two of three from any team since doing so against the Twins on June 27-29.
"It's a real positive," said outfielder Jim Adduci, who made two outstanding catches in left. "We have been working hard and playing hard. Obviously, this was a great night."
Lewis, pitching like he did before his 2012 elbow surgery and 2013 hip replacement, allowed four hits and two walks while striking out four in his first regular-season win vs. New York. He retired the last 13 batters he faced before exiting after seven having thrown 106 pitches in his duel against Yankees starter Hiroki Kuroda.
"He kept the ball down, changed speeds, moved it around and made adjustments as he went along," manager Ron Washington said. "His mind is working again along with his body."
With Lewis on his game, Jeter spent his last game in Arlington going 0-for-4. That included a grounder back to the mound in the first that Lewis grabbed behind his back to get the out at first.
"He mixes it up," Jeter said. "Colby knows how to pitch. He spots his fastball, he throws his breaking ball and he keeps you off-balance. He was able to do that tonight. He knows what he's doing out there."
Lewis, who missed 1 1/2 years because of his physical ailments, is 1-2 but with a 3.44 ERA in three starts since the All-Star break, while opponents are hitting .235 off him. He had a 6.54 ERA before the All-Star break with opponents hitting .353 off him.
Lewis keeps saying that he has been feeling stronger as the season has progressed, and that is proving to be accurate. The hip no longer impacts his delivery, his elbow no longer bothers him, and his mechanics are smooth again. The results are starting to show, and that could be huge for a club with an uncertain rotation beyond this season.
"I feel great, I feel back to 2010, 2011," Lewis said. "I don't have any pain, That's key. It's not a distraction. I think I've gotten stronger as the weeks have rolled along. It was a definite adjustment to the hip. I didn't think it would be an adjustment, but it turned out that way."
Like other Rangers pitchers, Lewis did have trouble with Brett Gardner in the top of the first. After fouling off a pair of two-strike pitches, Gardner hit one deep into the right-field seats for his fourth home run in three games, his second leadoff homer of the series.
But the Rangers struck for three runs in the bottom of the first against Kuroda. Shin-Soo Choo led off with a single to center and scored on Elvis Andrus' double into the left-field corner. Andrus went to third on Alex Rios' grounder and scored on a single by Adrian Beltre. Leonys Martin made it 3-1 with a single.
Jacoby Ellsbury hit his ninth home run off the season with one out in the third to make it a one-run game. Lewis also allowed a two-out single to Carlos Beltran in the inning, but that was the last baserunner he allowed. With Neal Cotts and Feliz setting down the side in order in the eighth and ninth, the Rangers' three pitchers combined to retire the last 19 batters they faced.
"It worked out perfectly," Washington said. "It doesn't always work out that way, but tonight it did."
Just like in 2010.
T.R. Sullivan is a reporter for MLB.com. Read his blog, Postcards from Elysian Fields, and follow him on Twitter @Sullivan_Ranger. This story was not subject to the approval of Major League Baseball or its clubs.