Kuroda settles in, but Yanks can't come back in Texas
Righty allows three runs in first before finding way; Gardner stays hot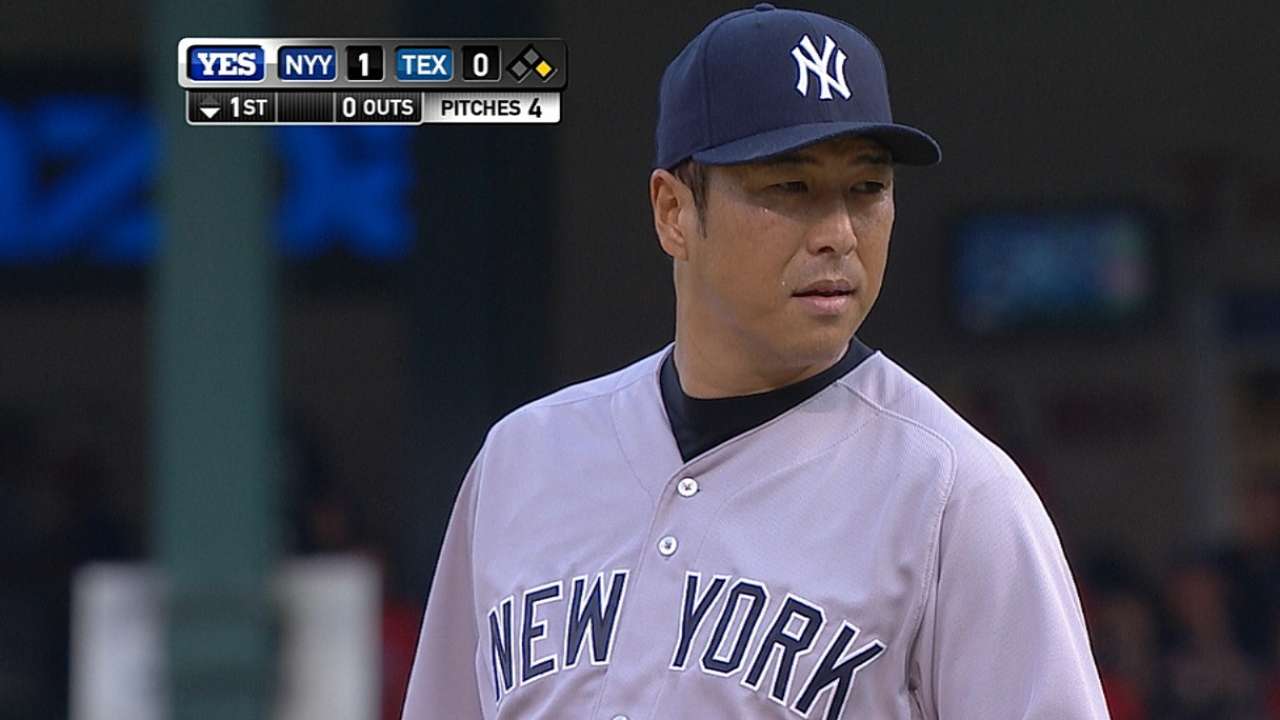 ARLINGTON -- It was a week ago that Yankees general manager Brian Cashman said that he felt "hungover" after watching his club's offense sputter in extra innings against these same Rangers, opining that acquiring a big-time bat might be the solution.
With the hours to the Trade Deadline ticking away, nothing that Cashman watched from afar on Wednesday night could have changed his opinion. The Yankees' bats went ice-cold in a 3-2 loss to the last-place Rangers, with New York's last 19 hitters going down in order.
"It's hard to understand, with the guys that we're sending up there," Yankees manager Joe Girardi said. "But it is what it is, and we've got to continue to work at it."
The Yankees have lost four of their last five games, and finding any semblance of consistency from the lineup -- something that they believe is essential if they are to mount a second-half playoff surge -- has proved elusive thus far.
Less than 24 hours after they exploded for their biggest inning of the season, Rangers starter Colby Lewis limited the Yankees to solo home runs by Brett Gardner and Jacoby Ellsbury over seven innings.
Lewis retired the final 13 batters he faced, and no New York player reached base after the third inning. Neal Cotts recorded three outs in the eighth and Neftali Feliz pitched a perfect ninth for his third save.
"You come here, try to stay confident and you think that it's going to turn around," said Yankees captain Derek Jeter. "I thought we swung the bats well yesterday; today we didn't. You'd like to get a streak here of some good games where everyone gets hot."
The Yanks' best moment of the night actually came in the minutes before first pitch; a pregame ceremony to honor Jeter included a surprise appearance by President George W. Bush, who presented Jeter with a signed photo of their encounter before Game 3 of the 2001 World Series.
"That's a pretty special feeling, when you have a president come out and give you something to honor you," said Jeter, who went 0-for-4 in what was his final game in Texas. "That's definitely a memory I'll have for a long time. I'll be able to brag to a lot of different people."
Hiroki Kuroda allowed three first-inning runs, and though the right-hander settled in to provide seven innings of distance, he was once again left waiting for run support that never arrived.
In Texas' five-hit first inning, Elvis Andrus ripped a run-scoring double down the left-field line, Adrian Beltre knocked home a run with a single to center field, and Leonys Martin blooped a run-scoring hit in front of Gardner in left field.
"Although I gave up three runs in the first, I knew that if I hang in there and be resilient, we would get an opportunity to get a win," Kuroda said through an interpreter. "So I just tried to hang in there."
Kuroda scattered nine hits, issuing a walk with a hit batsman, four strikeouts and two wild pitches among his season-high 115 pitches (72 strikes).
"Hiro did a pretty good job after the first inning. He struggled in the first inning and then shut them down," Girardi said. "He gave us the distance we needed because of our bullpen, but we need consistency in our offense."
Lewis, who had posted a quality start in a losing effort against the Yankees last week in New York but entered the game with a 6.23 ERA, permitted only four hits as he completed a season-high seven innings.
Gardner wrapped up his sizzling-hot visit to Texas with his fifth career leadoff homer and second in as many nights, hooking his 14th long ball of the season inside the right-field foul pole.
The New York leadoff hitter collected eight hits in 14 at-bats (.571) during the three-game series against the Rangers, scoring six runs with two doubles, four homers and four RBIs.
Ellsbury's third-inning blast, his ninth homer of the season, cleared the Texas bullpen in right-center field to trim the deficit to one run.
"I thought we put some really good at-bats on [Lewis] early on, and then we didn't really seem to do much after that," Girardi said. "We got the home run by Jake, but that was about it."
Carlos Beltran's two-out single later that inning represented the Yanks' last knock of the night, and that could be enough to sound the alarm that reinforcements are needed if this team is to seriously entertain a run toward October.
"Any time you don't play up to expectations, you're disappointed in yourself," Gardner said. "It's surprising. We've got a lot of time left. We've still got plenty of time to turn it around, but we've got to. It's almost August. We've got to get things going soon."
Bryan Hoch is a reporter for MLB.com. Follow him on Twitter @bryanhoch and read his MLBlog, Bombers Beat. This story was not subject to the approval of Major League Baseball or its clubs.