Baserunning gaffe, passed ball cost Pirates vs. Giants
Harrison, Mercer hit two-run homers; Snider's mistake kills rally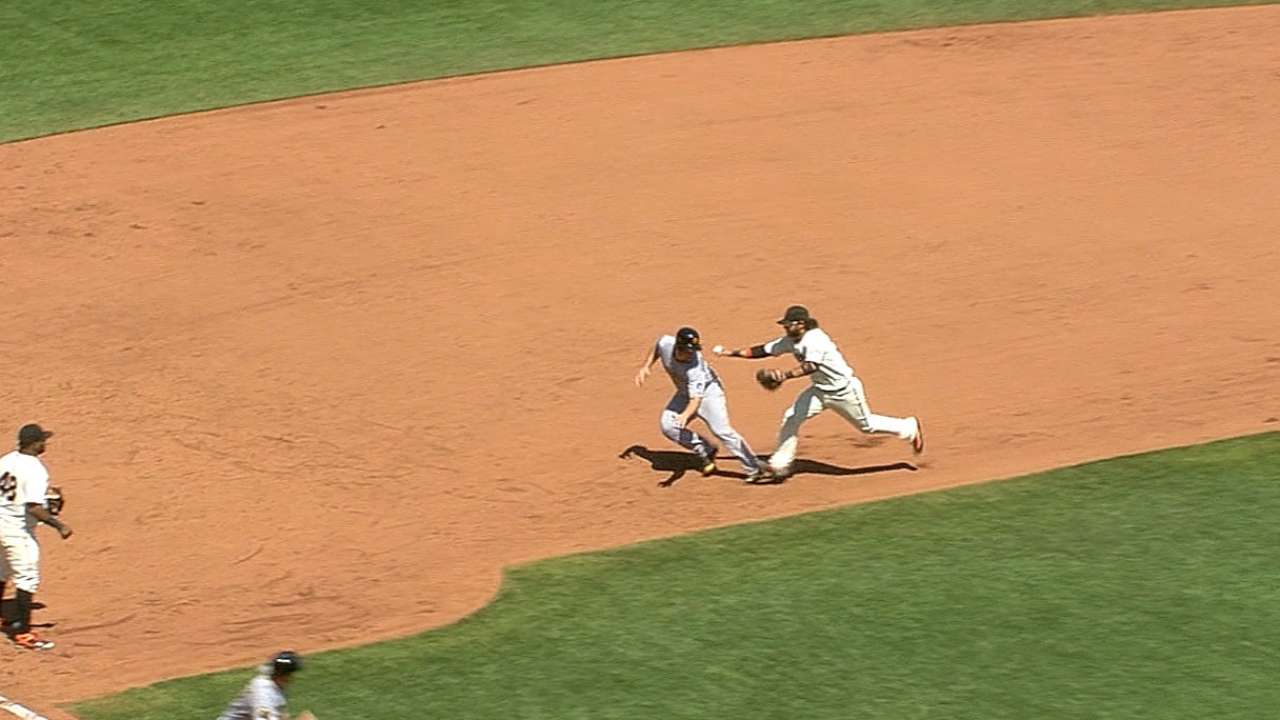 SAN FRANCISCO -- "We can't take a pitch off." If Clint Hurdle had his own Ten Commandments, that would be at the top of his tablet.
The Pirates took a big pitch off Wednesday afternoon, with stunning and disastrous consequences, and it might have cost them a game. It definitely cost them some embarrassment. The final price will be established by the final standings, which Buccos Nation now hopes does not show their team missing the postseason by one game.
For the time being, the toll was a 7-5 loss to the Giants on a brilliant AT&T Park afternoon.
Trying to build onto a 5-4 lead in the sixth inning, the Bucs walked into a double play. Say what?
"I always have this talk with a buddy, 'If you watch enough games, you will see something you've never seen before.' Unfortunately," Hurdle said, "that was the first time I've seen one of my teams walk into a double play.
"We win as a team, and lose as a team. You just got to kick it to the curb. We won a series, and now we need to get out of here."
The Bucs indeed departed with their sixth win in their last nine road series, but, once again, were a few whisks short of the broom for a road sweep, now 0-4 in games this season when they had a chance to close one out. The formula this time was certainly unique.
Put it this way: With one out in the top of the sixth, Chris Stewart drew a walk to load the bases -- and in the next instant, the inning was over.
Travis Snider, the runner on second, had lost track of the baserunners, thinking the bases were loaded before Stewart's walk. So he strolled off second base -- and was tagged out, as was Gaby Sanchez, who in the confusion had broken from third to home.
"Absolutely, a 100 percent mental error," said Snider, who had realized his mistake "as soon as [Giants shortstop Brandon] Crawford started running at me. Honestly, I was just thinking about getting to third base. I take ownership of that mistake."
"That caught everybody off guard," said Rick Sofield, the first-base coach who helplessly watched the nightmare unfold. "It caught San Francisco off guard. Nobody really knew what was going on. Only thing I could do is try to help Stewart get to second base, so we still have two guys in scoring position -- but then Gaby jumped off, and it wound up being a double play."
"Unfortunately," Snider added, quietly, "it was an opportune time for us to make something happen."
But instead of having pinch-hitter Pedro Alvarez bat with the bases loaded and one out and trying to build on their lead, the Pirates had to go back on defense.
"It cost us an opportunity to add on runs. That's the reality," said Hurdle. "But I don't think it had anything to do with what happened after that."
Yet there was the persistent sense that the Pirates were paying for their sins with the ensuing action.
It started soon, in the seventh. Justin Wilson took over, still protecting that 5-4 lead, and with one out walked Michael Morse, whose pinch-runner (Juan Perez) came around to score the tying run on consecutive singles by Joe Panik and Gregor Blanco. A passed ball by Stewart then brought home Panik for a 6-5 Giants lead. Jeanmar Gomez surrendered an unearned run in the eighth.
Prior to the unraveling, the Bucs were trying to complete their first sweep here since 2004 by sticking to the script: Score enough early runs off the Giants' starter to withstand being quieted by the San Francisco bullpen.
This time, they did not get in the first blows, those being leveled on Charlie Morton.
The Giants' first was so "Morton." Crawford lined a single to right with one away, and before another ball left the infield, San Francisco had two runs. An infield single by Buster Posey helped load the bases, another scratch infield hit by Morse delivered one run and a bases-loaded walk forced in another. Blanco then at least singled out of the infield to make it 3-0.
"Yes, very frustrating," Morton, whose sinkers usually invite such unfriendly bounces, said with a scowl. "The first inning was ... frustrating. It used to bother me even more, but you kind of develop a thicker skin to things not going well."
Before the game, Hurdle had said of the Giants' starter, Tim Lincecum, "If he brings his 'A' game, we don't score five runs."
Lincecum's game fell somewhere else in the alphabet. Snider's infield grounder delivered one run in the second, and Josh Harrison and Jordy Mercer took turns clubbing two-run homers the next two innings.
Morton staggered through five innings, allowing nine hits and three walks and hitting a batter. Hence, nearly half of the 27 men he faced reached base, but he stranded eight of them.
Tom Singer is a reporter for MLB.com and writes an MLBlog Change for a Nickel. He can also be found on Twitter @Tom_Singer. This story was not subject to the approval of Major League Baseball or its clubs.