Giants take advantage to come back vs. Pirates
Passed ball scores go-ahead run; bullpen picks up Lincecum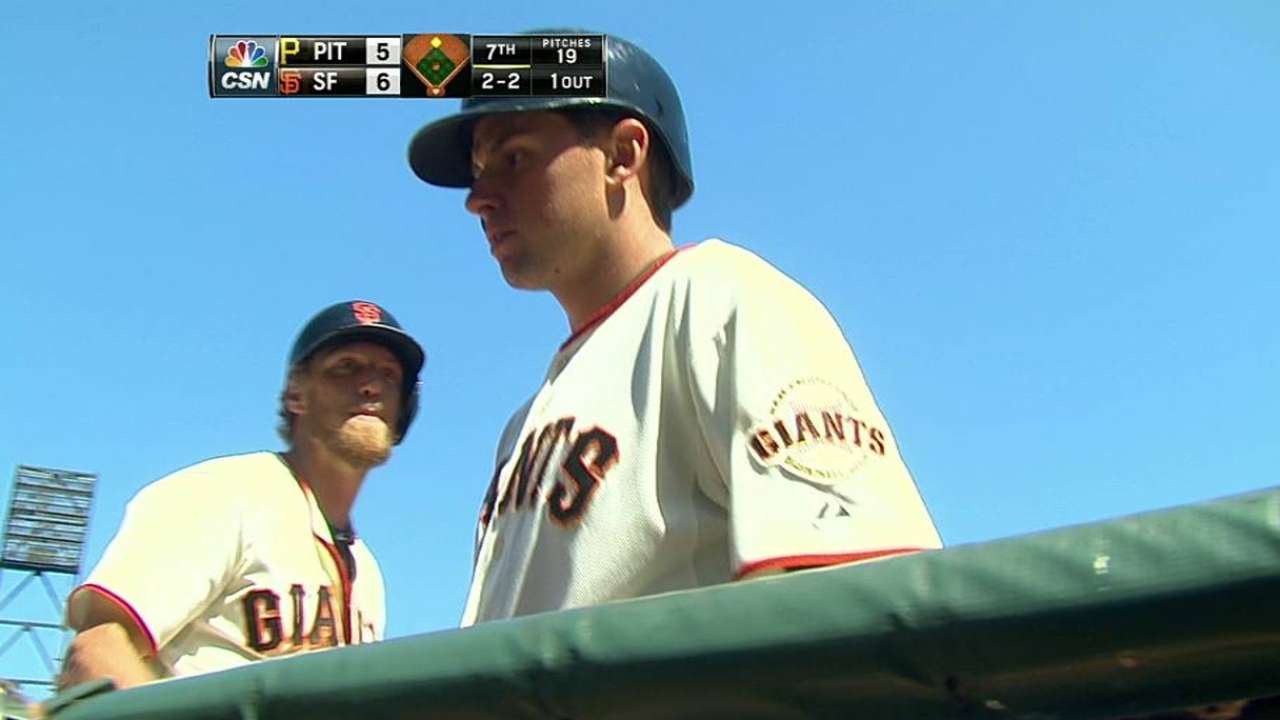 SAN FRANCISCO -- The postgame music that had gone missing while a dormant Giants offense scored just six runs in the club's season-high six-game losing streak returned to the Giants' clubhouse late Wednesday afternoon.
The offensive production was back, and so were the celebratory tunes.
Combined with brilliance from the bullpen, the Giants were able to overcome a poor start from Tim Lincecum and avoid what would've been the club's first winless six-game homestand at AT&T Park with a 7-5 comeback victory against the Pirates.
"We can all eat solid food again," manager Bruce Bochy said after what he considered to be a huge game.
Wednesday's result won't be easily digested for the Pirates.
Yes, softly hit grounders finding holes and bloopers coming in the "well-placed" variety were a welcome change of pace for the Giants, but it was a blunder by the Pirates that led to the winning run. In the bottom of the seventh with Andrew Susac batting in a 5-5 game, a wild pitch from Justin Wilson bounced away from catcher Chris Stewart. His hurried throw to the plate went awry, and Joe Panik scored the go-ahead run from third base.
"Good things happen when you put balls in play," Bochy said, "and they happened today."
Panik acknowledged he'd likely have been out with a clean throw, but, as he said, "I guess it's true that you've got to force the defense to make plays."
That's precisely what the Giants' defense did one inning prior with one out and runners on second and third. Down, 5-4, Jean Machi had just thrown ball four to Stewart. Unaware of the circumstances, Travis Snider began advancing to third base, as if the bases had previously been loaded. Machi noticed and threw to shortstop Brandon Crawford, who tagged Snider. Gaby Sanchez had abandoned third base with Snider bearing down on him, and he was promptly tagged out, too.
Goodbye, bases-loaded-with-one-out situation. Hello, new inning.
"Just like we drew it up, right,?" Panik quipped. "That was something else and it really changed the momentum of the game.
"We got lucky with that one."
The Giants haven't been very good lately, but they helped create some of their fortune Wednesday.
Bochy and the rest of the coaching staff stressed protecting the strike zone with a handful of hitters after the Giants struck out 13 times in Tuesday night's loss. The refocused efforts in the batter's box paid dividends, as each of the nine starters but Lincecum recorded at least one hit.
The struggling Gregor Blanco tied a season high with three hits and drove in a pair of runs from the lineup's seven spot. Panik contributed his season's fifth RBI from the six spot. After what's been a seemingly neverending search for bottom-of-the-order productivity, the Giants will happily take any and all contributions, pretty or not.
"It wasn't a pretty game by any stretch of the imagination, but a lot of guys grinded out at-bats and that's the mentality we're going to have to have going forward," Panik said. "We're not going to win every game [with] five home runs, so we're going to have to keep getting the two-strike and two-out hits."
Lincecum just hopes they won't need as many to compensate for him in his next start. Sure, the win meant five of the club's last eight home victories have come in Lincecum's starts, but Wednesday's had very little to do with the righty. After surrendering five runs on five hits and three walks in 3 1/3 innings, Lincecum said the problem was mechanical, not physical.
"Instead of driving through my back leg, I was peeling off and couldn't really right the wrong," he explained.
The Giants' bullpen could, though. And did.
Aided by Snider's baserunning blunder, relievers Juan Gutierrez, Javier Lopez, Machi, Sergio Romo and Santiago Casilla allowed just one hit as they combined to throw 5 2/3 shutout innings.
That's not far from being par for the bullpen's post-All-Star-break course, either: The unit has a 1.34 ERA (seven earned runs in 47 innings) since the break.
"What a job they did," Bochy said. "They saved us."
In doing so, they salvaged a victory in an otherwise horrid homestand. And a happy flight.
"It's cliche, but we've been up and we've been down," Panik said. "Hopefully now we've gotten things going and will take this into the road trip.
"We've got the talent for it."
Ryan Hood is an associate reporter for MLB.com. Follow him on Twitter @ryanhood19. This story was not subject to the approval of Major League Baseball or its clubs.