Extra effort not enough this time for Cubs
After Valbuena's homer ties it in 8th, Rockies strike for two runs in 10th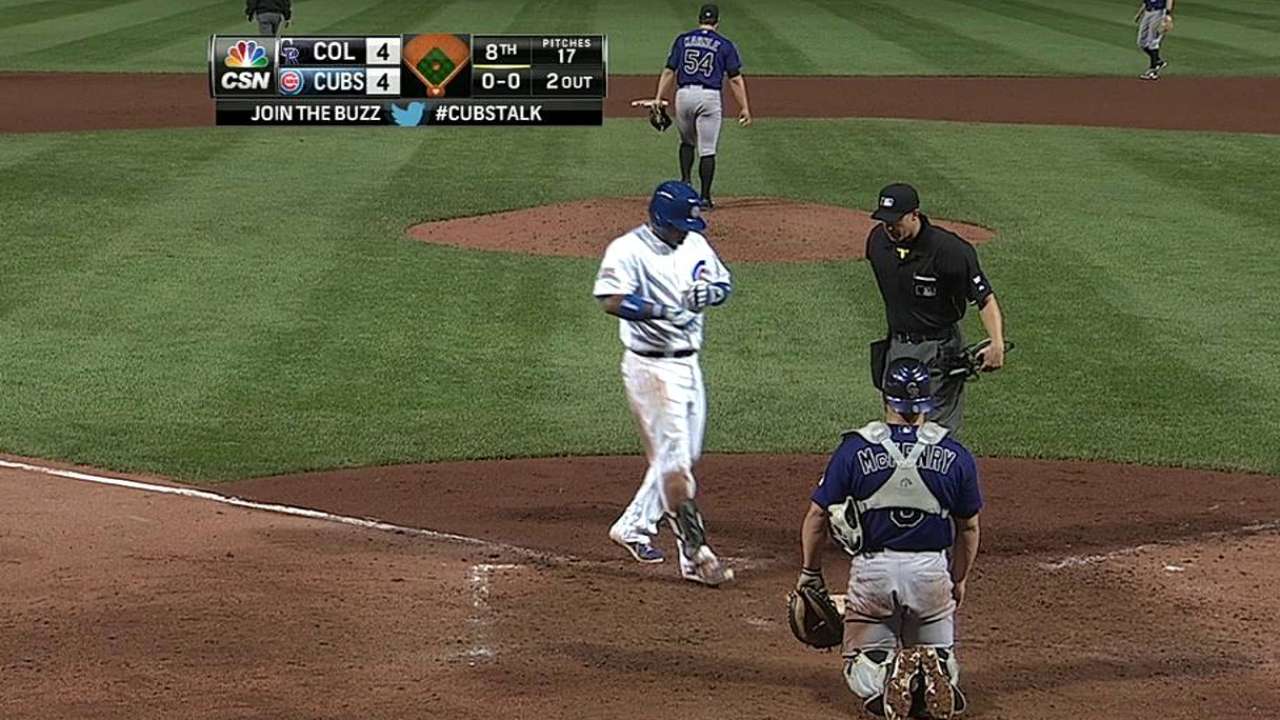 CHICAGO -- The Cubs and Rockies didn't wait 16 innings to settle Wednesday night's game.
Brandon Barnes smacked a tie-breaking RBI single with one out in the 10th inning to lift the Rockies to a 6-4 victory over the Cubs in front of 29,491 at Wrigley Field.
"We just fell a little short," Chicago manager Rick Renteria said.
The Cubs needed an extended outing from starter Travis Wood after Tuesday's 16-inning marathon that lasted nearly 6 1/2 hours. The lefty did set career highs in strikeouts (11) and pitches (119), but couldn't keep the Rockies completely in check.
"They got to me early and hit a couple balls and on good pitches, too," said Wood, who served up four runs over six innings.
In what has been a recurring theme, Nolan Arenado doubled with two outs and scored on Justin Morneau's single in the Rockies first. It was a 30-pitch inning for Wood, and marked the eighth time in the last nine games that opponents have scored in the first inning against the Cubs. Chicago has been outscored 14-2 in the first inning in that stretch.
Charlie Culberson and Charlie Blackmon each hit RBI doubles in the second to open a 3-0 lead.
"The one to Morneau could've been down a little bit, but it was off, and he just poked it out there to score the first run," Wood said. "I left a pitch up to Blackmon in the second for them to score. Other than that, it was a pretty solid game for me."
John Baker, the Cubs' hero Tuesday after he pitched an inning in relief and also scored the game-winning run, delivered a two-out RBI double in the fifth.
Michael McKenry added a one-out RBI double in the sixth to put the Rockies ahead, 4-1. That inning also provided a glimpse of some of the work the Cubs still have to do. Drew Stubbs had singled with one out, then broke for second. First baseman Anthony Rizzo threw to try to get Stubbs, and second baseman Arismendy Alcantara ended up taking the throw behind the bag. Shortstop Starlin Castro wasn't in position to get there in time.
"What happened was, there was miscommunication and the coverage wasn't what it should've been," Renteria said.
Castro simply had too far to run to get to the bag.
"Those guys are learning from each other," Renteria said. "It's communication, bottom line. Those are some of the things we'll continue to try to work on and get better at."
Luis Valbuena delivered a RBI single in the sixth and then smacked a game-tying two-run homer in the eighth, which gave the Cubs new life, but also prompted visions of Tuesday's extended game.
With the game tied at 4 in the Colorado 10th, Wesley Wright walked both Nolan Arenado and Stubbs. McKenry then singled to load the bases with one out. Barnes lined a single to left to drive in Arenado, and one pitch later, Stubbs scored on a wild pitch to Culberson.
Wood did not get a decision, but had plenty to build on. He's never reached double-digit strikeouts in a game.
"All in all, Travis ended up grinding through that ballgame, and giving us a chance," Renteria said. "Obviously, it was good enough for us to be able to tie the ballgame."
"It was definitely a positive," Wood said of his outing. "I had good command of most of my stuff, missed with a few and they made me pay. Overall, it was good to kind of feel back on track."
Carrie Muskat is a reporter for MLB.com. She writes a blog, Muskat Ramblings, and you can follow her on Twitter @CarrieMuskat. This story was not subject to the approval of Major League Baseball or its clubs.