Buehrle nets elusive 'W' as Toronto sweeps Boston
Blue Jays win fifth straight as Navarro drives in three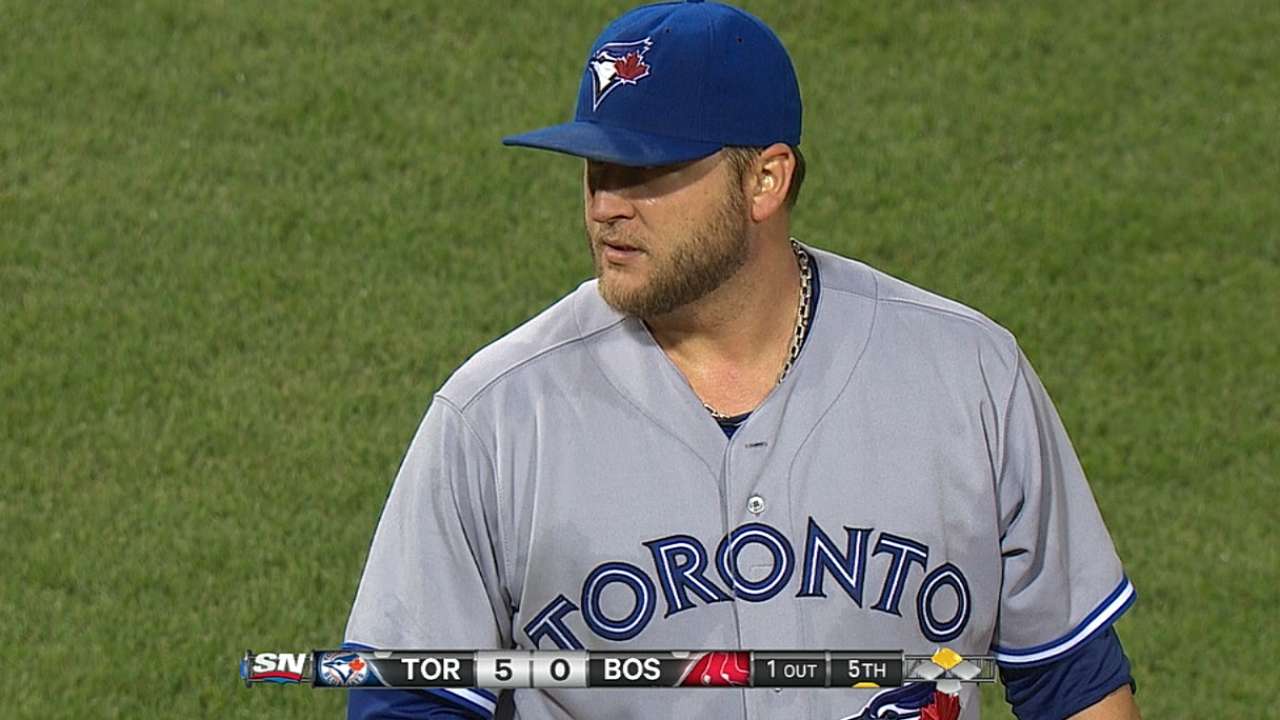 BOSTON --- Even if they're not the best indication of pitching performance, wins can be elusive when a pitcher is in a funk, and it's a relief to finally get one. That's been the case for Mark Buehrle, who had not picked up a victory since June 1 entering Wednesday night's start in Boston.
But recently, there have been few better antidotes for that problem than facing the Red Sox. So behind another strong offensive performance, the Blue Jays downed Boston, 6-1, at Fenway Park to complete a three-game sweep and get Buehrle his 11th victory. Toronto has now won its last five games and eight of its last nine.
"He needed that a little bit, for your psyche," Blue Jays manager John Gibbons said. "I don't care how good you've been. How long you've been in the game. It's still good to see a 'W' with your starting pitcher up there."
Dioner Navarro went 3-for-4 with three RBIs to lead a Blue Jays offense that scored 24 runs during the sweep. Jose Reyes and Melky Cabrera both scored twice.
Buehrle allowed one run on six hits over 6 2/3 innings before exiting with two men on in the seventh. Aaron Loup struck out Brock Holt to end that frame. Buehrle walked one and struck out two, throwing 100 pitches.
Buehrle started the season red-hot, winning 10 of his first 12 starts. Most statistics suggested he wasn't actually pitching at that level, and over the last two months, he began to regress. He posted a 4.83 ERA and rough .312/.356/.489 slash line against in his nine starts between wins.
"I try to stay even-keel whether I'm doing good or bad," Buehrle said. "But there are times when you go out there and get your butt handed to you a few times --- there's a thought in the back of your mind, like 'Am I done? Can I still get it done?' … Maybe it's myself driving myself crazy, but this definitely feels good."
The Blue Jays cushioned Buehrle's lead plenty in the fifth when Anthony Gose walked, stole second and scored after a throw to first on Reyes' sac bunt got past Holt at first. Navarro singled home Reyes, then Juan Francisco's high, infield chopper brought Cabrera across.
Red Sox starter Brandon Workman walked Reyes and Cabrera to start the game, and both eventually scored thanks to a single by Navarro and a fielder's choice by Francisco. Workman threw in place of Jon Lester, who was scratched from his Wednesday start because of uncertainty leading up to the non-waiver Trade Deadline.
Workman struggled to find his command all night. He allowed four walks, four hits and five runs --- although just two were earned --- over five innings. He struck out two.
"Combination of free passes and a couple of extra outs, and they were able to bunch some base hits, a couple of seeing-eye base hits, that contributed to the six runs given up," said Red Sox manager John Farrell, whose team made a pair of errors in the loss.
Boston's lone run came in the fifth when Xander Bogaerts doubled to start the inning, then scored when Christian Vazquez hit a ground-rule double over the right-center field wall. The club scored just four runs in the series.
The Red Sox have struggled all season and of late, dropping eight of their last nine --- six of those to Toronto. They lost their 60th game of the year Wednesday and fell 12 games below .500. In 2013, Boston lost its 60th game on Sept. 17.
The Blue Jays, like any team over the course of a 162-game season, have had ups and downs. The club lost eight of 10 heading into the All-Star break, but have won 10 of 13 out of it.
Navarro credited "the little things" --- throwing and catching, executing bunts, avoiding outs on the basepaths --- for the success. Gibbons pointed to overall execution and insists that despite picking up those 10 wins against the struggling Rangers, the Yankees and the Red Sox, his team is playing good baseball.
"I don't care who you're playing," Gibbons said. "Big league teams, man."
Regardless, Toronto is now nine games over .500 and three games ahead of the Yankees and Mariners for the American League's second Wild Card spot. Most of this ground has been made up without Edwin Encarnacion, Brett Lawrie and Adam Lind, who have all been out for more than three weeks; Lawrie since June 22.
"We're playing really good right now," Navarro said. "We just gotta keep doing it."
"We've been getting a lot from everybody," Gibbons said. "… They're all pitching in and they're all doing a heck of a job."
Buehrle said Saturday against the Yankees, when the Blue Jays snapped a 17-game losing streak at Yankee Stadium, he had a good feeling about where the team was heading. Toronto turned that feeling into a series win against New York and a sweep of Boston.
"It's hard to explain, but there was just a feeling," Buehrle said. "Whatever it was … That game, it feels like it's carried over."
Steven Petrella is an associate reporter for MLB.com. This story was not subject to the approval of Major League Baseball or its clubs.