Workman uneven in spot start vs. Blue Jays
In place of Lester as Deadline looms, righty walks four in five innings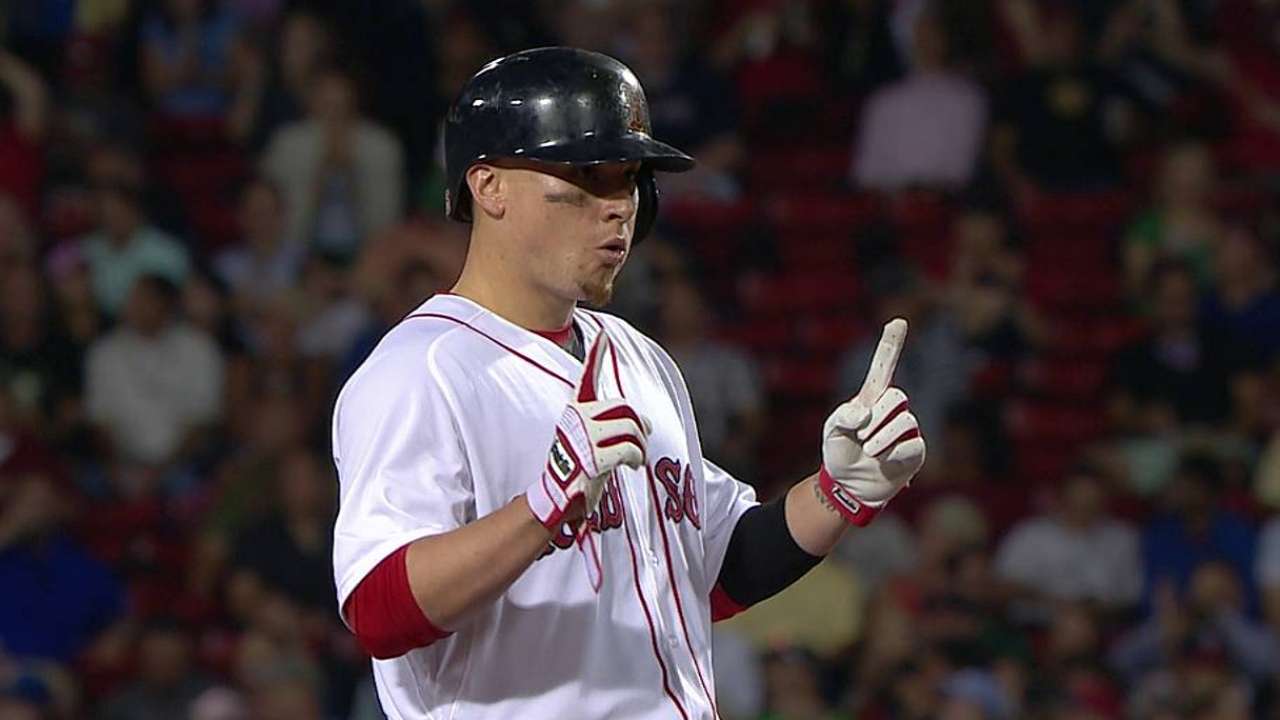 BOSTON -- With Jon Lester reduced to spectator status in the dugout on a night he was originally scheduled to pitch, the reeling Red Sox suffered a 6-1 loss to the Blue Jays Wednesday night in their final game before the non-waiver Trade Deadline.
By the time Boston returns to work for the start of a three-game series against the Yankees on Friday, there is no telling which players will remain from the defending World Series champions.
Lester, John Lackey, Andrew Miller, Jonny Gomes and Stephen Drew have all been mentioned as candidates to be moved in recent days and weeks.
Most notable, of course, is the Lester situation, given that he's been property of the Red Sox his entire career after being drafted out of high school in 2002.
"We'll see what happens," said designated hitter David Ortiz. "Nobody knows. I've got his phone number."
Of course, the Red Sox wouldn't be in seller's mode at the Deadline if they had played better, and Wednesday's game was indicative of the way much of the season has gone.
There wasn't much spark offensively, as Blue Jays lefty Mark Buehrle stifled an offense that has scored a total of seven runs in the last five games. After a 14-1 win in Toronto on July 21, the Sox had hopes of climbing back into contention.
Since that night, they've lost eight of nine, with six of the losses coming to the Blue Jays.
"I think given the last 48 hours, getting past 4:00 tomorrow afternoon will be good for everyone downstairs," said manager John Farrell. "And we've got to get back to playing a brand of baseball that is consistent with what we've done in the past and look to put together a more consistent game plan, top to bottom."
The Red Sox were outscored, 24-4, while being swept at home in this three-game series by the Blue Jays.
Meanwhile, Buehrle turned in his first win since June 1.
"We're 1-for-11 with men in scoring position tonight," Farrell said. "You've heard me say this many times and I'll continue to say it. We've gotten on base, yet haven't been able to bunch base hits together. Buehrle scattered them, didn't give up anything when we had men in scoring position. We're well aware of the struggles offensively to gain some consistency. That was the case again tonight."
Given all the trade discussions surrounding Lester, the Red Sox recalled Brandon Workman from Triple-A to make Wednesday's start.
Workman labored through a 36-pitch first inning, giving up two runs.
"Couldn't get ahead of anybody," Workman said. "I put the first two guys on, they both ended up scoring. So yeah, it was definitely a matter all game of fighting command a little bit."
The righty wound up going five innings while giving up four hits and five runs. Just two of the runs were earned, as Workman and Xander Bogaerts both made errors that led to Toronto's three-run fifth inning.
In the bottom of the fifth, Bogaerts crushed a double to center and Christian Vazquez doubled him home, making it a 5-1 game.
In the bottom of the ninth, the Fenway crowd put together chants of "Jonny Lester" and "We want Lester".
"We were well aware of it and heard it," Farrell said. "We wouldn't expect anything less. This is a fan base that is very much in tune with what we're doing, good and bad, and I think it's a clear sign of support for Jon."
Ian Browne is a reporter for MLB.com. Read his blog, Brownie Points, and follow him on Twitter @IanMBrowne. This story was not subject to the approval of Major League Baseball or its clubs.