First inning dooms Noesi, White Sox in Detroit
Righty allows six runs in initial frame; Abreu pushes hit streak to 19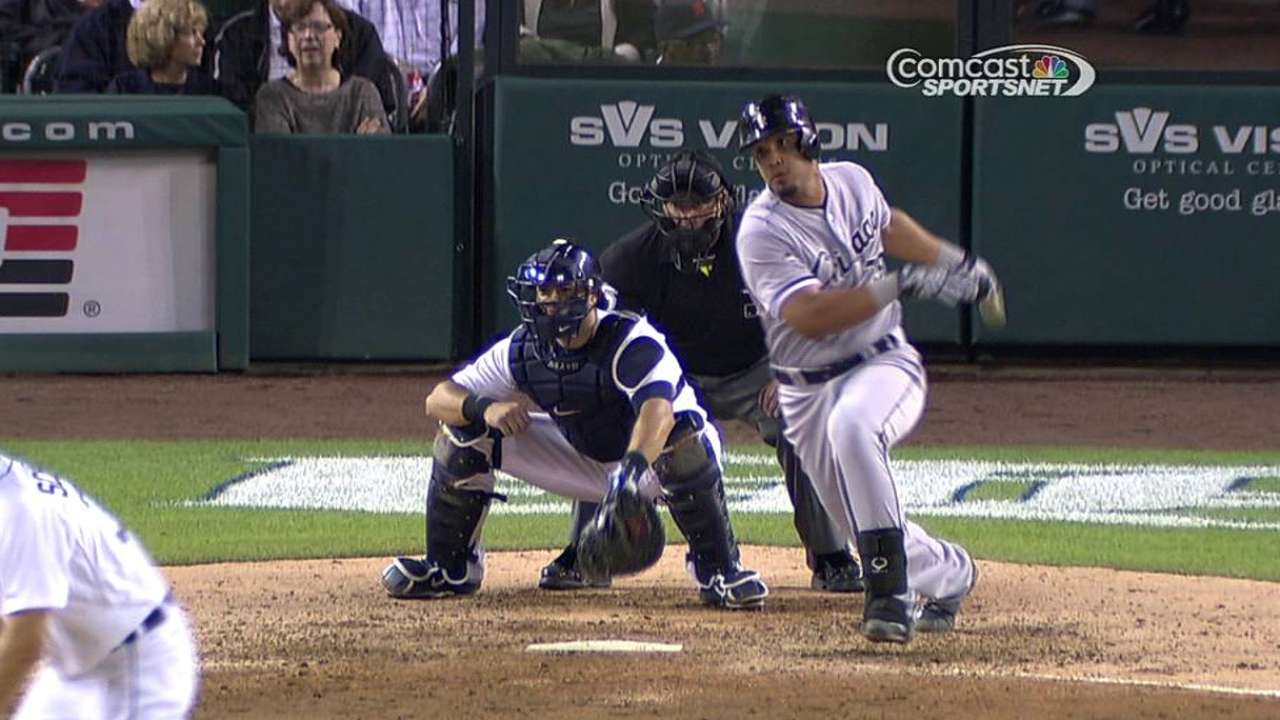 DETROIT -- Gordon Beckham seemed to be at a loss for words as he sat at his locker following a 7-2 loss to the Tigers on Wednesday night.
Maybe not so much at a loss as much as trying to find the right ones.
Where the non-waiver Trade Deadline arriving at 3 p.m. CT on Thursday afternoon was concerned, it didn't take long for the White Sox second baseman to hit the spot.
"Honestly, I played so bad, unfortunately, I don't know how much of a chance the White Sox have to trade me," said Beckham, after finishing 0-for-3 and watching his average drop to .223. "So, that's the unfortunate thing for them.
"Obviously, I hold myself to a high standard. I really haven't achieved that this month."
Beckham stands as one of the handful of veterans who figured to be trade candidates as the White Sox (52-56) continue their reshaping process. He will be entering a final year of arbitration with the 2015 season and has young talent such as Micah Johnson, Marcus Semien and Carlos Sanchez behind him in the Minor League system.
With a 9-for-82 stretch over his last 21 games and a dismal 21-for-151 drop off over his last 40, Beckham hit the mark when assessing his value. So instead of worrying about who gets moved by Thursday afternoon, the White Sox are focused on making a last-ditch run to chase down six teams for that second American League Wild Card spot.
Six-run first innings, such as the one allowed by Hector Noesi (5-8) on Wednesday, won't be very helpful in the cause.
"It was a tough inning for me today," Noesi said. "I left the pitches up a few times. That was it."
"They just got after him in the first inning," said White Sox manager Robin Ventura. "He got the first out and after that, he started getting up in the zone and they were hitting them where we weren't."
Detroit (58-46) sent 11 men to the plate in the first inning against Noesi, actually putting eight straight men on base in between Austin Jackson's called third strike and Jackson's pop out to Beckham. Victor Martinez, Torii Hunter and J.D. Martinez each singled home a run, with Nick Castellanos capping the scoring with a three-run homer to right. Castellanos added a fourth RBI with a single in the seventh.
Noesi yielded just four singles over the next five innings, retiring the side on three pitches in the fourth and needing just nine pitches to get through the fourth and fifth innings.
"After the first inning, I got mad," said Noesi, who struck out three and walked three.
"We came out aggressive," said Hunter, who finished with three hits. "Noesi likes to pound the strike zone, so we just came out with a plan to swing the bats. It worked for one inning and then he shut us down for the next five. We continued to hit the ball hard, just couldn't get anything going."
That six-run outburst was more than enough for Max Scherzer (13-3), who didn't have a blip in any inning. Despite giving up two leadoff singles to Adam Eaton, Scherzer faced the minimum of 15 hitters through five innings, thanks to two double plays. Scherzer allowed a run in the seventh on Dayan Viciedo's sacrifice fly, but gave up just five hits in seven innings while striking out six.
Jose Abreu set a new personal high with a 19-game hitting streak with a single to right during the seventh. He has hit safely in 37 of his last 38 games, with one hitless effort on July 5 at home against Seattle stuck in between an 18-game hitting streak and the current 19. Adam Dunn hit a solo homer, his second in two nights, in the ninth off of Al Alburquerque, giving him 457 for his career.
Thursday afternoon marks the series-deciding contest and the end of the White Sox seven-game road trip, with John Danks matched up against Drew Smyly and the South Siders looking to go home with a 5-2 mark. Ventura confirmed postgame that Danks, another target of recent trade rumors, will be starting Thursday, although anything is possible before the start of the game.
Possible but not very probable, as the White Sox most likely will hit the Deadline with the same players they brought into it.
"At this point, I expect the faces we have in there, I'll see in the next few days," Ventura said. "So just keep playing."
"Yeah, it will feel good to get that behind us," Beckham said. "I'm definitely not going to blame my struggles on the Trade Deadline. It is what it is. It's been a little different, but you know what? I mean, it has just been frustrating. We'll see what happens and go on to August."
Scott Merkin is a reporter for MLB.com. Read his blog, Merk's Works, and follow him on Twitter @scottmerkin. This story was not subject to the approval of Major League Baseball or its clubs.