Richards, Angels can't pin down pesky Orioles
Right-hander yields four runs, including tone-setting blast in first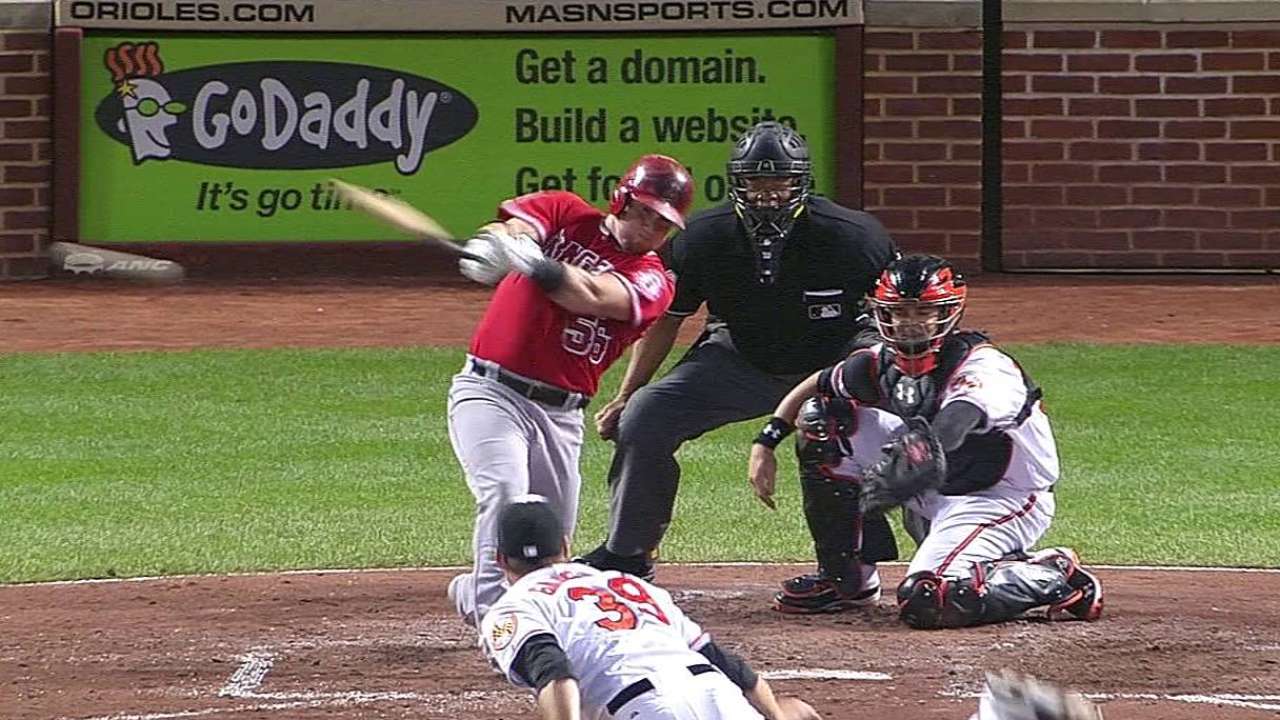 BALTIMORE -- Thirteen days into a second half that has seen the bats cool down and the winning percentage plateau, the Angels can be thankful for one thing: At least the Orioles aren't in their division.
The Angels have lost two series since the middle of June, and both have come against Baltimore's first-place club over the last nine days. They dropped two of three against the Orioles at Angel Stadium early last week and suffered their second straight defeat at Camden Yards, 4-3, on Wednesday night, while moving to 1-4 against Buck Showalter's crew.
All five games have been decided by fewer than three runs.
"It's a good club," losing pitcher Garrett Richards said of the Orioles. "Do I think they're as good as us? We've got one of the best clubs in baseball. We're going to be there in the end, and we're not worried about anybody else."
The Angels are still only 2 1/2 games out in the American League West, and they still hold a comfortable cushion for the second-best record in the Majors -- they lead the third-place Yankees and Mariners by three games -- despite splitting their first 12 games since the All-Star break.
But the pitching staff has very little margin for error these days, because the Halos' offense hasn't produced at the elite level it's capable of.
The Angels finished the first half averaging a Major League-best 5.06 runs per game while sporting a .267/.334/.427 slash line. They've begun the second half by hitting .224/.284/.333 with an average of 3.25 runs. On Tuesday, the Orioles' bullpen shut them out for 5 1/3 innings to set up Manny Machado's 12th-inning walk-off homer. On Wednesday, the electric Kevin Gausman retired the first 14 in order and his bullpen retired six of the last seven to preserve a one-run lead.
"You always want to keep it going," said Mike Trout, batting .147 with 13 strikeouts over his last nine games. "It's all about getting your timing back. We were all swinging it before the break. We're just battling right now, hitting some balls hard right at people. Things will turn around."
Richards had his second straight good-but-not-great outing, giving up four earned runs in back-to-back starts for the first time since April 25-30, 2013.
The 26-year-old right-hander completed seven innings and didn't issue a walk, while keeping his ERA at 2.74. But Adam Jones jumped on a first-pitch fastball and hit a two-run shot to dead center field in the first, representing his fourth home run against the Angels this season. And in the fourth, a couple of left-handed hitters, David Lough and Ryan Flaherty, burned Richards with opposite-field hits that plated runs.
"They were still good pitches," Richards said. "I had good stuff. They had a couple timely hits, and it took us a while to get going."
That's because the Angels had never seen Gausman, and the 23-year-old right-hander has the kind of stuff you have to get a feel for. He attacked the Angels with a fastball that topped out at 99 mph, a devastating slider and two different changeups, one of which dove below the strike zone and looked like a split-finger fastball to a lot of the Angels hitters.
"Two good guys, two good-looking pitchers," Showalter said of the Gausman-Richards matchup. "You're trying to win a game, but you're also a fan of the game and you see two guys like that pitching, and you say, ['Wow']. I wouldn't say 'fun,' but it's entertaining to watch. It's not entertaining to hit."
The Angels finally got to Gausman with two outs in the fifth, when Howie Kendrick, C.J. Cron and David Freese all drew walks. Chris Iannetta singled up the middle with the count full and Kole Calhoun hit a double on the very next pitch to make it a one-run game.
But the offense did little else.
And in Thursday's series finale, they'll draw Bud Norris, who has given up two earned runs in 34 2/3 innings in his career against the Angels.
"We've seen him a bunch now," Trout said. "We're going to try to get a win."
Alden Gonzalez is a reporter for MLB.com. Read his blog, Gonzo and "The Show", and follow him on Twitter @Alden_Gonzalez. This story was not subject to the approval of Major League Baseball or its clubs.