Jones' 21st homer quick to give O's lift vs. Halos
Two-run blast in first inning helps support Gausman's solid outing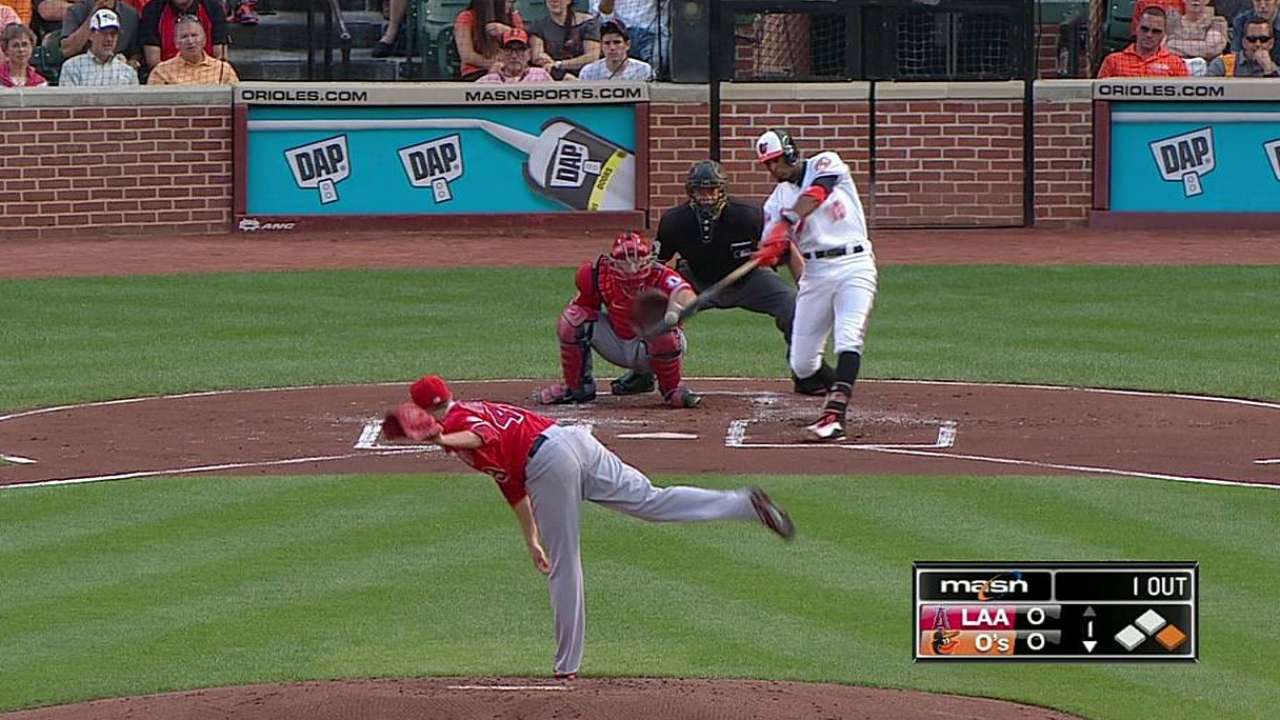 BALTIMORE -- There are some statistics in baseball that are unexplainable -- the result of the sport's inherent factors of chance in a never satisfyingly large sample size.
Adam Jones can't pinpoint a reason for his abundance of first-inning home runs -- the latest of which sparked the Orioles to a 4-3 win against the Angels on Wednesday night -- even if manager Buck Showalter thinks "that fits." What it does do, is set the tone for the offense and relieve some of the burden off the starting pitcher.
"It makes it a little more comfortable," Jones said. "Doesn't matter how you get across any runs, but if you are able to get some runs across early, I think it allows the starting pitcher to breathe, especially young guys that we have on our team."
Jones' home run -- his second first-inning shot in as many nights and 11th in the first frame this season -- gave the O's (60-46) an early lead for the second straight game at Camden Yards. With seven solid innings from rookie pitcher Kevin Gausman and some spectacular defense, the Orioles notched their seventh win in nine games.
Baltimore, which has lost just one of its last nine series, is now 14 games above .500 for the first time since July 22, 2013, and stays 2 1/2 games ahead of the Blue Jays in the American League East standings.
"The second half of the season is where you need to win series," Jones said. "You try to go out and just try to sweep everybody, and it ain't going to happen. You need to win series."
Jones didn't waste time putting the Orioles in a position to do that. With a runner on first, he drilled a first-pitch, 97-mph fastball by Garrett Richards over the left-field wall for his 21st home run of the season.
"Right now, if we're making a mistake to him, he isn't missing," Halos manager Mike Scioscia said.
With two more runs in the fourth inning, on David Lough's RBI double and Ryan Flaherty's RBI single, the Orioles became the second straight team to score four runs off Richards (11-4) after the right-hander allowed that many runs just twice in his first 20 starts.
Richards lasted seven innings, allowing the four runs on six hits and four strikeouts -- his fewest since a June 9 win against the Athletics.
For 4 2/3 innings opposite a potential AL Cy Young Award candidate, Gausman was perfect and the defense buzzed behind him. Nick Markakis kept the perfect game alive with a diving grab to end the third. Manny Machado made an incredible throw from foul territory to snuff out a potential infield single by Albert Pujols in the fourth.
With two outs in the fifth, Gausman walked the bases loaded and allowed a pair of run scoring hits to plate all three Angels' runs.
Gausman settled down after the frustrating frame and allowed just one more hit in his final two innings. Once again, the Orioles' bullpen shut the door.
Darren O'Day struck out two batters in a perfect eighth inning and Zach Britton shut the door for his 21st save with a one-hit ninth.
"I have confidence that Darren's going to go in and do his job, and I'm confident that I can go in there and give us a good chance to win," Britton said.
And for the final out of the game, it was Machado's defense again. The third baseman charged a slow ground ball and fired a strike to get Howie Kendrick out at first to end the game.
"The league knows we play good defense and I don't think it's underrated anymore," Jones said. "This team can pick it. I don't want to jinx us. We can really play some defense and we understand the value of it."
David Wilson is an associate reporter for MLB.com. This story was not subject to the approval of Major League Baseball or its clubs.