Crazy eighth gets away from Miami, snapping streak
Hand, Ramos falter; Stanton homers in ninth, but rally falls short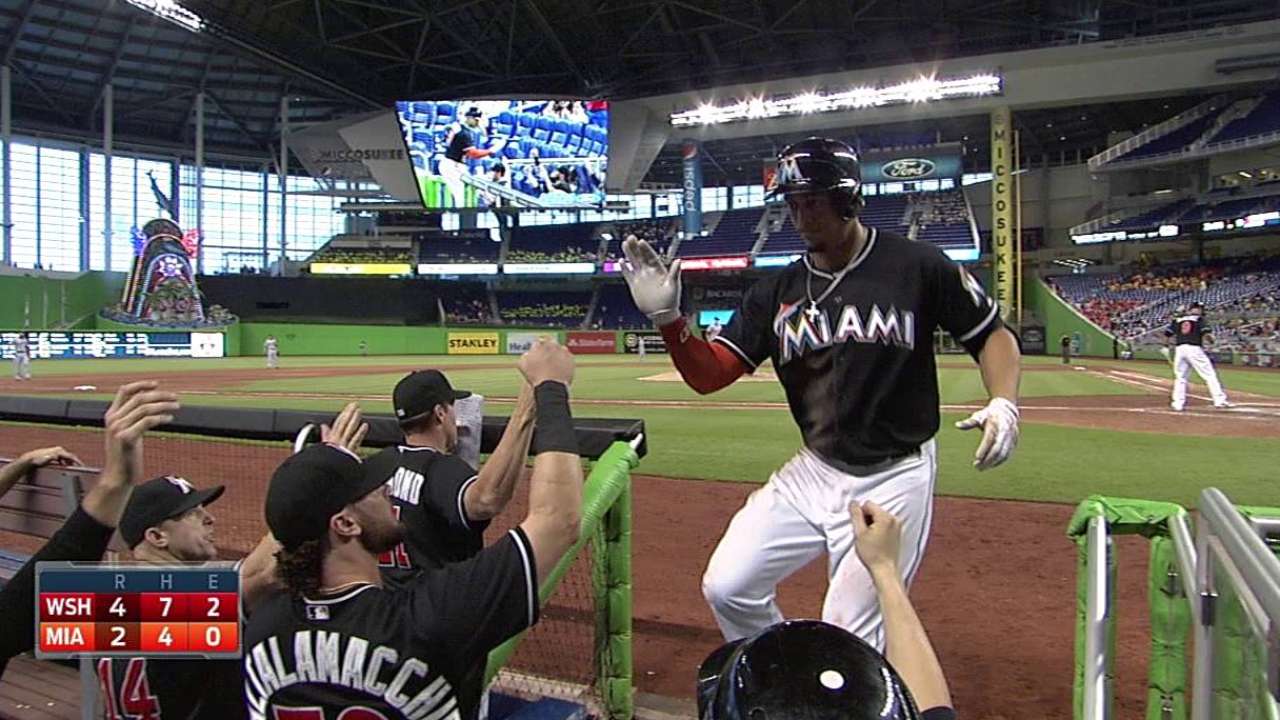 MIAMI -- There was no better way for the Marlins to get their seven-game homestand started than with a series win over the Nationals. But with two games already in the bag, the Marlins came in Wednesday afternoon trying to sweep Washington and climb above .500 for the first time since June 20.
The Marlins fell just short of that opportunity. Their late-inning comeback wasn't enough to avoid the 4-3 loss at Marlins Park that snapped the club's six-game win streak.
"We've put a lot of pressure on [the Nationals] in this series," manager Mike Redmond said. "Had we maybe got things going a little bit earlier in the game, that outcome could have been different. But overall it was a great series. We won two out of three when we needed to."
It wasn't until the eighth inning that the Marlins lost their chance to get out of the series with significant ground gained on the division-leading Nationals.
Starter Brad Hand, who threw a career-high 7 1/3 innings in his last start in Houston, came back out for the eighth in a 1-1 game with 91 pitches on the board. He allowed a leadoff double to pinch-hitter Scott Hairston. Then Denard Span laid down a bunt and beat out a throw from third baseman Casey McGehee, putting runners on the corners with no outs.
Mike Redmond challenged the play, arguing that the throw arrived before Span stepped on the bag. But umpires ruled that the call stands, prompting Redmond to bring in reliever A.J. Ramos in an attempt to get the Marlins out of trouble.
Considering Jayson Werth and Adam LaRoche were a combined 0-for-13 against Ramos entering Wednesday, the matchups were favorable. But after getting the first out on a fly ball, Ramos unraveled.
Werth lifted the second pitch he saw deep enough in left field to drive in pinch-runner Nate McLouth. Ramos eventually threw a wild pitch to LaRoche, allowing Span to reach third, before he issued a walk. That brought up Ian Desmond, who was 3-for-5 against Ramos in his career. And Desmond delivered on those numbers, knocking a two-run double into left.
"That whole inning changes if we get the out on the bunt," Redmond said. "But we had the matchup, we had the guy on the mound that we wanted in the situation. Like I said, we get the out on the bunt and we might have got through that with no runs or maybe one run."
Like they did in Monday's game, the Marlins tried to mount a rally in the ninth inning. After Giancarlo Stanton led off the inning with his 24th homer of the season, Marcell Ozuna and Adeiny Hechavarria caused some two-out damage with a sharply hit single and an RBI double, respectively. But pinch-hitter Reed Johnson grounded out to third base and allowed the Nationals to force out Jarrod Saltalamacchia at second to end the game.
"We had an opportunity to tie it up there," Stanton said. "To be able to do that two out of three nights is pretty crazy. ... But we need to do it before the last out. We can't rely on scoring three runs in the ninth inning every single time."
But the Marlins hadn't gotten many offensive chances before the ninth inning, as Nationals starter Tanner Roark held them to just three hits, two walks and a run -- on Jordany Valdespin's homer in the fourth -- through seven innings. In fact, the Nationals didn't have much going for them through seven innings either.
Before that fateful eighth, Hand had retired 21 of 24 batters despite allowing a run within the first 10 pitches of the game. He made it through seven innings without much damage done against him for the third start in a row, despite admitting that he didn't have his "best stuff."
"Not very many first-pitch strikes," Hand said. "[I] just battled today."
Maria Torres is an associate reporter for MLB.com. This story was not subject to the approval of Major League Baseball or its clubs.