Price feels Reds will be buyers at Trade Deadline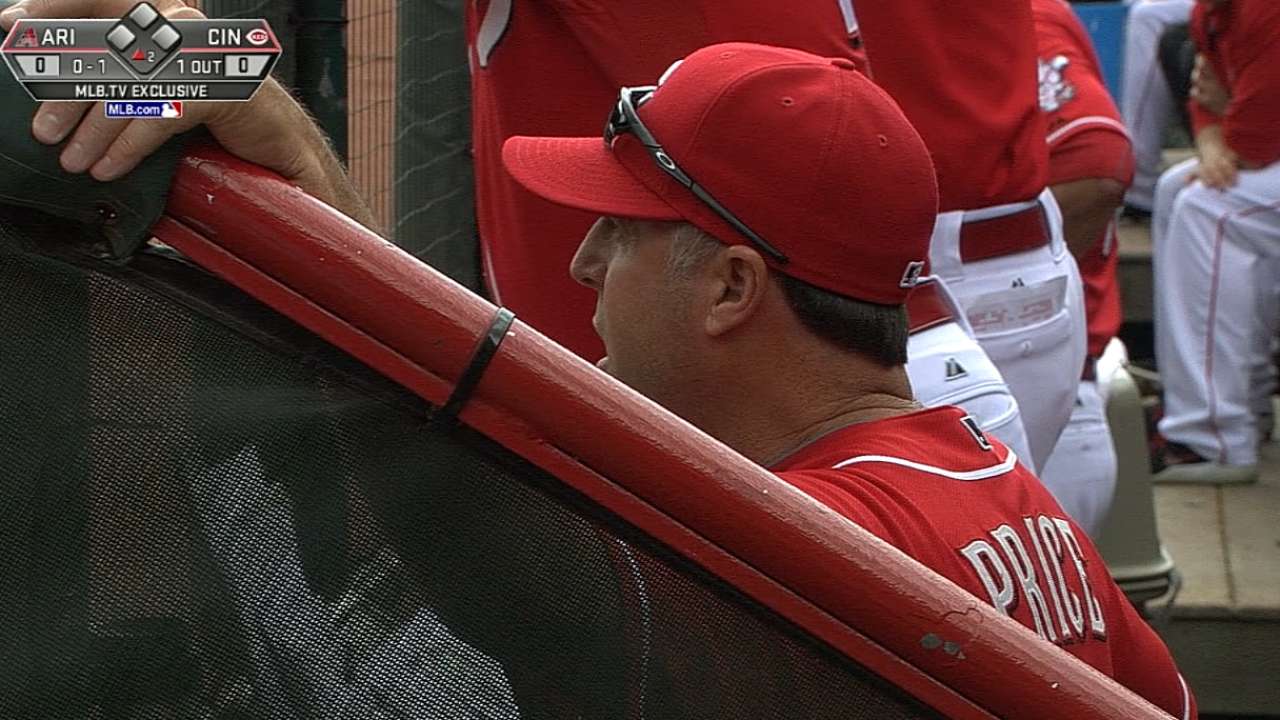 CINCINNATI -- When the Reds started their nosedive coming out of the All-Star break, speculation increased over whether the club could pivot from being buyers to sellers before Thursday's 4 p.m. ET non-waiver Trade Deadline.
When asked which way the team was leaning Wednesday morning, Reds manager Bryan Price was pretty emphatic the team and general manager Walt Jocketty still fell in the buyer category.
"I think we're looking to get better. I don't think there is any question about that," Price said. "I don't see us as a team that's looking to 2015. The way we've played and the way we've battled through the year and stayed competitive and stayed in this thing, knowing there's a chance we're going to get Brandon [Phillips] and Joey [Votto] back, that we've got a bunch of guys here that fight and are gamers, I don't think there's any reason to lose optimism that we can stay in this thing and start to get ourselves closer to the top -- where we were right before the break."
Cincinnati had closed the gap behind first-place Milwaukee to 1 1/2 games out in the National League Central before the team lost its first seven games and nine of 10 after the break. Following a Reds win and Brewers loss on Tuesday, the distance was five games.
Jocketty has largely been out of sight since returning from a weekend trip to Cooperstown, N.Y., for the Hall of Fame induction ceremony.
"He's working the phones, I know that. He's trying to get us better," Price said. "I think a lot of the times, as we've seen so far this July, it really does boil down to these last 24-48 hours before things fire up. Sometimes at the end of July, there's a big bang and other times there is more of a thud and things happen in August."
The Reds have made only two Deadline additions in Jocketty's tenure. Third baseman Scott Rolen was acquired from the Blue Jays in 2009 and reliever Jonathan Broxton came over from the Royals in 2012.
Price seemed to enjoy the general Trade Deadline scuttlebutt, but didn't think any of it affected players in the clubhouse too greatly.
"The great thing about baseball this time of year is it's always exciting. If you're not in contention, you're wondering if maybe you're going to find some pieces for your future. If you're in contention, you're seeing if there's something out there that can help your club for the last two months. Just as a baseball fan, anybody would be interested in what's going on.
"Sometimes you'll hear somebody's name as a possibility of being traded. I think that can create some anxiety. With this bunch, I haven't heard names or buzz that are on the block or something."
Price was reminded that a few managers have been traded over the years -- like John Farrell, Ozzie Guillen and Lou Piniella, although none at the Deadline.
"My palms are starting to sweat," Price joked.
Mark Sheldon is a reporter for MLB.com. Read his blog, Mark My Word, and follow him on Twitter @m_sheldon. Manny Randhawa is an associate reporter for MLB.com. This story was not subject to the approval of Major League Baseball or its clubs.