Hammel roughed up, A's can't recover in Houston
Starter allows eight runs, six in the first, to fall to 0-4 with Oakland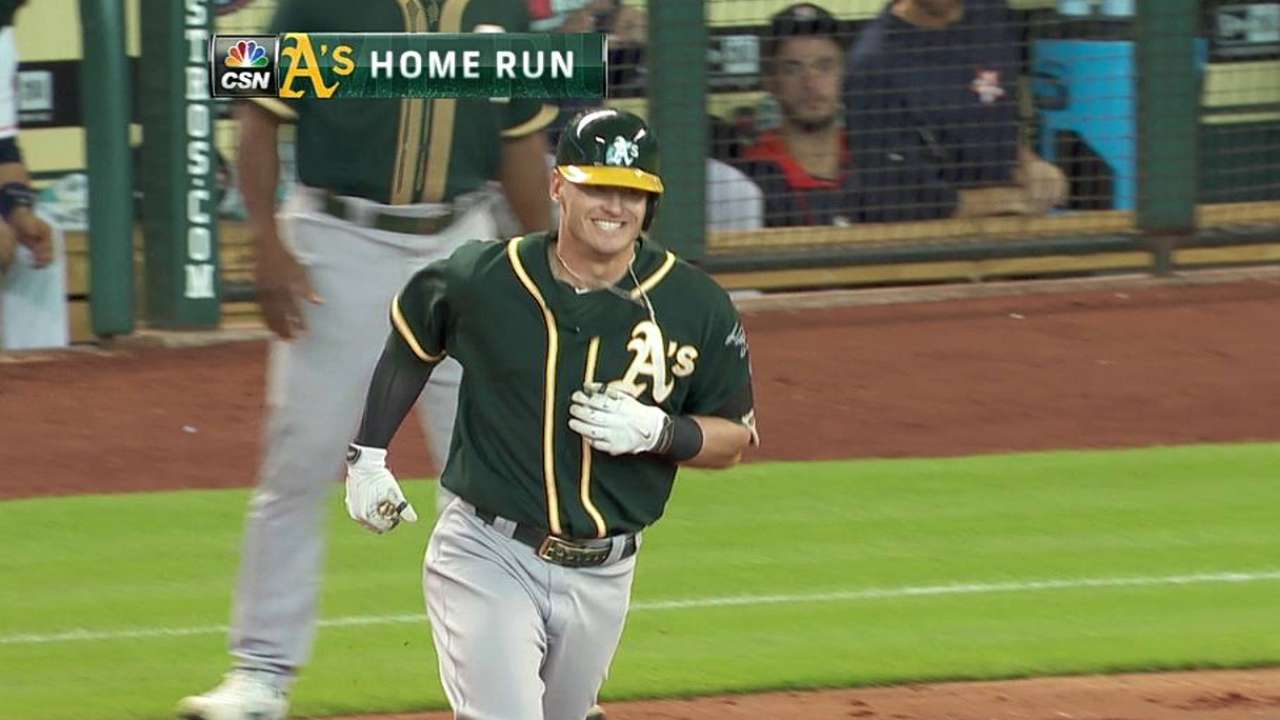 HOUSTON -- The A's have yet to win a game started by Jason Hammel, begging the question, will he make another?
Manager Bob Melvin says so, but his patience must also be waning after Wednesday's poor showing.
Hammel suffered his fourth loss in as many starts in green and gold, barely getting out of a six-run first inning and allowing eight runs overall in an ugly 8-1 finale with the Astros at Minute Maid Park.
It's the first post-break series loss for the A's, who finished their six-game road swing against two of the worst teams in baseball, the Rangers and Astros, with a 3-3 record.
Unlike trade partner Jeff Samardzija, Hammel has not worked out well for the A's, who acquired their services from the Cubs in a Fourth of July blockbuster that forced them to part with two of their top prospects in Addison Russell and Billy McKinney.
That's a hefty package they gave up but worth it, they believed, if Samardzija and Hammel could help separate them from the pack in a heated division race. The A's are 4-1 when Samardzija starts; 0-4 with Hammel, who has allowed 18 earned runs in just 17 innings in those four starts for a 9.53 ERA.
But the A's plan to stay the course and pitch the veteran again Tuesday vs. the Rays.
"Well, we have what we have," said Melvin. "Right now, until there are changes, that's what I expect to do."
"Every ballplayer goes through something like this," said Hammel. "It's not always roses. It's that simple. You could be on top of the world one day and then on the bottom of the heap the next day. It's a matter of having confidence in myself and continuing to work hard. I keep saying it over and over again, but I'm not going to beat myself up."
The Astros did the beating Wednesday. Hammel offered his team only 4 1/3 innings, and the fact that he made it that far was perhaps the most encouraging part of his day.
He threw 44 pitches in the six-run first inning, getting bit by a walk and four singles, along with a two-run homer off the bat of Robbie Grossman. But he was back out for the second, with few bullpen arms to spare, and retired nine in a row before boarding his next batter via a walk.
Another walk to lead off the fifth proved costly, as Hammel offered up a two-run homer to Jon Singleton one out later, bringing Melvin out of the dugout to get him in favor of Ryan Cook.
"You saw it yourself. Sliders that were up in the zone, bloop hits, bloop hits, bloop hits," said Hammel. "A big hit, and you look up and have a six-spot on the board. Says a lot to our hitters, too. Our guys string together good at-bats, but you throw them in a 6-0 hole early, it's hard for them to come back. That's been all me. These four losses I have, they're all my losses."
"You see flashes of what makes him who he is," said Melvin. "He had some quick innings, ball was down and moving. Then it flattens out some."
The good parts of Wednesday, Hammel said, were built on emotions: "Long story short, I was [upset]. It's ridiculous. Just continue to do the same thing over and over again. It's like insanity, expecting a different result. I gotta make an adjustment."
"He got a little [upset] and pitched down in the zone and had success," said catcher Derek Norris. "I don't think it's a lack of focus or energy or anything you want to draw into that. Sometimes guys get [upset] and they leave the ball hanging even more. At the same time, he just has to find out what it is he needs to tell himself to keep the ball down in the zone, whether it's getting really [angry] or putting a rubber band on his wrist and flicking it until he's about ready to cry."
Norris was responsible for one of just four hits off lefty Dallas Keuchel, who twirled his fourth complete game of the season and fifth of his career, his lone mistake being the first pitch he threw in the second inning that Josh Donaldson hammered to left field.
It was the 23rd homer of the season for Donaldson, who totaled 24 all of last year.
But there was little else to cheer about.
"Obviously, right now, it doesn't look too good, but it's a long season," said Hammel. "I've been through this before. I gotta continue to have confidence in myself and continue to do what I've done before. This is nothing new to me. I've been through this before."
Jane Lee is a reporter for MLB.com. This story was not subject to the approval of Major League Baseball or its clubs.