Keuchel twirls fourth CG of '14 as Astros win series
Houston bounces back, plates six in first to aid lefty vs. AL-best A's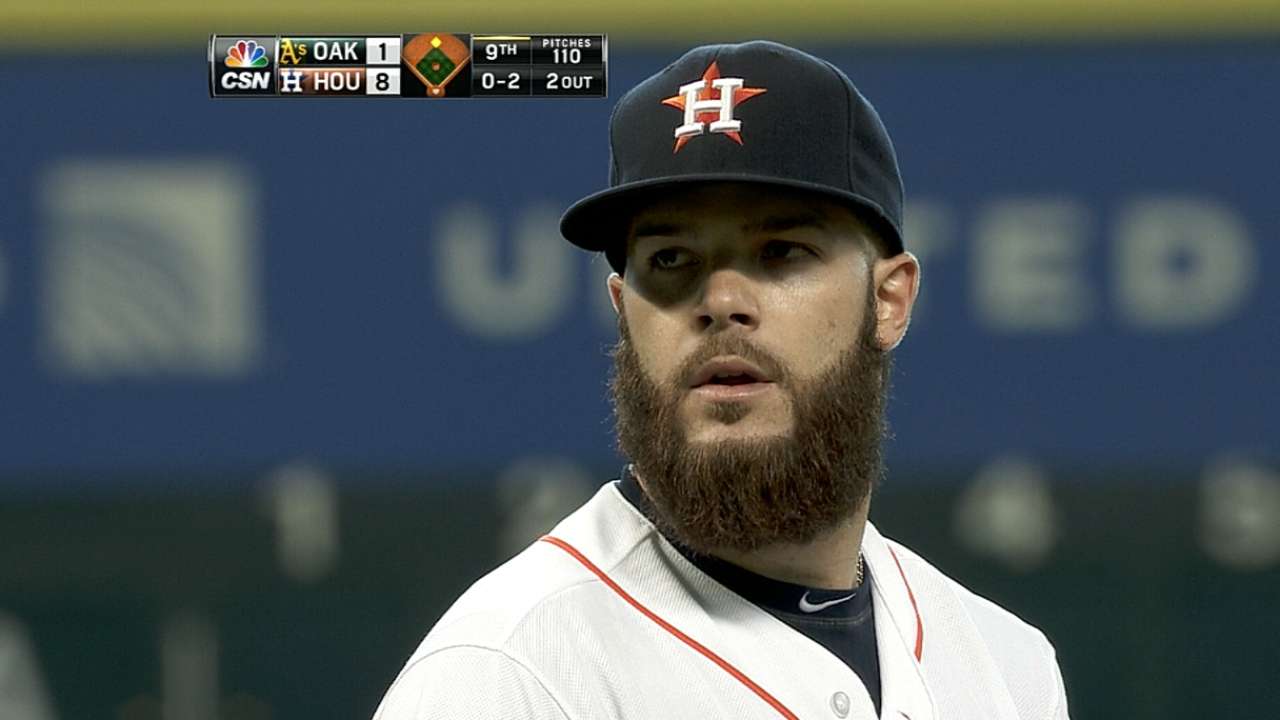 HOUSTON -- If there were any lingering effects from the Astros' deflating loss from the night before, they surely hid it from the masses.
The Astros came out swinging on Wednesday -- and swinging, and swinging, and swinging -- scoring six runs right off the bat, so to speak, to coast to an easy 8-1 win over the AL West-leading Oakland Athletics behind Dallas Keuchel's complete game.
Despite the wide discrepancy in their positioning in the standings -- the A's, with the best record in baseball, are in first place, a whopping 22 1/2 games in front of fourth-place Houston -- the series between these two teams went in favor of the Astros, who with slightly better fortune in the ninth inning Tuesday could have been on the winning end of a sweep.
"I was extremely proud of the way our guys played, even yesterday," manager Bo Porter said. "We came up short, but again it speaks to the resilience of this group. It speaks to their attitude each and every day -- put the last day behind you and come back and win the ballgame."
The Astros had a brief 15-hour intermission between the end of an ugly come-from-behind A's win on Tuesday and the beginning of what turned into Keuchel's fourth complete game of the season and fifth of his career. The left-hander needed 111 pitches to limit one of baseball's best offenses to four hits and one run, a Josh Donaldson homer that led off the second inning.
It also turned Keuchel into a 10-game winner, an impressive number given the team has only 44 wins this season.
"It was special just based on the fact that they have the best record in baseball," Keuchel said. "They do a lot of things well. They don't do a lot of things subpar. To get a complete game against them and get a win is something special in its own right."
No pitcher would ever identify a win as "easy," but it's fair to categorize this one as less stressful than others. Keuchel set the top of the order down in the first and then didn't take the mound for another half-hour or so, thanks to his teammates' hit barrage in the bottom of the frame off former Cub Jason Hammel.
The Astros scored six runs off Hammel, tying their season high for scoring in a single inning. Ten Astros came to the plate, with Jose Altuve getting two at-bats, and, ironically enough, failing to reach base in either of them. It didn't matter, though, considering six of his teammates logged hits, including a two-run homer from No. 8 hitter Robbie Grossman that helped pad the sizeable lead.
Several less dramatic but nonetheless key moments also aided in the inning continuing for as long as it did. Porter pointed to Jason Castro's all-out effort running to second base as Marc Krauss sprinted down the line in an attempt to avoid a double play as just as crucial as the hits and homer.
"That obviously led to the first run being scored and the five after that," Porter said. "To both of those guys' credit, they did a tremendous job in that situation."
After such a long layoff, Keuchel wasn't expecting Donaldson to be swinging right out of the chute in the second, but he learned otherwise when the A's designated hitter deposited Keuchel's first offering into the left-field Crawford Boxes.
"Lo and behold, he swung," Keuchel said. "I wasn't necessarily happy with the way he went about running the bases, but he hit a home run. He can do whatever he wants."
Jon Singleton hit a homer of his own, a two-run shot, to bring Hammel's outing to a close with one out in the fifth inning. Hammel exited having allowed eight runs on seven hits while walking three to fall to 0-4 since being traded to Oakland.
The A's struggled to put anything together beyond Donaldson's home run, giving Porter every reason to stick with Keuchel when the ninth inning rolled around.
"I trust what my eyes were telling me," Porter said. "There was no need at any point in that game to think that someone else needed to come into the game."
The last Astros pitcher to record four complete games in a season was Roy Oswalt, in 2005. The last Astros left-hander? Randy Johnson, who made 11 starts for Houston after a Trade Deadline deal with Seattle in 1998. Four of Johnson's 11 starts resulted in complete games.
In more modern times, the Astros have won five of their last eight games versus the A's and four of five when they play the A's at Minute Maid Park. After going 4-15 against Oakland last season, the Astros welcome a reversal of fortune, for however long it lasts.
"They've pretty much owned us the last couple of years," Keuchel said. "So this feels good. They've got some guys hurt, and they're not going to make any excuses over there. They're a good team, and they figure out ways to win, just like last night. We can't take anything for granted.
"I feel like we can play with anybody. When we play to our potential, we can. The team over there is pretty good as well. Whenever they come in town, and even though they've owned us over the last two years, it's kind of a good stone to see where we're at."
Alyson Footer is a national correspondent for MLB.com. Follow her on Twitter @alysonfooter. This story was not subject to the approval of Major League Baseball or its clubs.