Deadline roundup: Lester domino set to fall?
Dodgers may be done dealing, looking to hold Pederson; Cardinals get a starter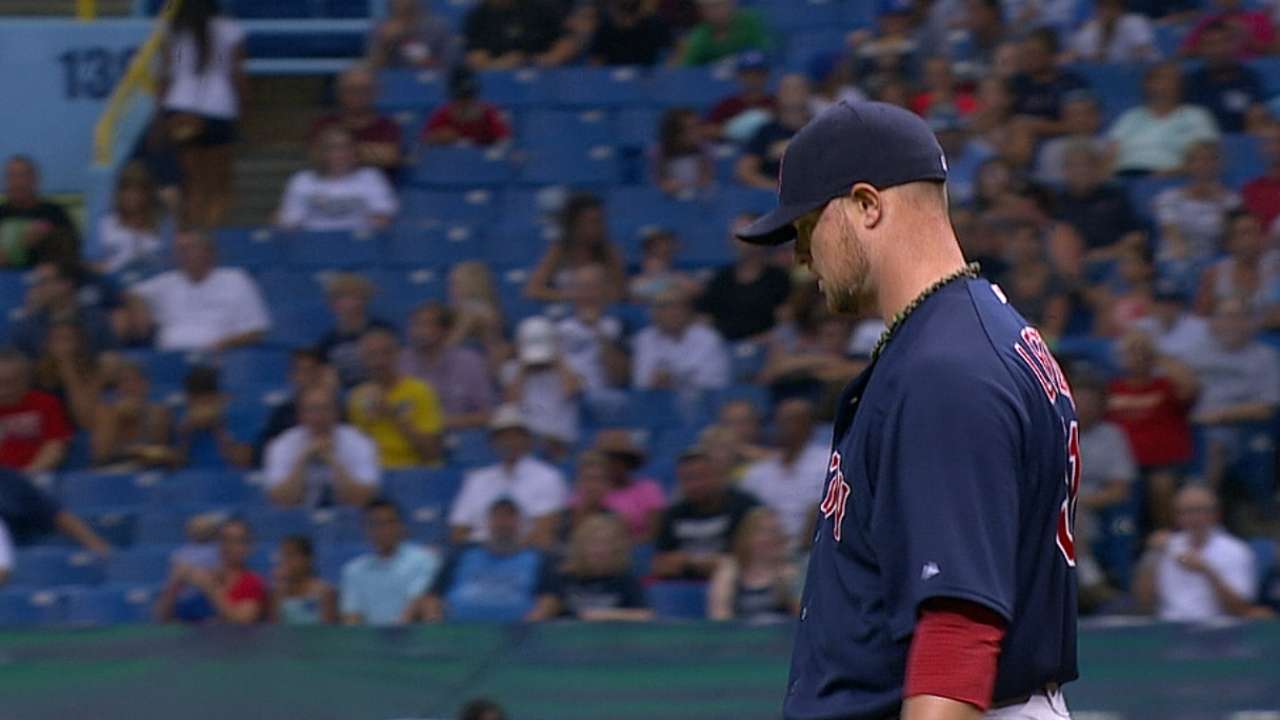 The July 31 non-waiver Trade Deadline is coming Thursday at 4 p.m. ET as contenders look to bolster their squads for a potential run at October. From now until the Deadline, we'll be checking in on the trade news around baseball, with help from MLB.com's reporters. The countdown is underway.
The latest on Lester: Boston's Jon Lester appears to be in the final hours of his Red Sox tenure after the left-hander was scratched from Wednesday night's start against the Blue Jays at Fenway Park.
"In light of all the uncertainty surrounding Jon Lester, it's probably in everyone's best interests that he does not make that start, so [Brandon Workman] will be recalled," manager John Farrell said. "There will be a corresponding move roster-wise at some point [today]."
On Wednesday, ESPNBoston.com's Gordon Edes, who covers the Red Sox, reported that Dodgers, Cardinals, Pirates, Blue Jays, Orioles and A's were in the running for the 30-year-old Lester. He is 10-7 with a 2.52 ERA in 21 starts with 149 strikeouts this season.
Cards looking to pocket an ace: With Jaime Garcia out for the season and Michael Wacha currently on the disabled list, Cardinals general manager John Mozeliak has his sights set on bolstering St. Louis' rotation.
Starting pitchers Cliff Lee, A.J. Burnett, Cole Hamels, Ian Kennedy, Justin Masterson, David Price and Lester were among the names said to possibly be targeted in a deal by St. Louis. Masterson went to the Cardinals on Wednesday afternoon for outfield prospect James Ramsey.
Dodgers done dealing?: Although Dodgers outfielder Matt Kemp has been linked to trade rumors, ESPNLosAngeles.com's Mark Saxon tweeted that the club wasn't close to any blockbuster deals on Tuesday. Kemp homered twice in the Dodgers' fourth consecutive win on Tuesday night.
According to Saxon, a deal sending Lester to L.A. is unlikely, especially if the asking price is Joc Pederson, who is ranked No. 19 on MLB.com's Top 100 Prospects list and who is the third ranked player on the Dodgers' Top 20 Prospects list.
The left-handed-hitting 22-year-old Pederson is hitting .319 with 23 homers, 56 RBIs and 25 stolen bases over 92 games for Triple-A Albuquerque this season.
"I'm happy with our club," Dodgers manager Don Mattingly said Tuesday. "We feel like we're good enough to get where we want to go. Anything I'm saying, that we want this or that, to me, is always negative for our players that are here, saying our guys aren't good enough."
Bob Nightengale of USA Today reported that Pederson was also sought after by Phillies and GM Ruben Amaro Jr. in a deal for left-hander Hamels, however the asking price of Pederson along with shortstop prospect Corey Seager and LHP prospect Julio Urias was quickly shot down by Los Angeles and general manager Ned Colletti.
Hawkins staying put: Heyman reported on Tuesday night that the Rockies will not deal 41-year-old right-hander LaTroy Hawkins. Colorado had reportedly discussed a deals with Pittsburgh and other teams for Hawkins, who is 2-2 with a 2.92 ERA in 38 appearances with 17 saves in 18 tries this season over 37 innings pitched.
MLB.com's Thomas Harding wrote that 5-6 clubs are interested in Hawkins, but two issues are making it hard to deal him:
The Rockies believe his influence is strong enough on the team's young players that they want to keep him around. And Colorado's requirement for help at the start of next season, plus pitchers under club control applies to Hawkins. Teams in contention haven't offered what the Rockies want.
Matt Weber is an editorial producer and Joey Nowak is a reporter for MLB.com. This story was not subject to the approval of Major League Baseball or its clubs.