Late comeback bid not enough in rubber game
Simon sharp in tough defeat; Price shoulders some of blame for loss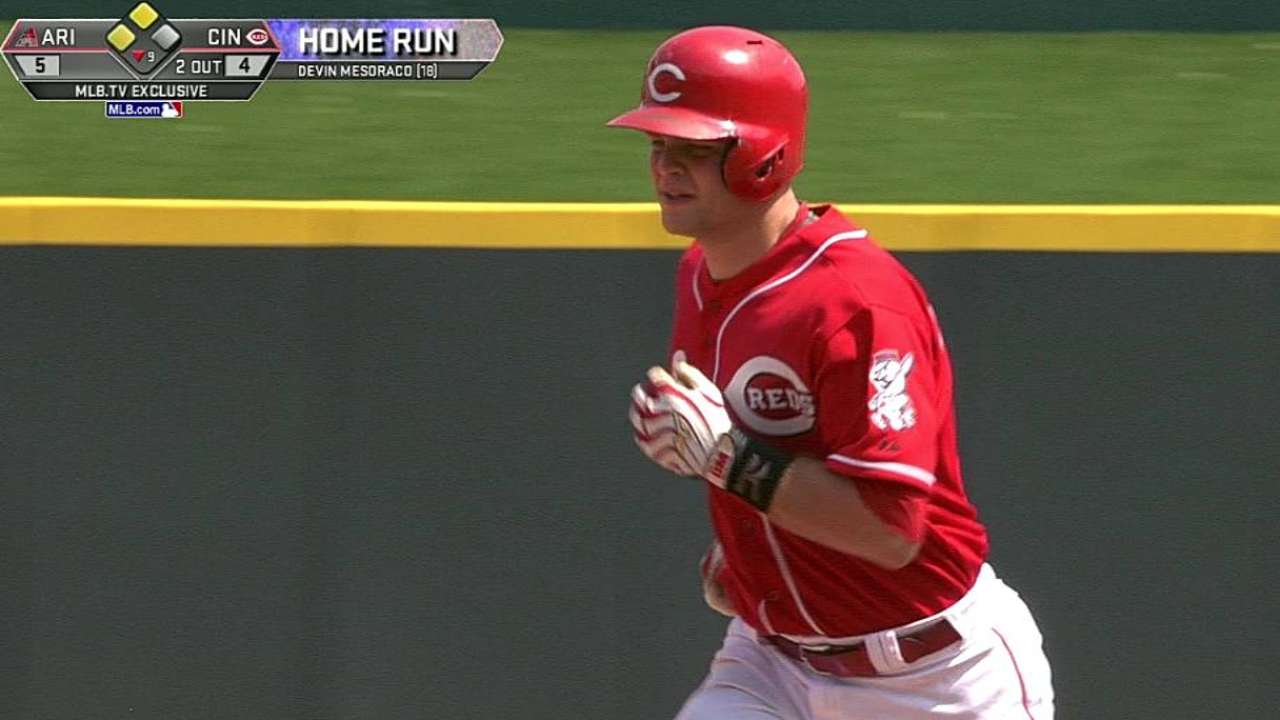 CINCINNATI -- The Reds were one out away Wednesday afternoon from not scoring more than three runs in 12 consecutive games for the first time in nearly 66 years.
Had it not been for Devin Mesoraco's three-run homer off D-backs closer Addison Reed with two outs in the ninth, Cincinnati might have set the longest such streak in franchise history since the 1948 club was unable to score at least four runs in a game for 14 contests from Aug. 26-Sept. 9.
But though it avoided that fate, Cincinnati lost, 5-4, to Arizona in the rubber game at Great American Ball Park. It was the Reds' 10th loss in 12 post-All-Star break games and resulted in their fourth consecutive series loss. They hadn't dropped four straight series since the first four series of the season.
With the Brewers' 5-0 win over the Rays, the Reds are six games back in the National League Central.
Cincinnati squandered several scoring chances, reflecting another microcosm of how unproductive its offense has been in the second half:
• The Reds were 1-for-11 with runners in scoring position, and are batting .141 (11-for-78) with runners in scoring position since the All-Star break.
• They left 10 men on base Wednesday and stranded 22 in the series.
• They had runners in scoring position in every inning but two (the second and fifth), and before the the ninth, scored one run in the eighth on a Skip Schumaker RBI double.
In the ninth, pinch-hitter Billy Hamilton, who didn't start because manager Bryan Price wanted to give the struggling center fielder a day off, led off with a single and moved to second one out later when Ramon Santiago walked. Todd Frazier flew out to left and Mesoraco hit the three-run blast, his 18th homer of the season.
Though the club's hitters continued to struggle, Price shouldered some of the blame for the outcome.
"In large part, I think it was poor game management by myself," he said. "I don't think I made the choices that needed to be made in that game. I think I really mismanaged the roster in this game. I could have created better opportunities for us to win that game, and I didn't do a great job managing this game."
One regret Price mentioned specifically was how he utilized pinch-hitters.
"I just put us in a position somewhat where we had to create some opportunities where we had to pinch-hit a little bit earlier, just with the way I utilized the roster when I hit with [Kris] Negron [for starter Alfredo Simon in the seventh]. I could've left [Negron] in the game there and I didn't, and that would have given him an opportunity to stay in that spot and save our pinch-hitters for other opportunities.
"I don't want to go any further than that. I just have some regrets."
A potential rally in the third was snuffed out on the basepaths.
Chris Heisey led off with a single to left-center that was bobbled by Mark Trumbo, leading Heisey to try for second, where he was thrown out. Santiago followed with a single and Frazier walked, but Santiago was caught stealing third and Mesoraco flew out to right.
"Heisey was busting his tail trying to get to second base, it was a bang-bang play," Price said. "I can't begrudge him for that. He saw the outfielder bobble the ball and Trumbo doesn't throw well from left, so it was an aggressive play. I don't think it was a mistake.
"We had a sign mixup there with Santiago stealing third; that just wasn't a play we wanted to run right there. But there was a miscommunication on the signs, no fault of Santi's. He thought he was doing exactly what we wanted him to do."
Simon tossed seven solid innings, but took the loss, allowing two runs on six hits, walking one and striking out two.
Paul Goldschmidt hit a two-run homer off Simon in the sixth, the only blemish on the All-Star right-hander's record. The outing was a turnaround of sorts for Simon, who was 0-2 with a 4.82 ERA in two second half starts before Wednesday.
"When I go out there, I just try to do my job," Simon said. "I just try to throw a quality game and I know [our hitters] are struggling right now and we aren't scoring a lot of runs right now, but I don't focus on the hitting, I just focus on throwing my seven innings, doing my job."
Searching for good news on the Reds isn't easy, but the rotation has produced five consecutive quality starts after one in the first seven games following the All-Star break.
Arizona tacked on a run on a Trumbo sacrifice fly in the eighth against reliever J.J. Hoover. Didi Gregorius hit a two-run homer off Carlos Contreras in the ninth in what turned out to be the decisive blow.
The Reds hit the road for a six-game trip, every game becoming more and more vital to their ability to stay in the thick of the NL Central and Wild Card races.
"We know that we're going to be much better than what we've been showing," Brayan Pena said. "We just have to go out there and take care of business down there in Miami and then go to Cleveland and see what happens."
Manny Randhawa is an associate reporter for MLB.com. This story was not subject to the approval of Major League Baseball or its clubs.