Lynn's solid effort unrewarded on sloppy night
Cards commit three errors, unable to capitalize on early chances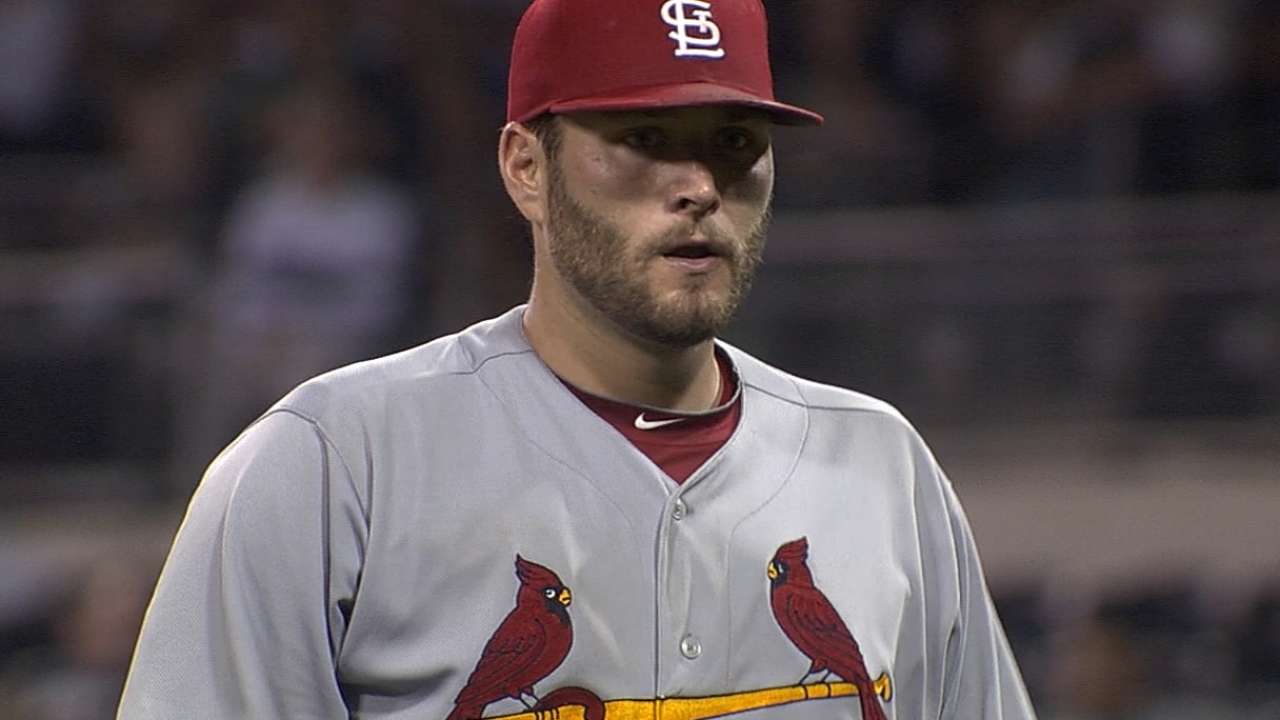 SAN DIEGO -- The Cardinals, unable to capitalize on a slew of early free passes, were later sunk by a pair Lance Lynn issued in a laborious sixth inning on Tuesday. The walks and an earlier error aided the Padres in a 3-1 win that came in front of 33,521 fans at Petco Park and stalled the Cardinals' attempts to climb closer to the top of the division.
"When we're having trouble scoring runs, facing good pitching, you have to do all the little things right," manager Mike Matheny said. "Today, we didn't necessarily do that."
The Cardinals and Padres, meeting for the first of seven times this season, entered the series as the National League's two most run-starved offenses. Neither would break out on this night, but the Cardinals gift wrapped enough to assist San Diego in its scoring efforts.
Lynn, who didn't walk a batter through five innings, opened the sixth by missing the strike zone on eight of his first nine pitches. Several were borderline and had been called strikes by home-plate umpire Tony Randazzo earlier in the night. The Cardinals believed Randazzo's zone shrank in the sixth, and Lynn couldn't adapt quickly enough.
"I just couldn't find the strike zone of that inning," said Lynn, now 11-8. "You hate to lose a game that way when you're throwing the ball well and think you're making good pitches."
Lynn rebounded with a pair of outs, but he couldn't get out of the inning before Jedd Gyorko snuck an RBI single to left field on a fastball that Lynn later lamented leaving just a bit too high. On a night when he threw only four off-speed pitches, this was the lone fastball he truly wanted back.
It took Lynn 35 pitches to finish off the inning -- which he did with a bases-loaded strikeout of pinch-hitter Yasmani Grandal, which was followed by a demonstrative exit from the field directed, at least in part, to Randazzo -- but Gyorko's go-ahead hit would suffice. The other run Lynn allowed was also Cardinals-aided, set up by a two-base throwing error from second baseman Kolten Wong.
A single and sacrifice fly helped the Padres manufacture that unearned run in the third to take the early lead.
"It's not what I want to do, especially behind Lance because he's always out there giving his best," Wong said. "I got the ball after it went through his legs, tried to set my feet and put a good throw on it and the throw just sailed on me."
By then, Padres starter Tyson Ross had already given the Cardinals plenty of opportunity to strike. He walked five of the first 12 hitters he faced; none would score. A double play and three strikeouts (he'd finish with seven on the night) helped him out of the early jams.
Ross, his fastball command improving, wouldn't walk another batter in his final three innings.
"When you're facing a guy who is throwing the ball well and with a lot of confidence, you have to take advantage of those early opportunities," Matheny said. "And we weren't able to do that."
The Cardinals did get to Ross in the fifth, though the club turned three hits into only one run. Two of those hits came in succession to open the inning, putting Lynn and Matt Carpenter in scoring position with no outs. Wong drove Lynn, the tying run, home with a sacrifice fly. Carpenter was then thrown out trying to score on Matt Holliday's one-hopper to third base.
The Cardinals wouldn't advance another runner to third all night.
"It was a battle out there, but [catcher] Rene [Rivera] did a great job of keeping things under control and the defense picked me up," Ross said. "I had a lot of guys on base, a lot of tough situations but the defense made some great plays."
It all left Lynn to take the loss in what was his fifth consecutive start of at least six innings and two or fewer runs allowed. With only one of these being earned, Lynn lowered his ERA to 2.98. It marks just the second time this season that Lynn can boast a sub-3.00 mark.
"He deserved a little better," Matheny said. "It would have been nice to get some offense going, but we ran into another guy who has had a nice season and threw the ball well tonight."
Lynn's start, even in a losing effort, was actually one of the highlights for the Cardinals on an otherwise sloppy evening for the visiting club. The Cardinals committed three errors, matching the team's season high, and went hitless in seven at-bats with runners in scoring position.
Jason Motte, tasked with keeping the deficit at one in relief of Lynn, also served up a homer to Yangervis Solarte with two out in the seventh. The homer was the seventh Motte has allowed in 21 innings since wrapping up his recovery from Tommy John surgery. Before the arm injury, Motte had a career homer-per-nine-innings rate of 0.9.
The loss was the Cardinals' fifth in their last seven games.
Jenifer Langosch is a reporter for MLB.com. Read her blog, By Gosh, It's Langosch, and follow her on Twitter @LangoschMLB. This story was not subject to the approval of Major League Baseball or its clubs.