Giants frustrated by Pirates in sixth straight loss
Hudson gives up homers in first, second inning before settling down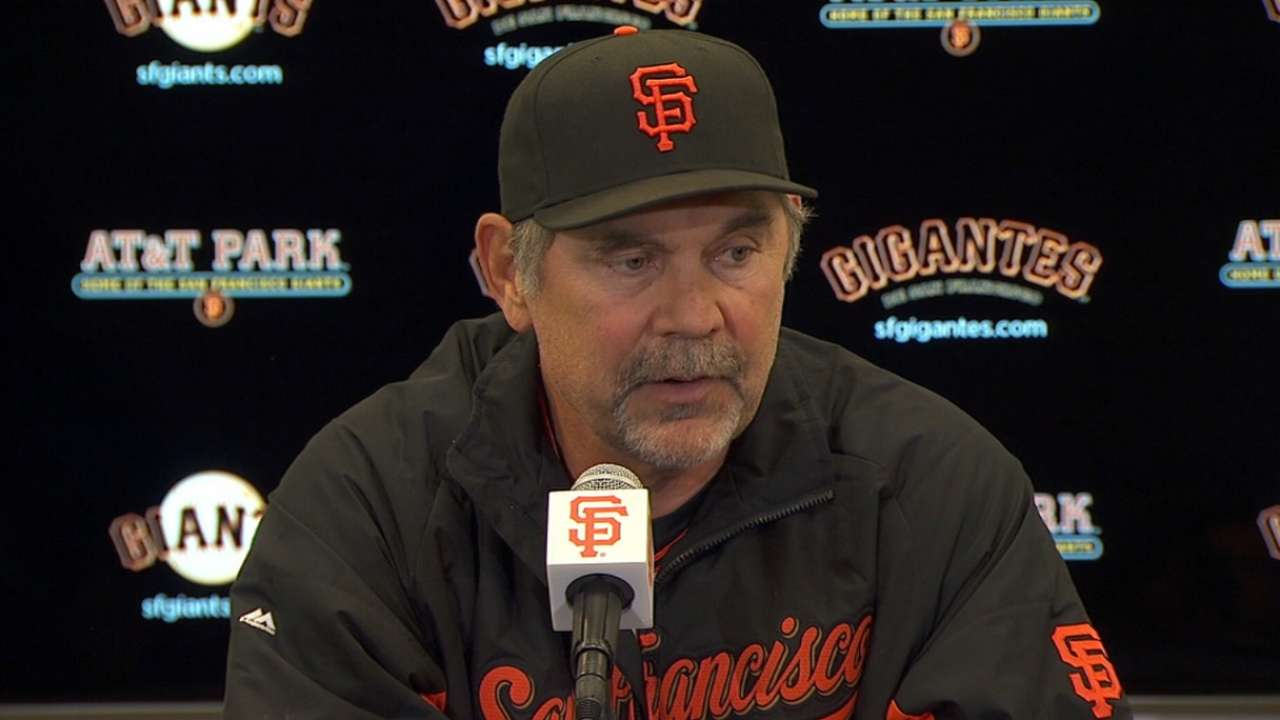 SAN FRANCISCO -- The noise that the AT&T Park crowd delivered after Giants second baseman Dan Uggla struck out in Tuesday night's seventh inning was unusual, but also unmistakable.
Unusual because this particular sound rarely has been directed at a Giant in recent years. Unmistakable because it's a universal expression of contempt.
Boooooooooo.
It could become more frequent and familiar as long as the Giants' futility continues. The 3-1 setback San Francisco was dealt by the Pittsburgh Pirates extended its losing streak to six games, matching a season high. The Giants have lost 21 of their last 27 home games, including all five on this homestand entering Wednesday's finale. The last time they dropped the first five games of a homestand occurred at the outset of their inaugural 2000 season at AT&T Park.
It's almost gotten to the point where ballpark patrons are starting to forget the lyrics of Tony Bennett's "I Left My Heart in San Francisco," which pours out of the public-address system following Giants victories. The loveliness of ... huh?
Giants manager Bruce Bochy understood the fans' wrath.
"They care," Bochy said. "They're frustrated. You play so well for so long and it gets turned around. I'm sure it's not easy for them, either."
Players insisted they can generate the sort of winning streak that would soothe the natives.
"We just have to try to get on a roll together," said Buster Posey, who started at first base and went 3-for-4. "We've done it before, so I think we can do it again."
Vowed left fielder Michael Morse, "It's going to click, and we won't even remember this."
Currently, however, the Giants have forgotten how to hit. They have scored one run or fewer in five of their last six games and avoided a shutout when Morse led off the second inning with his team-high 15th home run and first at home since May 15.
Otherwise, the Giants were virtually helpless against left-hander Francisco Liriano (3-7), who struck out 11 batters in seven innings and allowed four hits. San Francisco advanced only three runners as far as second base.
"We can't string together a few hits," said Bochy, sounding genuinely nonplussed. "It's tough for these guys. I think they're pressing a little bit. For the life of me, I can't tell you why, but we've had a hard time putting together some good at-bats."
Giants starter Tim Hudson pitched almost flawlessly during his final five innings, but yielded two early home runs as he fell to .500 (8-8) for the first time this year.
Josh Harrison drove an opposite-field line drive to right for his first career leadoff home run.
"It was weird," Hudson said. "Off the bat, I thought it was going to be a double off the wall."
Travis Snider belted a two-run homer in the second inning, which followed Ike Davis' leadoff infield single. After Snider went deep, Hudson retired 18 of the final 21 hitters he faced and threw a season-high 114 pitches for the second straight start, displaying admirable stamina at age 39.
Pirates manager Clint Hurdle praised Hudson's effort following Pittsburgh's power surge: "He was down all night, mixed his pitches extremely well, located extremely well -- all the things he's been doing for so many years."
Chris Haft is a reporter for MLB.com. Read his blog, Haft-Baked Ideas, and follow him on Twitter at @sfgiantsbeat. This story was not subject to the approval of Major League Baseball or its clubs.