Liriano dominates Giants with 11 strikeouts for win
Harrison, Snider slug homers as Pirates keep rolling after break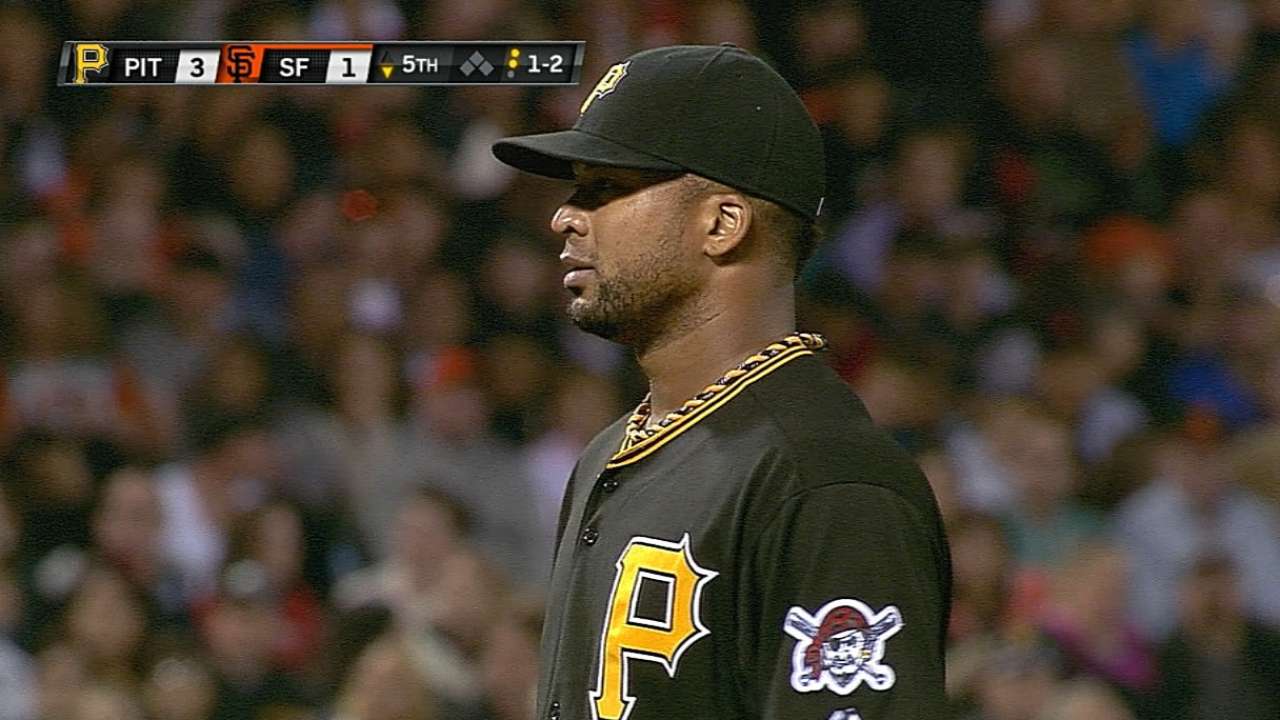 SAN FRANCISCO -- The left-hander for whom the Pirates have been yearning for a long time showed up on the AT&T Park mound Tuesday night.
Jon Lester? David Price? Cole Hamels, or any of the other southpaws spinning on the Trade Deadline roulette wheel?
Not yet. Or not ever. Instead, Francisco Liriano, in his best impersonation of his 2013 self, strong-armed the Giants for seven innings for a 3-1 victory.
"He's improved every time out, and this was the best outing yet," manager Clint Hurdle said after Liriano had lifted the Bucs to a new season high.
His last time out, Liriano beat the Dodgers, 6-1, to jack the Pirates to seven games above .500 for the first time. Tuesday night, his dominant effort raised them to plus-eight (57-49) for the first time.
The trend is more than mere symbolism: Where the Pirates want to go, Liriano can take them.
"This guy was a huge part of the success we had last year. It's important to get him up and running again," Hurdle said. "The confidence is building. Real good form out there tonight."
Liriano registered 11 strikeouts while allowing four hits -- including a briefly disputed second-inning home run by Michael Morse.
"Everything worked very well tonight," Liriano had to agree. "Pitching is all about location and getting ahead in the count. I was able to get ahead with the fastball, then use my breaking ball."
Liriano delivered first-pitch strikes to 19 of the 26 batters he faced.
"The fastball played so well, he was able to get them in swing mode, and it made his change so effective," said Hurdle, who himself had a pretty effective game.
Hurdle couldn't decide which hot hitter to bench -- Josh Harrison had six hits in his previous nine at-bats, Travis Snider five hits in his last eight -- so he kept both in his lineup, instead sitting Pedro Alvarez.
Harrison, going yard for the third consecutive game, began the game with his first career leadoff homer, and Snider followed in the second with a two-run blow.
It was naturally suggested to the manager postgame that it might be a good time for him to play the lottery. The Powerball was suggested as a good choice.
Most interestingly, Harrison's first-inning homer set up the Pirates' 17th consecutive victory when scoring in the opening frame.
This matches the second-longest such streak in club history, also accomplished in 1903, 1905 and 1928. Only a 28-game streak in 1909 has been longer.
Hurdle considered that development ... well, not very important.
"It doesn't mean a whole lot," he said, "other than ... let's try to do it again."
While on that roll, the manager also dismissed his team toeing the first-place threshhold.
The Bucs' eighth win in 11 games coming out of the All-Star break -- matching their best second-half start since 2004 (also 8-3) -- jumped them into second place in the National League Central, now only one game behind Milwaukee.
"That's more important to people outside the clubhouse," Hurdle insisted. "Our goal is to get better every day, and that's not going to change regardless of where we are."
For the second straight night, the Pirates shut it down after having scored in each of the first two innings. Or were shut down, by Tim Hudson, who after that shaky outset scattered two hits in the rest of his seven-inning stint.
That came too late to avoid his second tough-luck loss to the Bucs.
Hudson was a 2-1 loser in Pittsburgh on May 6 -- a historic game, the first "replay walk-off," as a video review confirmed that Starling Marte indeed had scored the winning run after the relay throw on his two-out triple had gone wild.
"Liriano was pretty good," Hudson said. "He's been on lately and we caught him on one of his good nights."
"A couple of balls we were able to barrel up in the air, and after that [Hudson] was down all night. Mixed his pitches extremely well, the way he's been doing for so many years," Hurdle said. "So we get three early, and our pitchers made it stand up."
Tony Watson and Mark Melancon, each working through a leadoff single, finished up. Melancon's save was his 20th, matching the career high he set in 2011 with the Astros.
The home run by Morse was the first off Pittsburgh pitching here in eight games and 62 innings -- since Aubrey Huff went yard off Joel Hanrahan in the eighth inning on April 13, 2012 (a Friday, naturally).
Hurdle challenged the home run call, but replay review confirmed the ball had reached the first row of the left-center stands without any interference by the fan who retrieved it.
Tom Singer is a reporter for MLB.com and writes an MLBlog Change for a Nickel. He can also be found on Twitter @Tom_Singer. This story was not subject to the approval of Major League Baseball or its clubs.