Rally falls short as Twins keep Royals' number
KC loses for sixth time in 10 games against division rival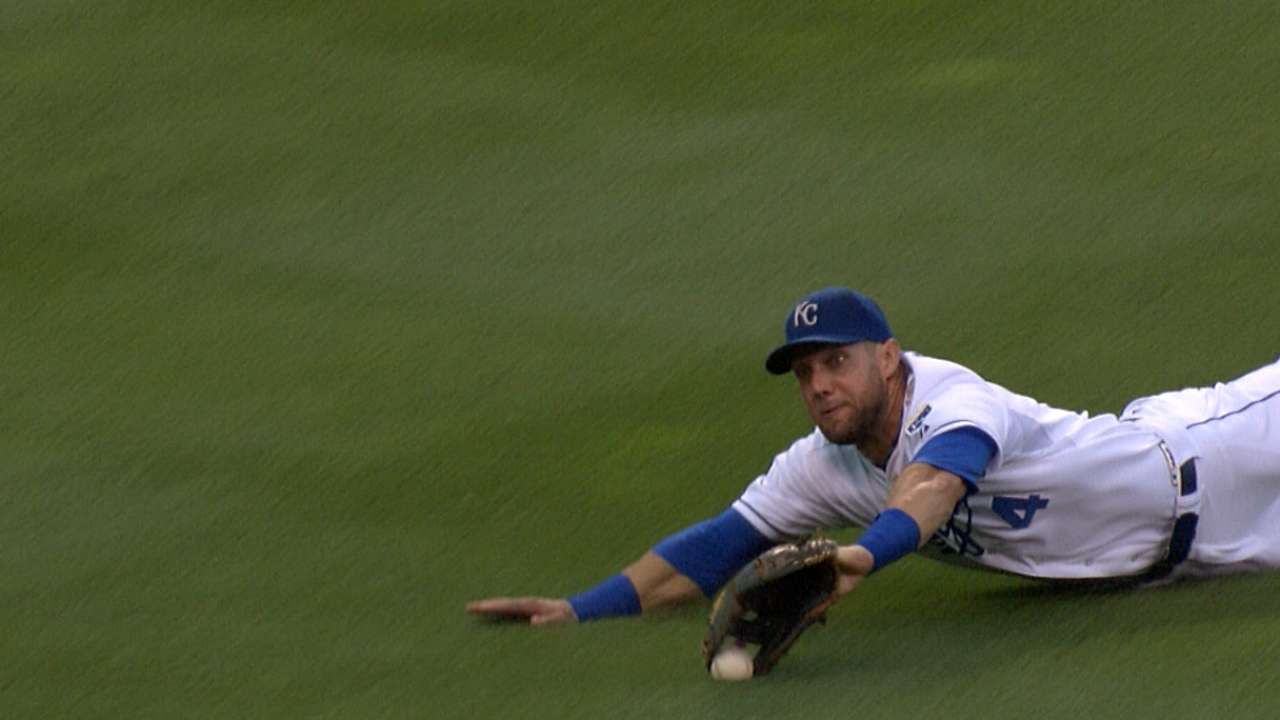 KANSAS CITY - Last year the Royals absolutely loved playing the Minnesota Twins and why not? They were 15-4 against them.
Times have changed. Right-hander Kyle Gibson and the last-place Twins dealt the Royals a sixth loss in their 10 meetings this season, 2-1, on Tuesday night in front of 30,686 fans at Kauffman Stadium.
Gibson held Kansas City scoreless for seven innings, giving up just two hits and two walks with seven strikeouts. He's now 3-0 with a 1.40 ERA in three career starts against the Royals.
"We got out-pitched and outplayed. That's about all I've got to say about it," Royals starter James Shields said. "I didn't have my best stuff today. I tried to keep the team in the game as long as I could and it just wasn't enough."
Shields did have more to say, though, after throwing 124 pitches -- his most in two years with the Royals -- in six innings. He gave up six hits and four walks to the very selective Twins.
"I think they've seen the most pitches in the big leagues. They do a good job of working the count, getting deep in the count and really making the starting pitcher battle," Shields said. "I've got to do a better job of getting ahead of hitters right there. They were fighting good pitches off with two strikes as well tonight. That's a good ballclub over there, as far as their hitters go."
The Twins made all kinds of things happen in just the first five innings.
Twins manager Ron Gardenhire got ejected in the third inning after he challenged an out call and then railed at plate umpire Ted Barrett -- for an instant replay call made in New York.
Royals left fielder Alex Gordon dove to snag Chris Parmelee's looper and third-base umpire Alfonso Marquez ruled it was good for the third out. Gardenhire disagreed and, after a lengthy review, the New York crew ruled that the call stood.
Gardenhire's flamboyantly expressive protest got him tossed out of the game.
Earlier in the third, Danny Santana singled and got to second on Shields' errant pickoff throw. Then Sam Fuld's line drive struck Shields in the left buttock but he recovered the ball in time to throw for an out at first base while Santana took third. Josh Willingham's sacrifice fly got him home for a 1-0 lead.
Santana doubled to start the fifth inning and Fuld singled him to third. Brian Dozier's liner to left scored Santana and Fuld, as he rounded second base, ran into second baseman Omar Infante. Umpire Adam Hamari immediately ruled obstruction on Infante, calling dead ball and moving Fuld to third and Dozier to second.
Dozier was credited with an RBI double. Royals manager Ned Yost questioned the ruling but got nowhere with a lengthy argument.
"You have to finish the play, the rule states you have to finish the play. It's not a free play," Yost said. "You have to continue the play and if he's thrown out at third base and the umpire deems that he would have made it, then he could call him safe. Of course, the play stopped right there but the old umpire's judgment came into play and I didn't agree with it."
Shields hit the next batter to load the bases, but the score stayed 2-0 as Parmelee grounded into a double play.
Meanwhile the Royals were having little luck against Gibson, a product of the University of Missouri just down I-70 from Kansas City. He surrendered just two hits -- a single by Alcides Escobar in the third and a single by Nori Aoki in the sixth.
Yost obviously had been studying up on Gibson.
"Tonight was the sixth time that he's gone seven innings or more of shutout baseball. He had one other time when he went seven innings and gave up one run," Yost said. "But he's also gone four times when he's gone two innings and given up the majority of his ERA. But when he's on his game, he's tough."
The Royals got their only run in the ninth against closer Glen Perkins, stirring up the unexpectedly big crowd (the Royals sold some 8,200 tickets on Tuesday).
Infante doubled down the left-field line and Eric Hosmer got him home with a single to left field. But Perkins got the next three batters. Salvador Perez lined out to left, Gordon flied out to center and Billy Butler lined out to second.
"We should have put up more runs," Butler said. "We just didn't get anything going."
Dick Kaegel is a reporter for MLB.com. This story was not subject to the approval of Major League Baseball or its clubs.