Gibson bounces back from back issue, beats Royals
Righty delivers seven scoreless, allowing two hits with seven K's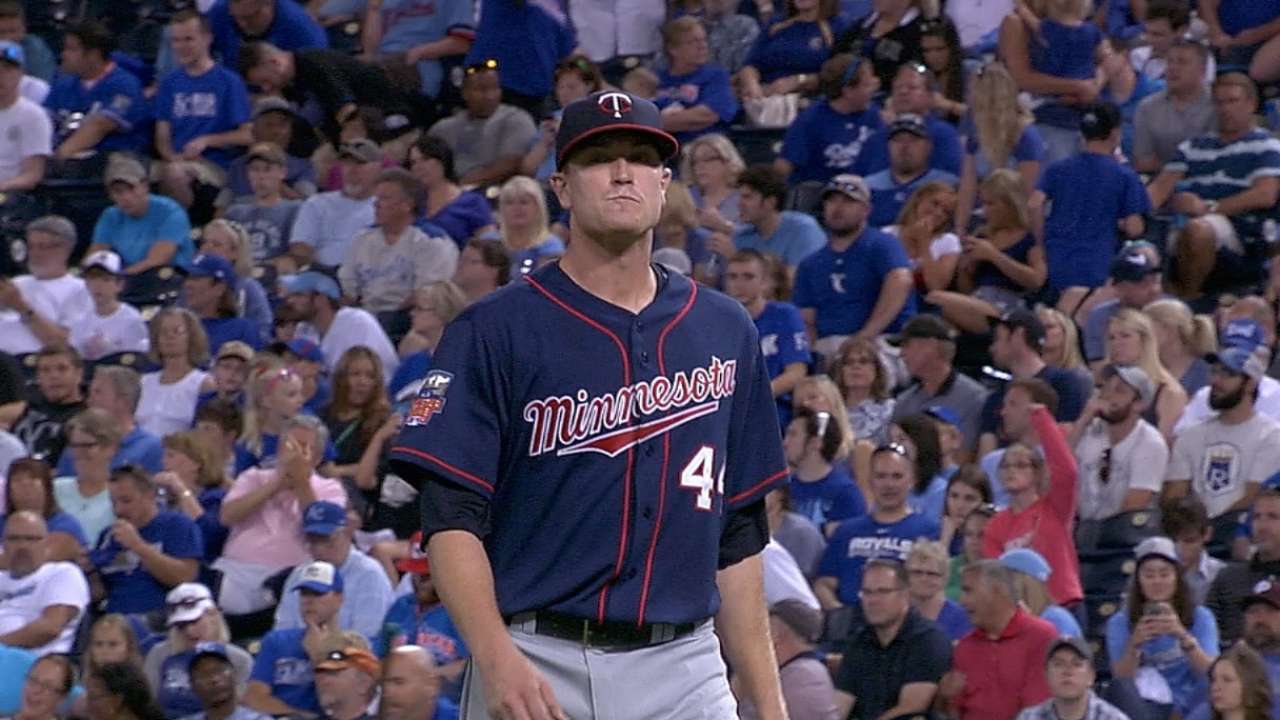 KANSAS CITY -- With the way the Twins played during their 10-game homestand, they knew how important it would be to start off well on Tuesday night in the first game of their six-game road trip through Kansas City and Chicago.
Minnesota went just 3-7 during the homestand, falling behind early in several games, and needed a strong start from Kyle Gibson, who was going up against Royals ace James Shields.
Gibson did just that in his return from missing a start with lower back stiffness, as the right-hander tossed seven scoreless innings to lead the Twins to a 2-1 win over the Royals at Kauffman Stadium.
"Gibby was fantastic for us," Twins manager Ron Gardenhire said. "We had a lot of chances against Shields, but he always finds a way to stay in there. He kept us from getting a pretty good lead by making some pitches on us, but our guy matched him and upped him this time."
Gibson, who hadn't started since July 18 after feeling back tightness in a bullpen session on July 21, scattered just two hits and two walks to get his first win since July 9. The right-hander also struck out seven and faced the minimum through the first four innings. He improved to 9-8 with a 3.94 ERA on the year.
Gibson credited a tweak in his grip for his success, as it was something he worked on with pitching coach Rick Anderson during his last bullpen session on Saturday.
"The one thing I worked on was loosening my grip a little bit and letting my fingers work," Gibson said. "That seems to be the key, especially with my sinker."
He outdueled Shields, who was also solid, but needed 124 pitches to get through six innings. Shields gave up two runs on six hits and four walks to get stuck with the loss, which left him frustrated after the game.
"We got out-pitched and out-played," Shields said. "That's about all I've got to say about it. I didn't have my best stuff today."
The Twins got on the board against Shields in the third inning on a sacrifice fly from Josh Willingham to take an early lead. But the inning ended in controversy, as Gardenhire challenged a sliding catch from Alex Gordon. It appeared he trapped the ball, but the play stood and Gardenhire was ejected for arguing with home-plate umpire Ted Barrett.
Minnesota added another run in the fifth with Brian Dozier coming through with an RBI double to score Danny Santana. Sam Fuld was awarded third on the play due to interference from second baseman Omar Infante, which caused Royals manager Ned Yost to argue the decision to no avail.
The double snapped an 0-for-18 skid for Dozier, who said that Shields threw mostly offspeed throughout the night.
"I don't know the percentages but he threw a lot of offspeed," Dozier said. "It seemed like every pitch he threw to us was either a curveball, cutter or changeup. The fastball was kind of for show. He didn't really command it early in the game and relied on his offspeed, so after we saw it a bunch, we put some good swings out there."
But the Twins left the bases loaded that inning, as Chris Parmelee grounded into a 4-6-3 double play. Minnesota went just 2-for-9 with runners in scoring position against Shields, but still pulled out the victory thanks to Gibson's strong start.
The Royals didn't have many chances with runners in scoring position against Gibson, and went just 0-for-2 in those situations with Gibson getting strikeouts to end the fifth and sixth innings.
"I'm not out there going for strikeouts but when I get into a situation where one's available, I try to go after it," Gibson said. "I just had a lot of confidence tonight. I think I had my best fastball command all year."
Closer Glen Perkins gave up an RBI single in the ninth to Eric Hosmer, but was able to get through the rest of the inning unscathed to pick up his 26th save. It also gave the Twins consecutive victories for the first time since July 12-13 against the Rockies.
"The first game on the road in a series is always important," Dozier said. "And it came against a good pitcher in Shields. So have to get after it tomorrow because the next three pitchers are all really good."
Rhett Bollinger is a reporter for MLB.com. Read his blog, Bollinger Beat, and follow him on Twitter @RhettBollinger. This story was not subject to the approval of Major League Baseball or its clubs.