Cobb's gem backed by Zobrist's key knocks
Right-hander strikes out 12 Brewers in eight dominant frames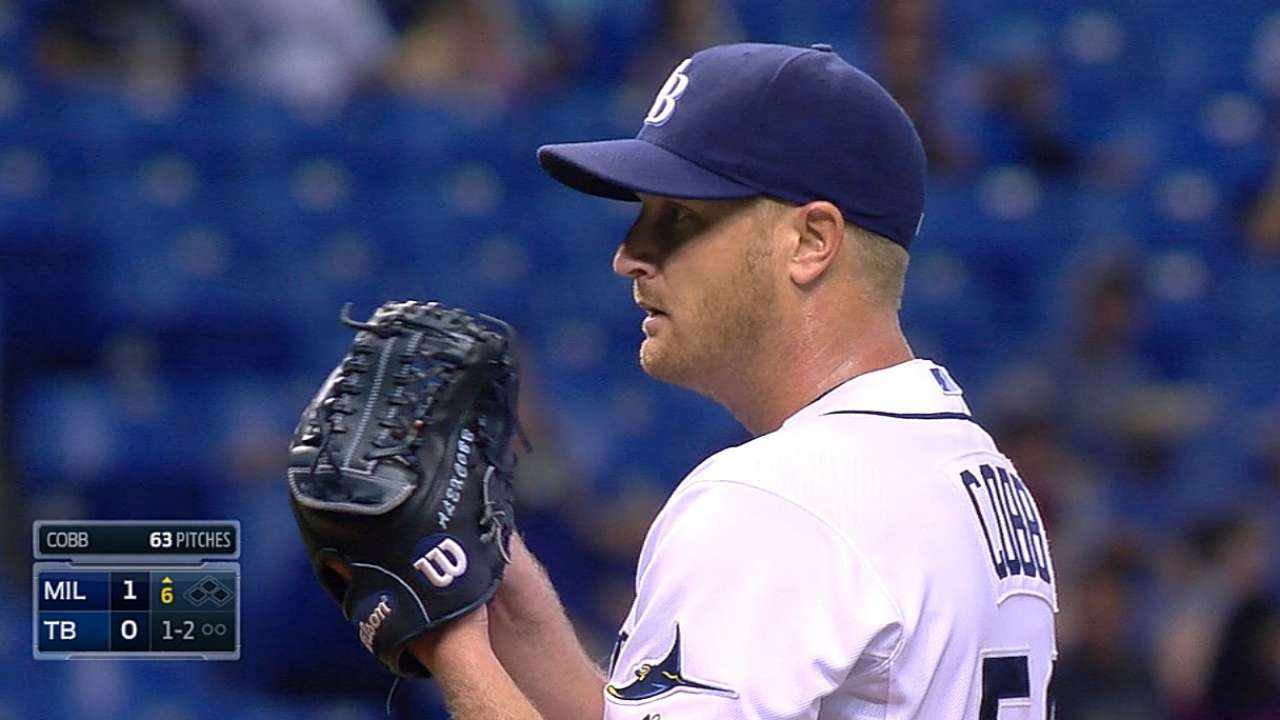 ST. PETERSBURG -- Quality pitching and timely hitting, kind of sounds like the good old days of Rays baseball.
Tuesday night the Rays ran into a part of those good old days in the form of Matt Garza, who started for the Brewers. Meanwhile, Alex Cobb started for the Rays and a pitching duel ensued.
Both starters held serve in their respective quality starts, but a Rays offense led by Ben Zobrist eventually took down the Brewers' bullpen in a 5-1 Rays win at Tropicana Field.
The Rays (53-54) have won 11 of their last 12 games since July 12 and they are 29-12 since June 11 after going on a 1-14 stretch that dropped them to 18 games below .500.
"We're playing for the World Series," Rays manager Joe Maddon said. "That's been our objective from Day 1. For me it's to get to the playoffs and win the World Series. That has not changed.
"I'm telling you we're one of the best teams in the American League. Our record is not reflecting it yet. But if we keep playing like this it soon shall. There's a lot of time left. We need to do the 'Butch Cassidy and The Sundance Kid' thing, make these people look in the rearview mirror and say, 'Who are these guys?' We have to keep pushing, pushing, pushing, up tempo."
Pinch-hitter Sean Rodriguez began the winning rally with a leadoff walk against Will Smith to start the eighth. Desmond Jennings' sacrifice moved him to second and he alertly took third on a wild pitch. Zobrist then doubled to left on a 3-2 slider to put the Rays up, 2-1.
"I had never faced Smith before, and he's got good stuff -- obviously he throws hard, and he's got a good slider," Zobrist said. "And he got me early on in the count a little bit, but I was fortunate 3-2 there that he just left it over the middle of the plate and I was able to get the barrel to it. Obviously I think he probably would have wanted to throw that ball down and in or something, trying to get me to chase it, and he just kind of left it up in there."
Logan Forsythe followed with an RBI double off the center-field wall to give the Rays a two-run cushion. The Rays scored again when Brandon Guyer's roller to first drove home Forsythe and Cole Figueroa added a sacrifice fly after replacing Yunel Escobar, who got ejected after protesting a strike call.
Until the eighth, the game had lived up to his promise of a pitching duel between Cobb and Garza. Hitters from neither team could get comfortable in the box as both of the right-handers were dealing.
Aramis Ramirez singled off Cobb to start the Brewers' fifth and moved to second when Khris Davis walked. Mark Reynolds' sacrifice bunt advanced the runners into scoring position for Scooter Gennett, who came through with a sacrifice fly to center that scored Ramirez for a 1-0 Brewers lead.
Zobrist squared up an 0-1 offering from Garza with two out in the sixth, sending an arching shot over the right-field wall for his ninth homer of the season to tie the game at 1.
"He stayed inside of it and pulled a fastball across and paid for it," Garza said. "That's about it. I knew runs were going to be at a minimum; Cobb's splitfinger today was real nasty. It is what it is."
Cobb allowed one run on three hits while striking out 12 in eight innings to claim his seventh win of the season. Garza allowed one run on five hits in seven innings to take a no-decision.
"To start that game, Garza -- I don't want to say dominated, but he was really in the groove, in the zone," Cobb said. "Really making some great pitches. We kept clawing away. Even the ball Zo hit out was in on his hands, it was a great pitch. So for him to keep that ball fair was tremendous.
"We were able to get to the bullpen late. It's just the resiliency of just going up there and putting up together good at-bats is just tremendous right now. There's just no quit in anybody, nobody's getting down. ... It's fun to watch when you're going like that."
Bill Chastain is a reporter for MLB.com. This story was not subject to the approval of Major League Baseball or its clubs.