Garza turns in sharp outing, but Brewers' bats go quiet
Right-hander allows one run in seven strong innings vs. Rays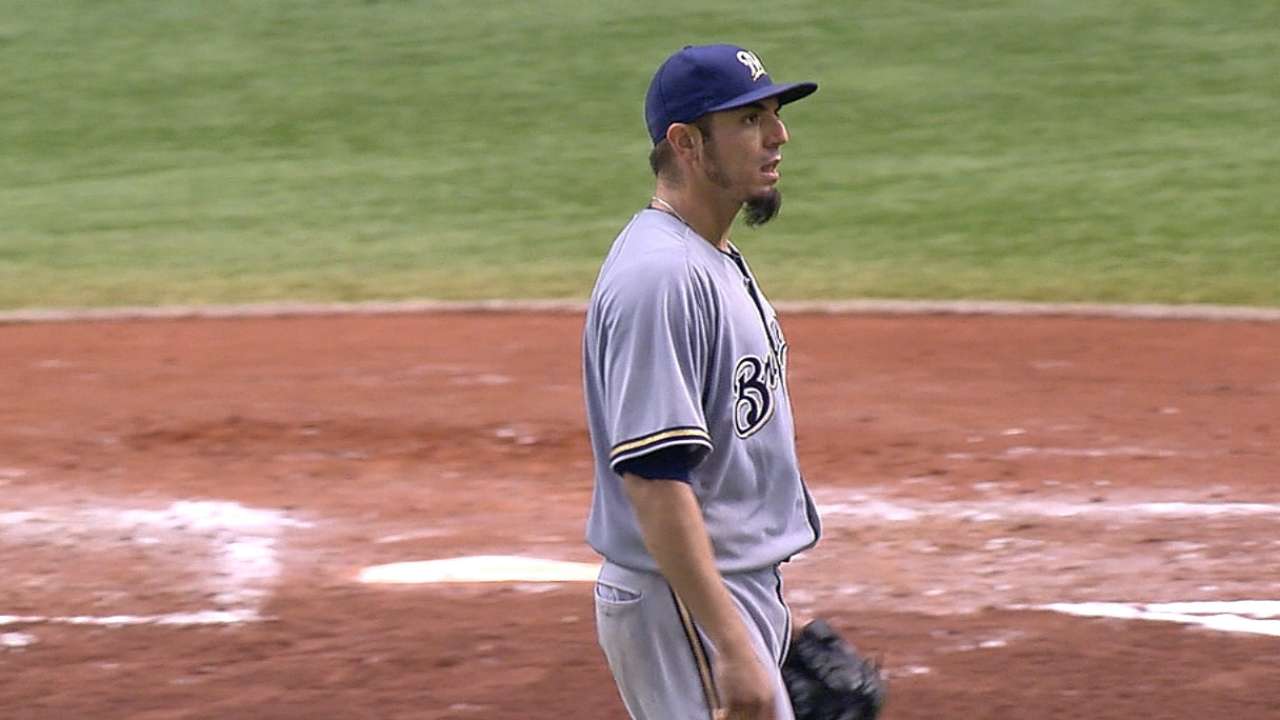 ST. PETERSBURG -- The Brewers remained mired on Tuesday in a familiar funk. Their starting pitcher delivered, and their hitters did not.
Matt Garza pitched well enough over seven innings to beat his former team, but received scant support in a 5-1 loss to the Rays at Tropicana Field that continued both teams' trajectories. A four-run eighth-inning rally sent the Rays to their 11th victory in 12 games, while the Brewers managed three hits versus 14 strikeouts on the way to a fourth loss in five games.
"It's nice to come here, but not like this," said Garza, who pitched three seasons here. "We're in the playoff hunt, and you've just got to keep going, keep grinding. It's a good club we're playing and they're in the same thing we are -- we're all trying to get to October. Right now it's just execution."
Brewers manager Ron Roenicke put it this way: "They got the big hits and we didn't get any."
The Brewers did little against Tampa Bay's Alex Cobb, a right-hander with a funky delivery who allowed a run on three hits and struck out a season-best 12 batters over eight innings. He was rewarded in the bottom of the eighth when the Rays rallied for four runs against Brewers relievers Will Smith and Marco Estrada to snap what had been a 1-1 tie, with Ben Zobrist, whose home run off Garza had tied the game in the sixth inning, putting his team ahead with an RBI double. Zobrist later scored himself for the second of four Rays runs in the inning.
Brewers batters have been squandering some quality starts. In the last turn through Milwaukee's five-man rotation, Garza and company have combined to allow only seven earned runs in 34 1/3 innings, for a 1.83 ERA. In the same five games, Brewers hitters have scored only nine runs while batting .153 and logging more than twice as many strikeouts (50) as hits (24).
"We know we can hit, and we're not too worried about it," said second baseman Scooter Gennett, whose sacrifice fly supplied Milwaukee's only run. "[Garza] did his thing tonight, and it just stinks that we couldn't swing the bats a little bit more for him."
Leadoff man Carlos Gomez had the toughest night, going 0-for-4 in the sixth four-strikeout game of his career. He cited the Brewers' unfamiliarity with Monday starter Jake Odorizzi and Tuesday starter Cobb for some of the Brewers' trouble.
"It's not that I'm negative or struggling," Gomez said. "I felt really good, saw the ball really good tonight and go 0-for-4. I know it's four strikeouts, but it doesn't matter. You see 0-for-4, it could be four line drives. It's four outs. The only [thing] that matters for me is the way I feel at the plate, and I feel really good. I feel like I can hit anything. And I had the worst night. Just put it in the past, come tomorrow the same, nobody frustrated, and win tomorrow."
He was reminded that the Brewers were to face Rays ace David Price on Wednesday, unless Price is scratched ahead of Thursday's non-waiver Trade Deadline.
"It's no matter," Gomez said. "Whoever throws the ball, we're going to swing. ... I know he's one of the best in the game and we respect that, but he throws the ball like everybody else. The ball comes to the plate, we have a bat, we're going to swing. We have a really good chance to put the ball in play and make things happen.
"Especially now, the whole team is struggling at the plate, so make things happen."
Cobb cruised through the early innings, setting down the first 10 Brewers batters in order with five strikeouts and facing the minimum through four frames. But it was the Brewers who found their way onto the scoreboard first, thanks to a fifth-inning rally that began with Aramis Ramirez's shift-beating single and included Mark Reynolds' first sacrifice bunt in six years -- on his own accord. Gennett followed with a sacrifice fly for a 1-0 Brewers lead.
Garza protected that lead until the bottom of the sixth inning, when Zobrist turned on an inside fastball and sent it toward the right-field foul pole. Garza contorted his body as if to will the baseball foul, but had no luck. Zobrist's ninth home run this season tied the game at 1.
In the eighth, Smith surrendered two hits, three walks and four earned runs.
"The resiliency of just going up there and putting up together good at-bats is just tremendous right now," said Rays manager Joe Maddon. "There's just no quit in anybody, nobody's getting down. ... It's fun to watch when you're going like that."
Over in the visitors' clubhouse, Roenicke's team was in a different state.
Adam McCalvy is a reporter for MLB.com. Read his blog, Brew Beat, and follow him on Twitter at @AdamMcCalvy. This story was not subject to the approval of Major League Baseball or its clubs.