Offense comes alive for Mariners in Cleveland
Seattle, which struggled to score at home, posts four-run fourth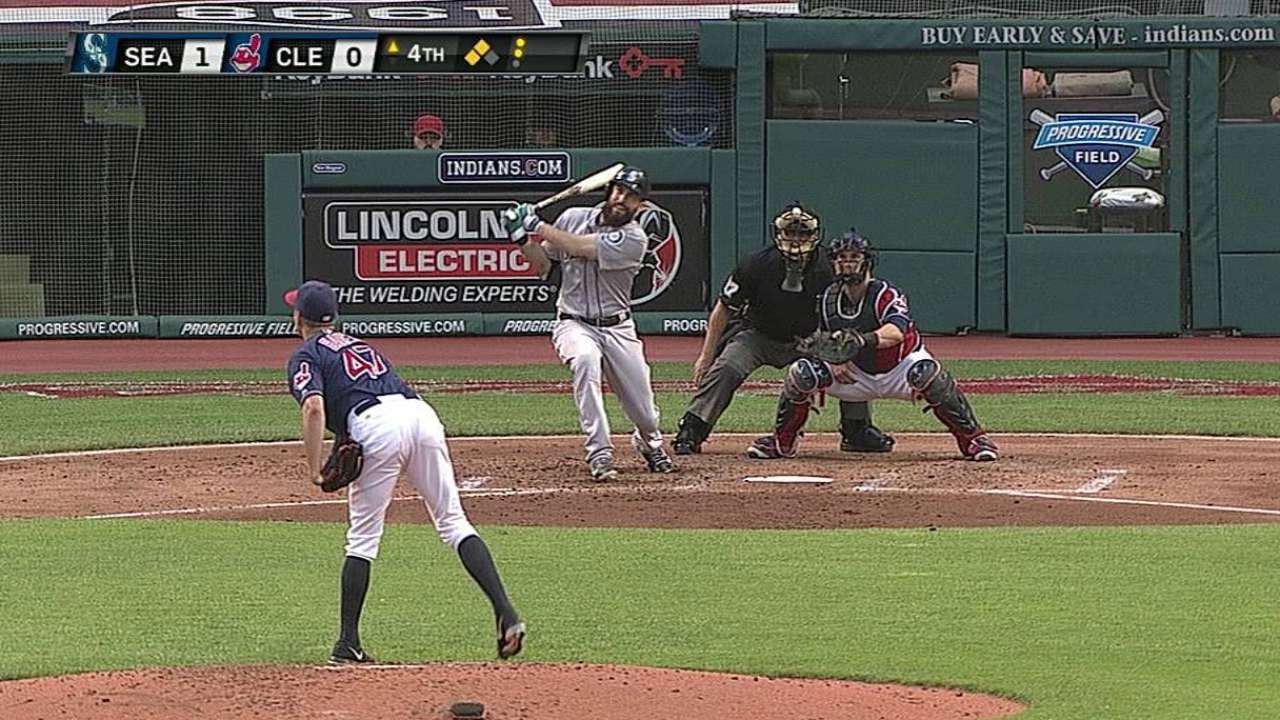 CLEVELAND -- A Mariners team that has proven it has the pitching to stay in the American League playoff chase showed once again what it can do with a little offense to go with that as Seattle topped the Indians, 5-2, to open a six-game road trip on Tuesday at Progressive Field.
The Mariners' record is now 39-10 when they score four or more runs, though the challenge has been to reach that benchmark consistently enough to take advantage of the lowest ERA in the AL.
"We definitely have a lineup that can produce runs, one way or the other, whether it's playing small ball or having a couple big hits here or there," catcher Mike Zunino said after helping the cause with a home run and a double. "I think we're turning a corner. We know the pitching staff and bullpen is going to be there. If we find a way to score those three-to-four runs, we're feeling pretty good."
Hisashi Iwakuma was the beneficiary of Seattle's highest-scoring output in its last seven games as the right-hander threw seven innings of two-run ball to elevate his record to 9-5 with a 3.06 ERA.
"I was very happy for that four-run inning [in the fourth]," Iwakuma said through translator Antony Suzuki. "The last couple starts I'd give up the first run, give up the lead early, and today I didn't want to do that. Those four runs helped."
The Mariners snapped a six-game losing streak at Progressive Field, where they hadn't won since 2011, as they improved to 55-51. After going 2-5 and scoring just 15 runs in their just-completed homestand, the win got the Mariners off on the right foot on their trek to Cleveland and Baltimore and kept them within two games of Toronto in the chase for the AL's second Wild Card berth.
Though the club is still just 4-7 since the All-Star break, manager Lloyd McClendon said that record is a bit misleading given five of the losses have been by one run.
"You don't win those and you don't look good and people say you're playing bad, and that's just not the truth," McClendon said. "One hit in [those] five games and we'd have a pretty nice record coming out of the break, but it is what it is. We had a nice night tonight. Guys came out and put some good at-bats together and hopefully this can jumpstart us."
Zunino ripped his 16th home run of the season and the Mariners added a triple and five doubles in a game where they knocked Indians right-hander Trevor Bauer out after 4 1/3 innings. The seven extra-base hits were one shy of Seattle's season high.
Zunino went 2-for-3 with one of the doubles and also was hit by a pitch while moving into a share of the Mariners' lead for home runs with Kyle Seager with his fifth-inning blast. The 23-year-old leads all AL catchers in homers and is three shy of Seattle's club record of 19 by Miguel Olivo in 2011.
The Mariners' four-run fourth was helped by a two-run double by Dustin Ackley and RBI doubles by Corey Hart and rookie shortstop Chris Taylor. Seager got the rally started by dropping a bunt single down the third-base line against the Indians' shift, then added a triple in the seventh as his 2-for-5 night puts his career average at .417 in 11 games at Progressive Field.
"Today was definitely a better feeling as far as getting ahead and keeping that lead," Ackley said. "When we get ahead of these teams and they know Iwakuma is on the mound and our bullpen has been pretty unstoppable, that puts pressure on them. That's a good position for us to be in."
Ackley, hitting leadoff for the first time this season, went 3-for-5 with a double and two RBIs and is batting .390 in July to lift his season average to .256. Hart's double was just his third extra-base hit -- all two-baggers -- and third RBI in 19 games since coming off the disabled list on July 4.
Iwakuma saw his streak of innings without a walk end at 35 2/3 when he threw four straight balls to Michael Brantley, the third batter in the first inning. Iwakuma faced 139 batters -- with 34 strikeouts -- since the last walk he issued on June 25 against the Red Sox.
But Iwakuma breezed through seven innings with just one blip, allowing a pair of runs and three of his six hits in the fifth. The 33-year-old Japanese standout hasn't lost on the road since July 4, 2013, going 9-0 with a 2.17 ERA in that 14-game span.
"To be honest, I didn't even know about that," Iwakuma said when asked about his run of road success. "I don't know what the secret is."
Whatever it is, the Mariners seem to be sharing it as a team. Seattle is now 29-20 on the road this season and 26-31 at Safeco Field.
Fernando Rodney finished things off in the ninth for his AL-leading 29th save as the Mariners changed some of their recent history at Progressive Field, which hasn't been a friendly road venue. Of Seattle's six straight losses in Cleveland, four had come on walk-off hits on blown saves by different Mariners closers.
Greg Johns is a reporter for MLB.com. Follow him on Twitter @GregJohnsMLB as well as his Mariners Musings blog. This story was not subject to the approval of Major League Baseball or its clubs.