Bauer struggles during Indians' loss to Mariners
Right-hander allows season-high five runs over 4 1/3 innings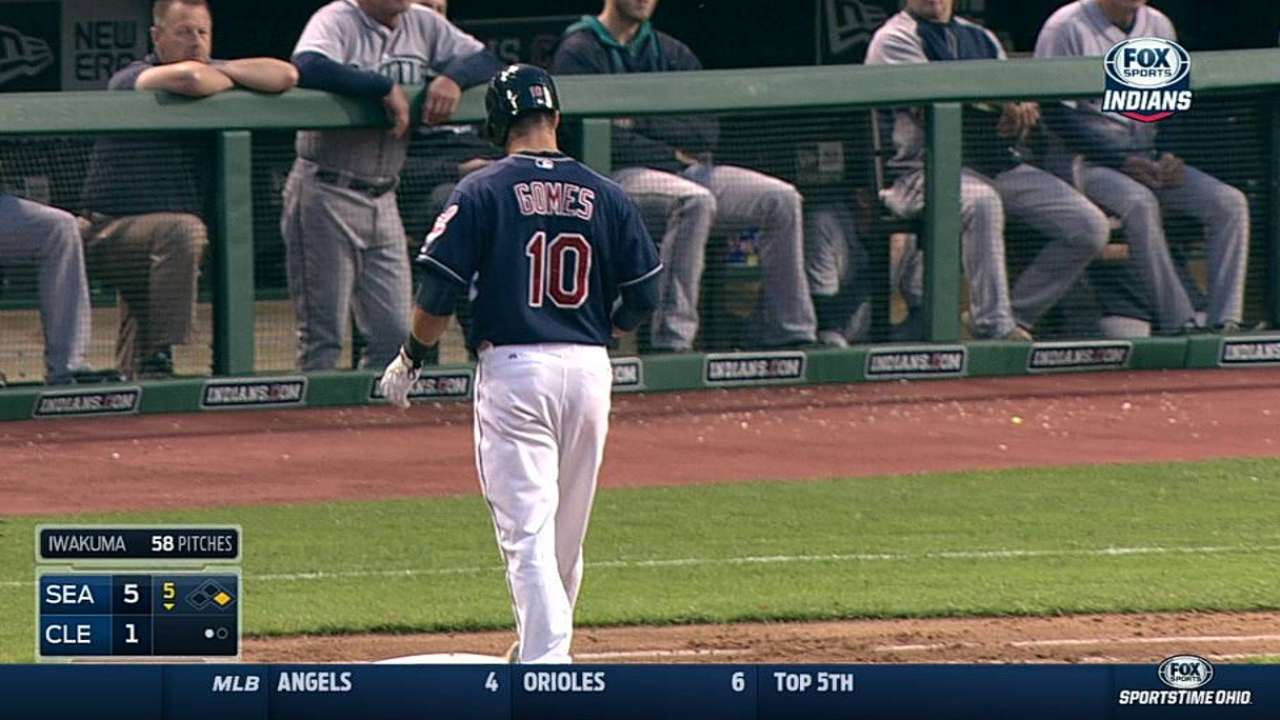 CLEVELAND -- More often than not this season, Trevor Bauer has proven a surprising model of consistency for a club that has lacked that trait in its starting pitching. On Tuesday night, Tribe fans were reminded that the 23-year-old still has some growing pains to work through -- and that the team as a whole still needs to find its footing.
Bauer fought shaky command and fell victim to a four-run fourth inning as the Indians lost to the Mariners, 5-2, in front of 15,713 at Progressive Field. Cleveland (52-54) was tagged with its fifth defeat in its last six games, while the club's largely silent offense mustered less than four runs for the fifth time in its last nine contests.
For a team that opened up the second half by winning three of four at Detroit, the Indians' lackluster play over the ensuing eight games has had a noticeably deflating effect.
"It's been a rough go these last couple weeks for us," said Nick Swisher, who accounted for two of the team's eight hits on the night. "Kind of seemed to come off that All-Star break, we have a great series against Detroit, thinking to ourselves maybe playing Minnesota, Kansas City, Seattle you might be able to have a little let down. But that's kind of backfired. We really got to pick it up and turn it around."
Bauer (4-6, 4.25 ERA) saw his streak of four consecutive quality starts snapped with the loss after allowing a season-worst five runs through 4 1/3 innings, which tied for the right-hander's shortest outing of the year.
"I think I was just behind [in the count] too much," Bauer said. "When you don't get ahead, they take more confident swings, so you kind of back yourself into a corner."
The Indians' lineup provided little in the way of run support in the meantime, managing just two runs and six hits off Seattle starter Hisashi Iwakuma. The righty recorded six strikeouts to only one walk and showcased his standout repertoire over seven strong innings of work.
"He keeps the ball down," Tribe outfielder David Murphy said of Iwakuma. "His main offspeed pitch is a splitter. When you keep your fastball down, it makes your fastball and split look the same. When he does that, he's able to have guys off balance and get out in front a little bit. We definitely were at times with the split-finger."
Bauer began the night without his best stuff, but he was still effective enough to make it through the first three innings without allowing a run. Iwakuma was just as sound for Seattle, allowing two hits and a walk through his first three frames.
The Mariners' offense finally broke through in the fourth inning, tallying four runs on four hits -- three of them doubles -- to pull ahead. Third baseman Kyle Seager sparked the outburst with a shift-beating bunt down the third-base line, Bauer hit Mike Zunino in the following at-bat and the inning unraveled from there.
"I thought he started out pretty good," Tribe manager Terry Francona said of Bauer. "And then the second time through, he got in some fastball counts and threw his fastball where they could get the good part of the bat on it. And he kind of paid for it."
Zunino struck what wound up being the finishing blow for Bauer an inning later with a first-pitch solo shot that chased the right-hander from the game.
After managing just two hits across the first four frames, the Cleveland bats finally awoke to score a pair of runs off Iwakuma. Swisher smacked a leadoff double and Yan Gomes and Corey Dickerson followed with hits of their own, cutting the deficit to 5-2 and bringing the Indians within striking distance.
The effort went for naught in the end, however, as Iwakuma cruised ahead to his ninth victory of the season while Fernando Rodney picked up his 29th save of the year with a clean ninth inning.
One of Cleveland's few positive performances came from lefty reliever Nick Hagadone, who allowed just one hit over a career-high 2 1/3 scoreless innings following Bauer's early exit. Hagadone now has a 1.35 ERA over seven appearances since being recalled from Triple-A Columbus.
"That was really nice to see," Francona said. "It kept our bullpen in order. It gave us a chance to think about winning that game. He looked like he pitched with confidence, he worked ahead in the count, used both his pitches."
With a full two months of baseball left, the Indians have been adamant in their belief that the postseason remains an attainable goal. But perhaps those same players are starting to develop a sense of urgency as well.
"We just got to come back here tomorrow, get our heads on straight and start picking up some W's," Swisher said. "At the end of the day, nobody checks the box score to see how the team did. For us, this losing stuff, I've almost had enough of it. We've got to start turning things around."
Alec Shirkey is an associate reporter for MLB.com. This story was not subject to the approval of Major League Baseball or its clubs.