Braves relive NLDS letdown in return to LA
Puig ignites Dodgers rally reminiscent of Game 4 heartbreaker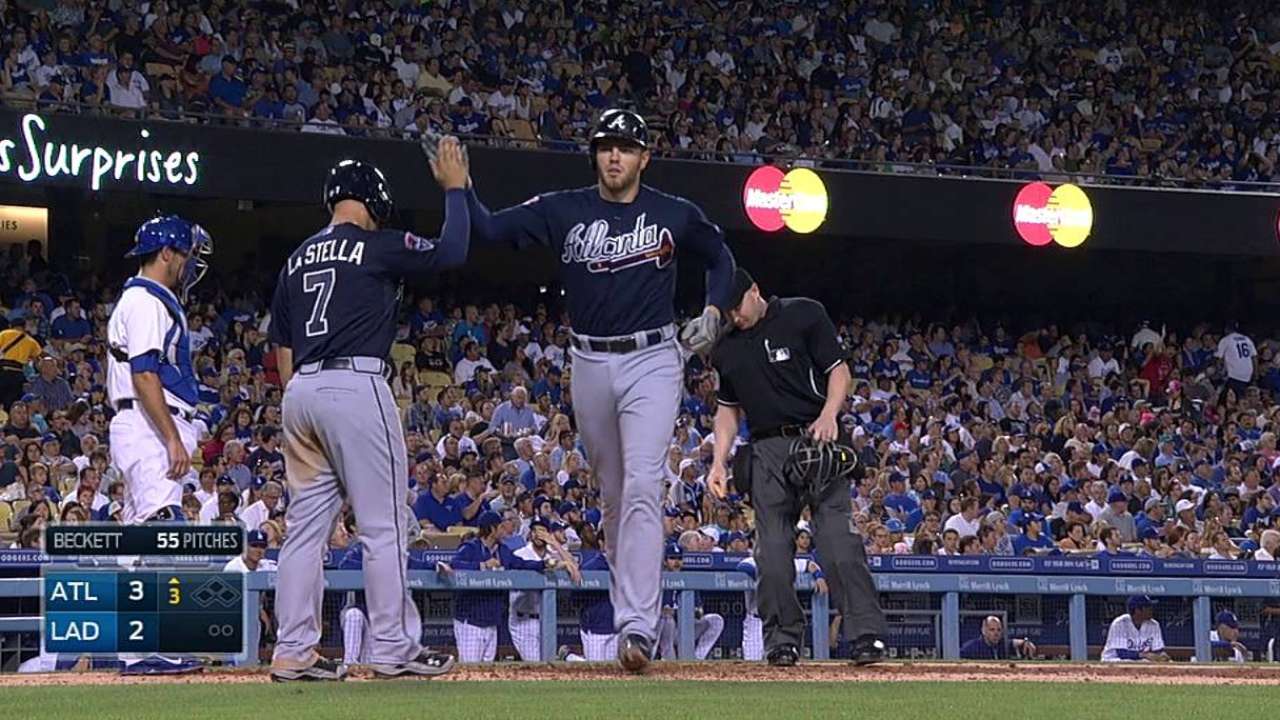 LOS ANGELES -- While getting this year's first look at the Dodgers during Tuesday night's 8-4 loss, the Braves learned this is not the best time to attempt to gain some revenge against the club that ended their postseason hopes last year.
"That's about as close to an American League lineup as we've faced in a long time, and they're clicking pretty good right now," Braves manager Fredi Gonzalez said after seeing his team get outhit 15-12 and bid adieu to a chance to take sole possession of first place in the National League East.
Back at Dodger Stadium for the first time since ending last year with a Game 4 loss in the NL Division Series, the Braves sent Josh Beckett's pitch count above 80 pitches before the end of the third inning and gained a two-run advantage by the fifth. All was looking promising for the visitors until the seventh inning, which started with Yasiel Puig's fourth hit of the night and ended after Matt Kemp notched his first multi-homer game since this season's first week .
All of the seventh-inning damage came at the expense of Anthony Varvaro, who had surrendered just two earned runs in his most recent 17 2/3 innings. Varvaro was attempting to preserve the tie left by Aaron Harang, who was charged with four earned runs in six innings.
The Dodgers have now won four straight and six of their past eight to gain a three-game lead in the NL West. The Braves, who went 2-for-13 with runners in scoring position and stranded 14 runners, sit a half-game behind the Nationals.
"I think we're all in a groove right now," said Kemp, who has batted .397 in his past 17 games. "We're playing good baseball. We went into San Francisco and swept a good Giants team, and then we came back tonight and beat another good Atlanta team. I think our confidence is high."
Just a few years removed from being considered one of the game's elite players, Kemp has been forced to deal with rumors that the Dodgers are looking to unload him and a portion of his salary. The veteran outfielder had shown some recent life with his bat. But before going down to golf a two-run, opposite-field fence scraper off Harang in the second inning, he had gone 104 plate appearances without hitting a homer.
Kemp had to wait just two more plate appearances before hitting his seventh-inning shot off Varvaro, who has surrendered just six homers in the 114 2/3 innings he's totaled since the start of the 2013 season.
"That's the Matt Kemp I remember from 2012 in the first half, when it was unbelievable how he was hitting the ball," said the former Dodger Harang, who allowed more than three runs for just the fourth time in 22 starts.
Harang struggled against Puig, who found himself a home run short of the cycle by the end of the fifth inning. But Puig didn't cross the plate until he tripled and scored on Adrian Gonzalez's double in the fifth. Two batters later, Gonzalez trotted home on Carl Crawford's game-tying single to right-center field.
Crawford, who homered twice in last year's Game 4, also drew a four-pitch walk ahead of the opposite-field, fence-scraping home run Kemp hit in the second inning. Crawford had reached base in just eight of the previous 41 plate appearances he had tallied dating back to July 11.
"I don't think I've seen [Puig] make an out," Gonzalez said. "Maybe, when he comes up I'll come hide here in the locker room so that maybe he'll make an out. He's energized right now and he's swinging the bat well."
While Puig has hit .526 in nine games (playoffs included) against the Braves, Southern California native Freddie Freeman has batted .364 (20-for-54) with three homers in the 14 games he has played at Dodger Stadium. Freeman's latest successful night at Chavez Ravine was highlighted by the two-run third inning home run he hit off Beckett.
Beckett wavered through a 27-pitch first inning, but was only damaged by the run manufactured by B.J. Upton, who singled, later stole third base and scored on Justin Upton's sacrifice fly. The Dodgers veteran right-hander exited after Andrelton Simmons gave the Braves a two-run lead with a fifth-inning double.
Simmons also grounded into a double play after a Chris Johnson double helped put two on with just one out in the seventh.
"We were just trying to get pitches to hit and [Beckett] wasn't throwing pitches over the plate as much as he would like," Justin Upton said. "So, we were able to wait him out and get his pitch count up. But it didn't work out for us."
Mark Bowman is a reporter for MLB.com. This story was not subject to the approval of Major League Baseball or its clubs.