Mets cooled off by Hamels in loss to Phillies
Gee solid before exiting in seventh; Edgin allows grand slam to Utley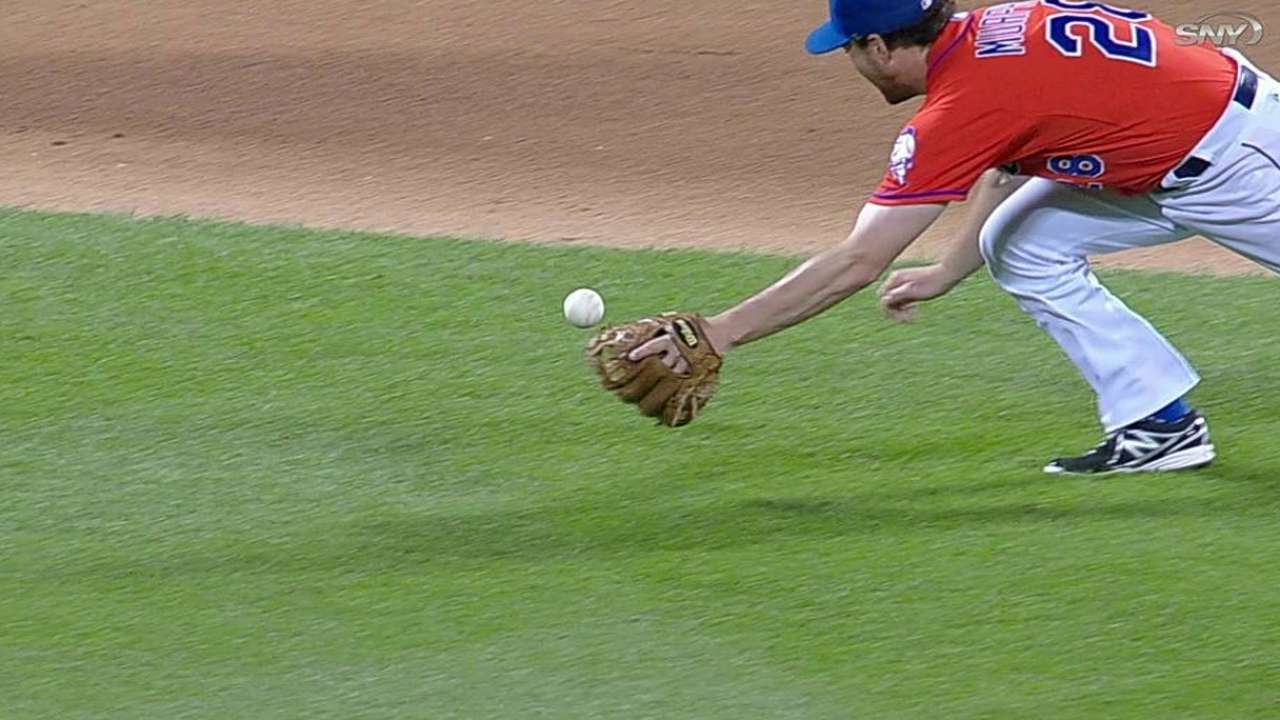 NEW YORK -- Within a split second of the ball leaving Chase Utley's bat, it was clear this was not going to resemble the type of game the Mets have grown accustomed to playing in recent weeks. Utley's grand slam sped out of Citi Field on a line on Tuesday night, landing halfway up the second deck in right and sending Cole Hamels and the Phillies to a 6-0 victory over the Mets.
These two teams may well be traveling in opposite directions, as Thursday's non-waiver Trade Deadline promises to attest. But the Phils still have some familiar old thunder on their roster. They still have the ability to upend the Mets.
So it was Tuesday, when Hamels' strong outing and Utley's slam knocked the Mets down a peg in their quest for .500, for relevance, for a reason to be buyers at the Deadline.
"They've been playing pretty good," Mets manager Terry Collins said of the last-place Phillies. "If you look at what they did on their last homestand, they played pretty well. Their record is not necessarily where they want it to be. They're down, but they had a good homestand, they're swinging good, Cole's pitched good. It was one of those nights."
Though the Phillies outplayed the Mets for most of the evening, this did not have the makings of a blowout until Dillon Gee walked Jimmy Rollins to load the bases with two outs in the seventh. That prompted Collins to call on lefty specialist Josh Edgin, who promptly served up a grand slam to Utley.
"I was going outside with a fastball, I left it middle and that's what he's paid for," Edgin said. "No offense to anyone here, but I left it right down the middle of the plate. I put it out there for him to hit it and he did."
Combined with the solo homers Rollins and Grady Sizemore hit off Gee earlier in the game, it resulted in a six-run cushion. Gee, who has lost three games in a row since coming off the disabled list earlier this month, did not agree with Collins' assessment that he fatigued in the seventh, despite his dampened pitch counts throughout July.
"The most frustrating part is I thought I threw the ball a lot better than I have in the last few outings," said Gee, whose final line included five earned runs in 6 2/3 innings. "When the end result still isn't there, it's very frustrating."
It's not as if the Mets were doing much anyway against Hamels, their off-again, on-again nemesis for most of the last decade. The victim of an early series of bloops and bleeders, Hamels relied on key strikeouts to escape jams in the first and third innings, before reeling off 13 straight outs from the fourth through the eighth. He wound up completing eight innings, striking out eight and walking none to reaffirm his status as one of the game's best lefties.
"He made pitches it seemed like when he needed to," Mets outfielder Chris Young said. "You never know what weapons he's going to use. His changeup was really good today. In the past, I feel like I've seen his changeup pretty good, but tonight he was able to keep it down in the zone and not make too many mistakes with it."
The loss dropped the Mets back to five games under .500 with one contest -- Wednesday's series finale against the Phillies -- to go before the Trade Deadline. General manager Sandy Alderson said earlier this week that he does not expect the Mets to do much before the Deadline, and that he certainly does not expect them to be sellers.
That stands in stark contrast to the Phillies, whose veteran-laden roster includes several pieces ripe for trade. While the Mets are trending upward with youth and pitching, the Phillies are struggling to squeeze production out of a roster with a number of 30-something-year-old veterans.
Even if the Phillies sit in last place, their aging stars still possess plenty of talent, as Utley and Hamels proved at Citi Field. Consider it one more obstacle for the Mets to overcome in Wednesday's finale, which Collins called "the biggest game we've played this week."
"We have to get after it [Wednesday]," Collins said. "We have to finish just like we've been talking about, and that's win series."
Anthony DiComo is a reporter for MLB.com. Follow him on Twitter @AnthonyDicomo. This story was not subject to the approval of Major League Baseball or its clubs.