Rangers show fight until last out in loss to Yanks
Ninth-inning rally dies in left field; Arencibia has career-high seven RBIs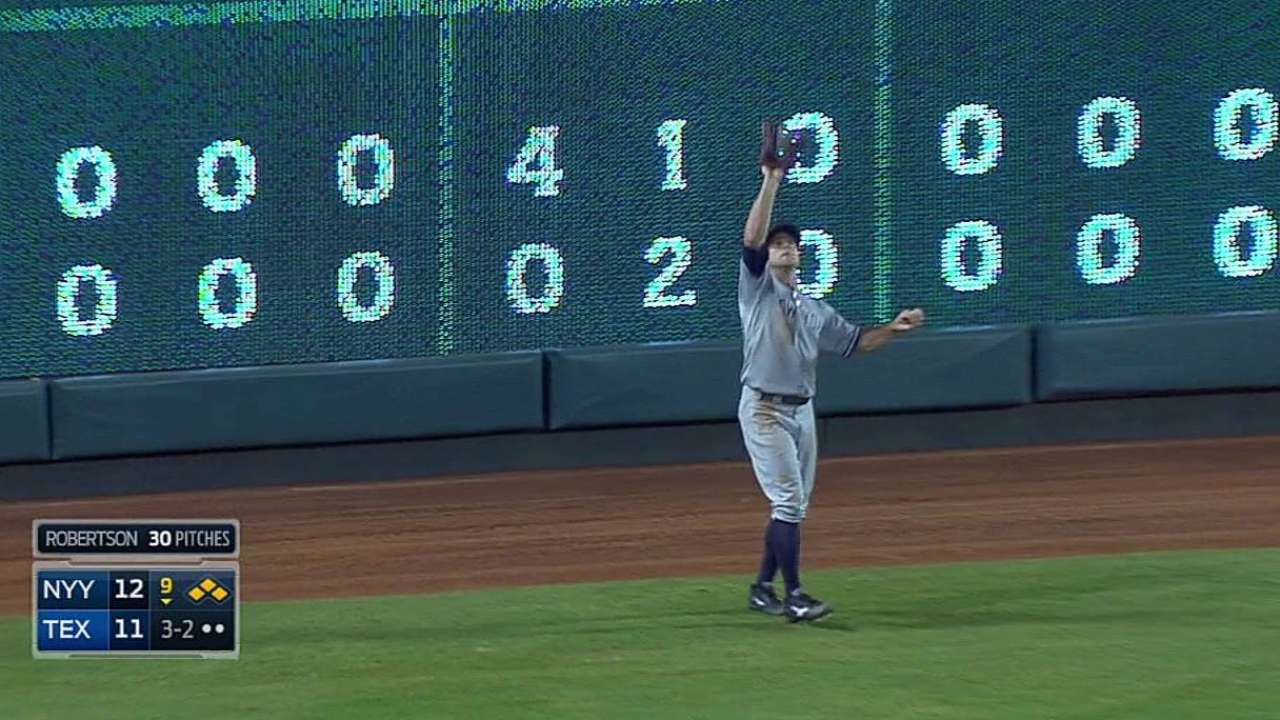 ARLINGTON -- J.P. Arencibia had already jumped over the dugout fence ready to dogpile Adrian Beltre in celebration Tuesday night.
The stage was set for a ninth-inning comeback that seemed all but impossible just a few minutes earlier. The Rangers had scored two runs in the ninth to cut the Yankees' lead to one run, and in Beltre, they had their most dominant hitter at the plate.
Bases loaded. Full count. Two outs.
Arencibia rose to his feet and prematurely began to celebrate, as Beltre launched a deep fly ball off a 91-mph cutter toward the left-field fence.
The 41,934 in attendance at Globe Life Park joined Arencibia. But Beltre himself wasn't convinced. Seconds later, Yankees left fielder Brett Gardner proved him right, when he squeezed his glove around the ball, recording the final out and stripping the Rangers of the chance at a walk-off in a 12-11 loss to New York.
"I could tell by [looking at ] him that he didn't hit it out. He wasn't celebrating," Yankees closer David Robertson said. "But any time you see him take a cut like that and hit a ball in the air, there's always a worry that it's gone."
The Rangers have now lost 20 games in the month of July. The last time they lost 20 games in any month was in May 2007, but the last time they lost 20 games in July dates back to 1983.
But Tuesday's loss was as agonizing as they come, especially when the Rangers had their best hitter at the plate in the end.
"I want him every single day. He's the ultimate pro. I could sit here for hours and talk about how amazing he is," Arencibia, who had a career-high seven RBIs, said. "For a team to be able to rally back, that's a good team over there. And a good bullpen, too. To be able to take your punches and punch back and make it to the last out, that was exciting. It was nice."
The Rangers led, 4-1, going into the sixth before the Yankees scored seven off of Rangers starter Nick Martinez and reliever Shawn Tolleson.
"A couple of base hits, and I walked a guy," Martinez said. "It got away from me one inning. It was a little frustrating not to finish that inning on a high note."
The Yankees added two more in the seventh off reliever Roman Mendez, and that appeared to have put the game away. Turns out, that wasn't the case.
"We didn't quit," said Rangers manager Ron Washington. "We kept fighting. If you go back to the sixth inning, not many people thought we had a chance, but we were one swing away and had the right man at the plate. We just didn't get it done."
Arencibia started the comeback with a seventh-inning grand slam, the Rangers' first of the season. Mark Teixeira responded with a two-run home run in the top of the eighth off Neal Cotts, making it 12-8.
The Rangers manufactured a run in the eighth and then almost pulled it out in the ninth against Robertson.
Arencibia struck out to begin the inning, but Leonys Martin singled and Robinson Chirinos walked. Rougned Odor's grounder moved the runners to second and third, and Shin-Soo Choo loaded the bases with a walk. Elvis Andrus followed with a two-run single to make it a one-run game, and Alex Rios drew another walk to reload the bases. That brought up Beltre.
Robertson got ahead with two quick strikes, but then Beltre worked the count full. Roberton threw one more pitch, and Beltre hit it, but not deep enough.
"I thought that it had a chance to get out," Arencibia said. "But unfortunately, it was short and it ended up being their night."
Grace Raynor is an associate reporter for MLB.com. This story was not subject to the approval of Major League Baseball or its clubs.