Cubs outlast Rockies in historic marathon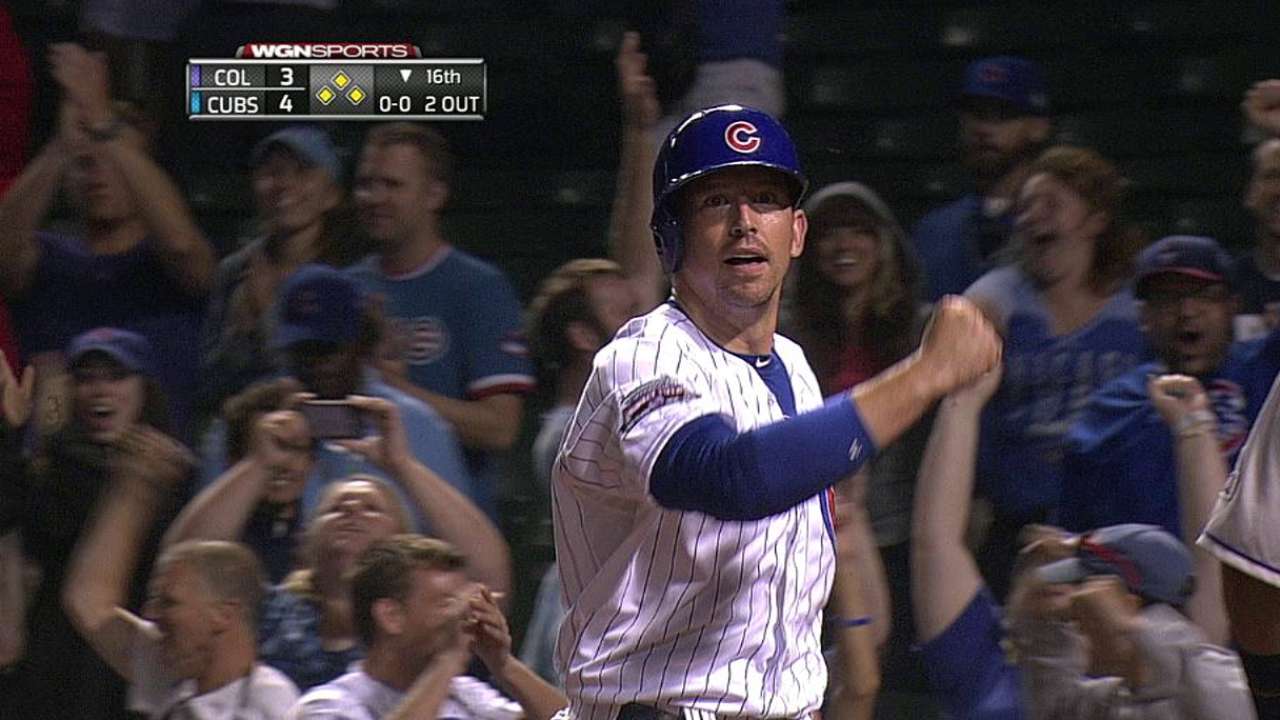 CHICAGO -- John Baker couldn't stop smiling during his time on the mound in the 16th inning. He hadn't pitched in a game since his days in the Cape Cod League, and he never expected to be in line for a win at Wrigley Field in what turned out to be the longest game, time-wise, in franchise history.
Baker, who usually serves as the backup catcher, faced the minimum, then scored the game-winning run on Starlin Castro's sacrifice fly with one out in the bottom of the 16th to lift the Cubs to a 4-3 win over the Rockies and end a six-hour, 27-minute marathon.
That time topped the previous Cubs record of six hours and 10 minutes, set Aug. 17-18, 1982, in a 21-inning game.
The bullpen was short-handed, and manager Rick Renteria did not want to use Hector Rondon. That left Baker.
"It wasn't the game plan when we started," Renteria said. "Obviously, that's the way it ended."
With the score tied at 3 in the 16th, Baker got Charlie Culberson to pop up, then walked Drew Stubbs. But he then got Cristhian Adames to ground into a 4-6-3 inning-ending double play, and then he pumped his fist.
"I was really excited," Baker said. "You would fist pump, too, if you got a double play in The Show in the 16th inning."
It doesn't happen that often, especially for backup catchers. Baker is the first Cubs position player to pitch since Joe Mather did so on Aug. 27, 2012, against the Brewers.
Baker then drew a walk to lead off Chicago's half of the 16th, and he advanced on Emilio Bonifacio's sacrifice. Arismendy Alcantara was hit by a pitch and Anthony Rizzo singled to load the bases for Castro, who flied out to right.
The few hundred people still left in the stands had chanted Baker's name when he came up to bat.
"The last time that many people cheered, it was because I got booed at Dodger Stadium after we got in a fight with the Dodgers," Baker said. "That was the loudest crowd I've ever heard. That was sad, because they were booing me, and this one I was happy, because they were chanting my name.
"Any Chicagoans dream is to be standing at home plate with the remaining people at Wrigley Field chanting your name. It's something I'll never forget."
Baker, 33, has only served as a catcher in the big leagues, so the Rockies most likely did not have a scouting report.
"I was trying to work the cutter in, but it wasn't really cutting, it was sinking," Baker said. "I was trying to throw the sinker, and that one was cutting. No matter how hard or soft I threw the ball, it ended up in that 76 to 79 range, which is five miles an hour below the straight hitting speed."
He deadpanned that he had to shake off catcher Welington Castillo a couple of times, then decided to throw his 76-mph "heater" because that was his most effective pitch. In the end, he threw 11 pitches, six for strikes.
The Cubs had warned Baker at around the 12th inning that they might need him.
"They asked if I'd be willing to do that, and I said, 'Yeah,'" he said. "[I'm not going to say] I don't want to pitch at Wrigley Field in the longest game of Cubs history in the 100th anniversary [season] and give myself a chance to get the win. I trust my stuff."
The Rockies had a chance in the 10th but botched a squeeze play. Justin Morneau was at third and Culberson at second with one out when DJ LeMahieu missed a bunt attempt. Morneau was headed home on the pitch, and Castillo tagged him out on a rundown. Blake Parker then struck out LeMahieu to end the inning.
Castillo thought he had the game-winning hit in the bottom of the inning when the Cubs had a runner at second and one out, but Charlie Blackmon made a diving catch for the second out.
The Cubs would not have needed Baker had right-hander Edwin Jackson gone more than four innings. But his pitch count soared, and he had to be lifted after throwing 105 pitches in the abbreviated outing.
"Fifteen innings without scoring a run, you don't deserve to win," Rockies manger Walt Weiss said. "Three runs in the first and their starter is out of the game early. You can't win that game, you don't deserve to win."
Bonifacio finished with four hits and missed hitting for the cycle by a triple. But Baker was the star.
"It's really cool," Baker said. "It's really, really cool. I was having trouble not smiling on the mound. You never get opportunities to do things like this. I think about how many guys I played with who were pitchers and never got a chance to pitch in the big leagues. This is something I'll cherish for a long time."
Baker, who wanted the lineup card and a game ball as souvenirs, said that the coaches must have decided he could pitch since they knew he could throw the ball 60 feet and six inches on a regular basis as a catcher.
He was also going to tell Renteria that he is available on Wednesday if needed.
The Cubs celebrated Baker's first win with a celebratory shower.
"I got beer, I got chocolate milk, I got hair gel, I got shampoo, I got body wash, and then I got more beer," Baker said. "Best shower I've ever taken."
Carrie Muskat is a reporter for MLB.com. She writes a blog, Muskat Ramblings, and you can follow her on Twitter @CarrieMuskat. This story was not subject to the approval of Major League Baseball or its clubs.