Cahill solid but bats silent vs. Reds
Righty tosses six strong innings as D-backs get shut out in Cincy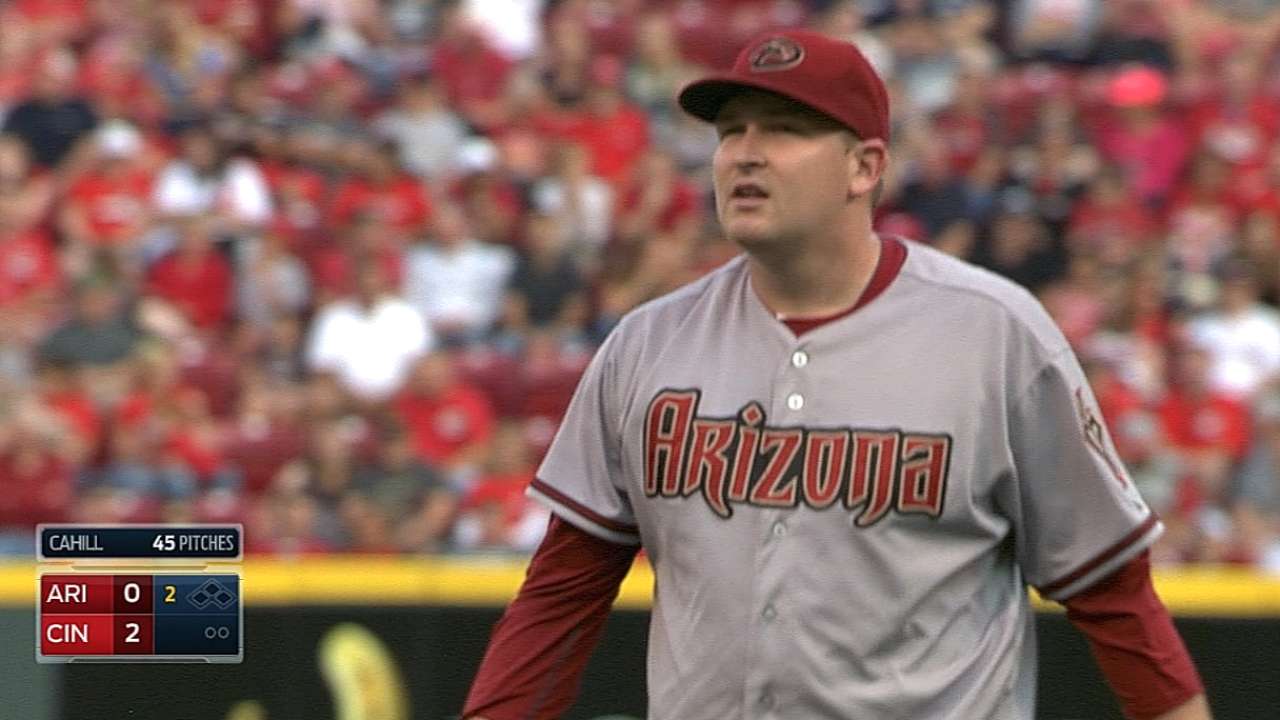 CINCINNATI -- Trevor Cahill turned in an impressive start Tuesday night, but Mike Leake was a little better as the Reds beat the D-backs, 3-0, at Great American Ball Park.
It has been a rough season for Cahill as he was demoted all the way down to Class A earlier this season to try to work out his mechanical and performance issues.
This was the veteran's third start since coming back from the Minors, and by far his sharpest.
"He actually threw the ball well," catcher Miguel Montero said. "He got a couple of runs early in the game, but after that he settled in pretty good. I thought he did a great job. Hopefully this gives him confidence for the next outing. He was pretty under control and he made really good pitches."
It took Cahill a little bit to settle in as he allowed a run in each of the first two innings. After that, though, Cahill set down the next 11 hitters in a row before the Reds broke through for another run in the sixth.
"I think I was keeping the ball down more so in that stretch," Cahill said. "In the innings I gave up runs, I kind of fell behind and then had to make a pitch and left it up and they'd get a hit. The key is to get ahead and keep the ball down. For the most part, in that stretch I got into a rhythm and was able to do that."
Even more encouraging for Cahill, who had struggled mightily with his control earlier this year, is that he did not walk a batter in his six innings of work -- the second straight outing that he has not given up a walk.
"I can't remember the last time that's happened," Cahill said.
That's because before these last two starts it had not happened before in his career.
"Trevor Cahill's been around for awhile," Reds third baseman Todd Frazier said. "His record doesn't show it, but his ball moves a lot. He's a good pitcher, he comes at you, and he throws a lot of sinkers. You've gotta get a spot, and if he throws a spot to you, you've gotta take care of it."
The D-backs are hoping Cahill's performance Tuesday is a sign of things to come, because he's set to earn $12 million next year.
"I'm excited to see what I'm seeing so far," Montero said. "I mean obviously it's a work in progress and we want him to get the confidence level up again. I'm pretty sure he feels pretty good about his outing even though he lost the game, and that's the most important thing. But he threw the ball well."
Cahill still needs to work on his command when pitching out of the stretch, and he did not want to take any bows with his team losing the game.
"It's a bad feeling when you lose," Cahill said. "I think as a pitcher, you know when you pitched well and if you're feeling better or whatever, but at the same time it's all about winning a game now. But if anything, I think it just helps you feel more confident going into the next one."
Leake kept the ball down and had D-backs hitters off balance before departing with two outs and two on in the seventh.
The right-hander did not allow a walk and scattered five hits while striking out eight to earn his first win July 7.
"That ball was moving more than normal," Montero said of Leake. "I mean, you see it down the middle and the next thing you know that ball is way off the plate. He pitched well. He knows how to pitch, he mixes speeds and his sinker was working. He was working ahead in the count and was making good pitches early and getting quick outs. He's tough."
The D-backs really only had a pair of scoring chances in the seventh and eighth innings.
Steve Gilbert is a reporter for MLB.com. Read his blog, Inside the D-backs, and follow him on Twitter @dbackswriter. This story was not subject to the approval of Major League Baseball or its clubs.