Leake twirls gem, gets RBI to down D-backs
Righty fans eight in 7 2/3, drives in important run in second vs. D-backs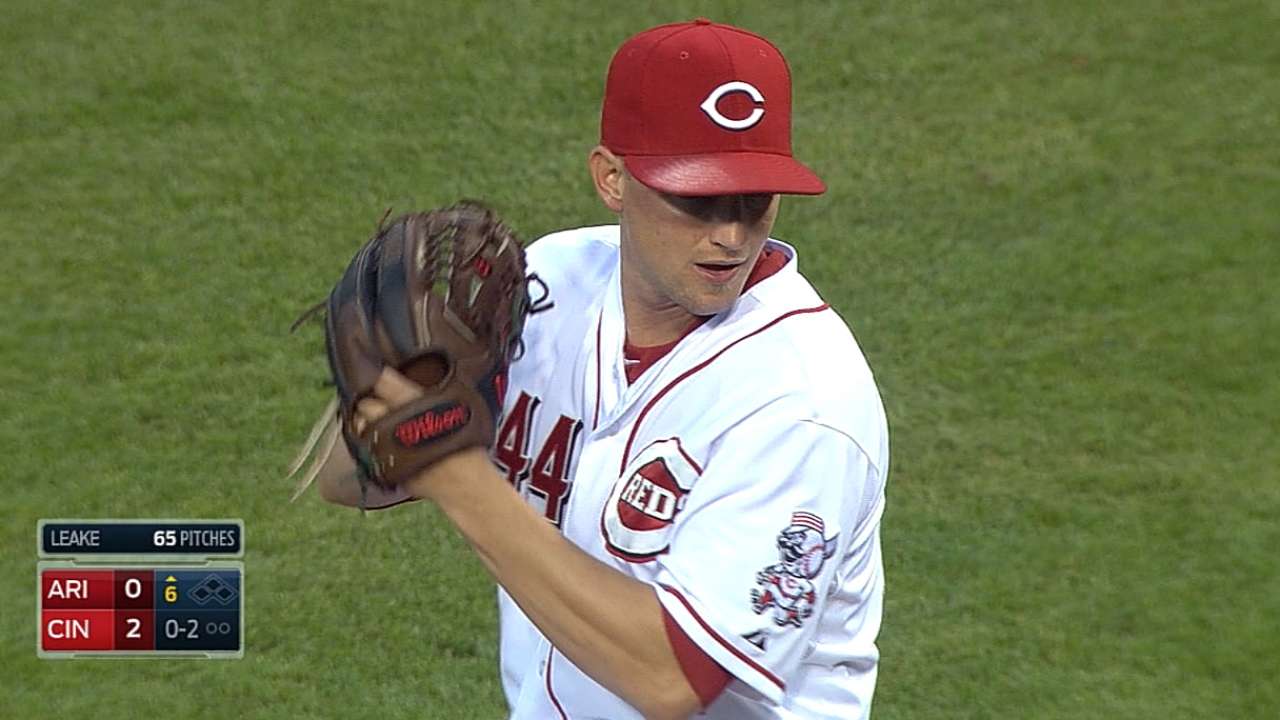 CINCINNATI -- It wasn't raining runs for the Reds on Tuesday night vs. the D-backs, but they didn't need the deluge -- just more than the slow trickle of offense they've gotten lately.
After losing nine of the previous 10 games, the Reds got a much needed 3-0 victory over Arizona. In the process, they exorcised some offensive demons.
• Cincinnati snapped a five-game stretch where it scored two runs or fewer, including one run scored four times.
• The Reds had more than a one-run lead in this game for the first time since the All-Star break.
• Billy Hamilton snapped a career-high 0-for-15 skid with a leadoff double in the first inning and scored the game's first run -- and his first since Friday. Against D-backs starter Trevor Cahill, now 1-8 with a 5.59 ERA, Hamilton's double to left field got the offense started on the right foot. He scored on Todd Frazier's lined single to left field for a 1-0 lead.
• It was also the first time the Reds scored in the first inning since July 11 vs. the Pirates.
"I think it did set the tone," Reds manager Bryan Price said of the first inning. "I hate to say [it] broke a curse or whatever, but we put the barrel on the ball. We've had our share of soft outs here lately. Even if you're making hard outs, you're encouraged the next time you go up and hit."
A night after the bullpen was taxed for seven innings during a 15-inning 2-1 loss, starting pitcher Mike Leake came up with exactly the kind of start the Reds needed. Leake dealt 7 2/3 innings of scoreless baseball with five hits, no walks, two hit batters and eight strikeouts.
In the process, Leake weathered allowing a one-out triple in the third inning, having runners on the corners with one out in the fourth and a pair of two-out hits in the seventh. He had come in 1-3 with a 4.83 ERA in his previous five starts with 17 runs and 48 hits allowed over 31 2/3 innings.
"My goal tonight was to keep them in the infield and did a good job," said Leake, who notched his 50th career victory. "We had great defense again today."
Leake worked into the eighth inning, but he hit Miguel Montero with a pitch to put runners on first and second base with two outs. Jonathan Broxton nabbed a one-pitch hold by getting Mark Trumbo to fly out to center field.
Aroldis Chapman took over in the ninth and recorded his 23rd save of the season and the 100th of his career, fanning Didi Gregorius to end the game to extend his Major League record strikeout streak to 45 games. Cincinnati, now 53-53, is back to within five games of the first-place Brewers in the National League Central.
"We need a little streak to get us going," Leake said. "Hopefully this is the start of something. It's been tough. Losing is never fun. It's nice to get a win. Hopefully we can have it be a domino effect."
In the second inning, Zack Cozart beat out a two-out groundball to shortstop but was called out by first-base umpire Eric Cooper. A manager's challenge overturned the call, giving Cozart a single and snapping his career-high 0-for-22 stretch. It proved big when Leake singled sharply off the glove of third baseman Martin Prado to score Donald Lutz.
Cahill retired the next 11 in a row, but the Reds notched an insurance run in the sixth when Frazier hit a leadoff single, stole second base and scored on Brayan Pena's two-out single lined to left field.
"We manufactured a run; that third run's huge," Frazier said. "When you've got one run, you want two and you keep adding on like that. Whether it's subtle or a big inning, it helps. We're up 2-0, the next thing you know, a runner gets on, now more pressure's back on us. So, whatever we can get. We can manufacture with the best of them. We just have to keep doing it."
The Reds still have scored three or fewer runs in 11 straight games, the franchise's longest such streak since 1967.
Following Monday's loss, Price had bemoaned that his lineup wasn't driving in runs with base hits and was trying too hard to hit home runs. Tuesday was a homer-free game, but the seven hits were enough to produce the needed runs.
"Sometimes there's an understanding because we play here in Cincinnati that home runs are just out there for anybody that wants to go get them," Price said. "It doesn't always play that way. You can lose focus on how to win baseball games. That's play the game the right way. Stay in the middle of the field and not look to be a team that's built around the home run. We really aren't."
Mark Sheldon is a reporter for MLB.com. Read his blog, Mark My Word, and follow him on Twitter @m_sheldon. This story was not subject to the approval of Major League Baseball or its clubs.