Tigers' mistakes fuel White Sox seventh-inning rally
Pair of errors sets stage for big bats; Soria gives up two HRs, four runs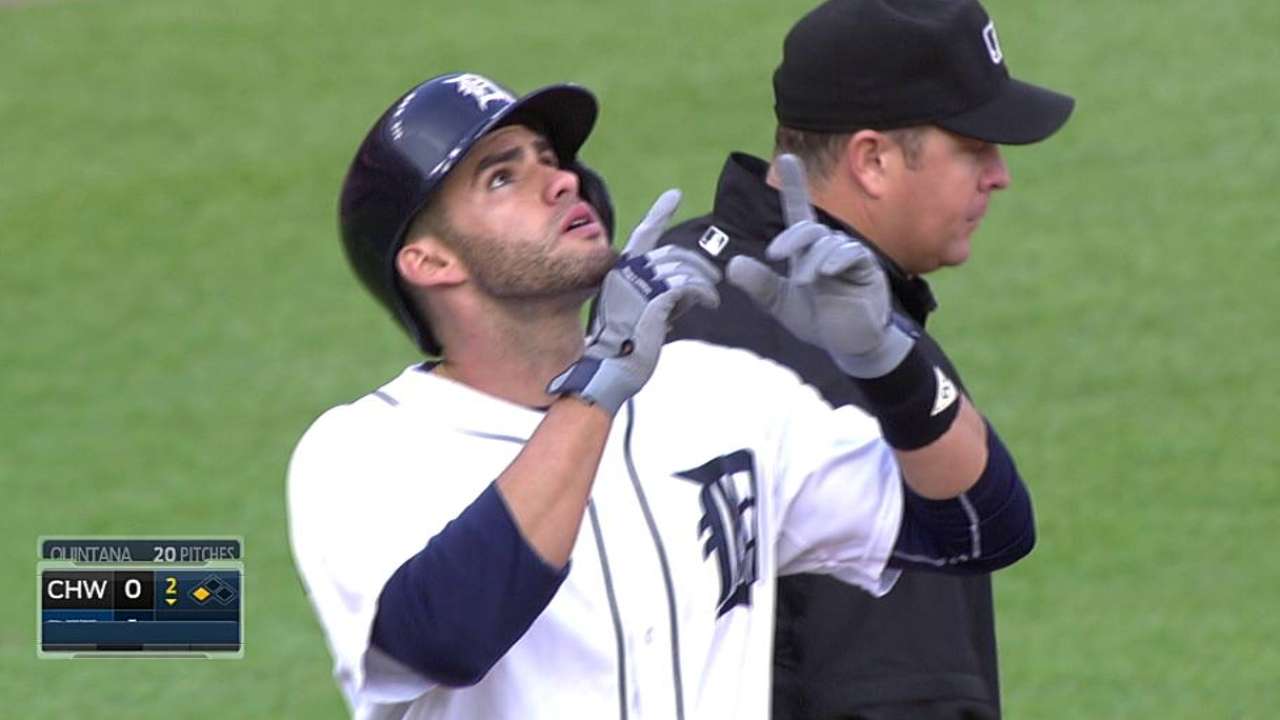 DETROIT -- The holiday spirit was lacking around Comerica Park as the Tigers' Christmas in July festivities wrapped up Tuesday night. The wonderment was not.
In this case, those were White Sox runners dancing along the basepaths, not sugar plum fairies.
Even near the end of Tuesday's 11-4 loss, after most of the near-sellout crowd of 40,032 had left, there seemed to be a quiet astonishment about how what had all the makings of another low-scoring duel took a sudden turn into a White Sox runaway. It was a larger margin of defeat than the Tigers' three straight weekend losses to the Angels combined, thanks to a seven-run seventh that nearly matched the run total the Tigers allowed over those previous three games.
"It was a good game until the seventh," manager Brad Ausmus said. "The seventh was ugly."
Anibal Sanchez had a recent history of finding trouble in the late innings, but this was on another level. Moreover, it wasn't entirely his doing -- or undoing.
"Everything turned around, I don't know how," Sanchez said. "A couple errors, a couple singles made the difference."
The bullpen, in turn, has had its struggles, but the latest struggles came in the Detroit debut of Joakim Soria, the former Rangers closer the Tigers acquired barely a week ago to address their bullpen struggles.
"That didn't go the way I wanted it to," Soria said. "That was probably the worst outing of my career."
Fittingly, defensive miscues gifted a couple runs, from a Miguel Cabrera error at third base -- where he was filling in for Nick Castellanos following a right middle finger injury in batting practice -- to put a runner on, to a Rajai Davis error charging a ground ball that let a runner in.
"I was just trying to charge it, just to slow the runner up," Davis said. "I didn't get a perfect hop. It hit my glove. It just hit off it hard."
Combine it all, and the seven-run inning tied the Tigers' season high. They've now had four this season, including the seventh inning in two of Sanchez's last three starts.
"I think everything [that has] happened in that situation is something that I don't know what happened," Sanchez said. "I feel good. I feel great. I've never done that before [this year]. All the time when I got really good beginnings of games, all the time I finish really strong. Right now, that's not happening. It's not because I feel tired. I think it's part of the game."
Sanchez entered Tuesday allowing a mere .185 batting average and .529 OPS his first trip through a batting order. Those numbers inch up to .204 and .567, respectively, the second time through the lineup, but jump to .301 and .779 the third time around.
As much as Ausmus acknowledges the seventh inning turned the game, he doesn't believe there's an ongoing trend with Sanchez being a part.
"The deeper you get in the game as a starting pitcher, the more likely you're going to come out," Ausmus said. "Those are just the simple facts."
Though Sanchez gave up two runs the second time through on three singles and a Gordon Beckham sac fly, all in the fourth inning, he regained control of the game in the fifth and sixth.
Conor Gillaspie's leadoff single in the seventh set the Tigers' bullpen in motion, but Cabrera's error turned a runner-on-second, one-out situation into two on and none out.
Alejandro De Aza's first-pitch popout to short gave Sanchez a chance to catch his breath. After putting ninth batter Tyler Flowers into an 0-2 hole on pitches over the plate, he gave up a ground ball through the left side on a curveball below the knees.
That was it for Sanchez, who gave way to Soria. Six hits followed in the next seven batters, including a three-run double from Alexei Ramirez and back-to-back home runs from Jose Abreu -- his third in Detroit this season -- and Adam Dunn.
"Guys going up there swinging, and you know [Soria] is going to be around the zone," White Sox manager Robin Ventura said. "Inning was kind of already going and it's just one night for him."
That closed the line on Sanchez (7-5) with five runs, four earned, on six hits over 6 1/3 innings. Soria gave up the same hit total to go with four runs over one-third of an inning.
Jason Beck is a reporter for MLB.com. Read Beck's Blog and follow him on Twitter @beckjason. This story was not subject to the approval of Major League Baseball or its clubs.