Impressive Stroman lifts Toronto to fourth straight
Rookie stifles Sox for second consecutive start; Rasmus goes deep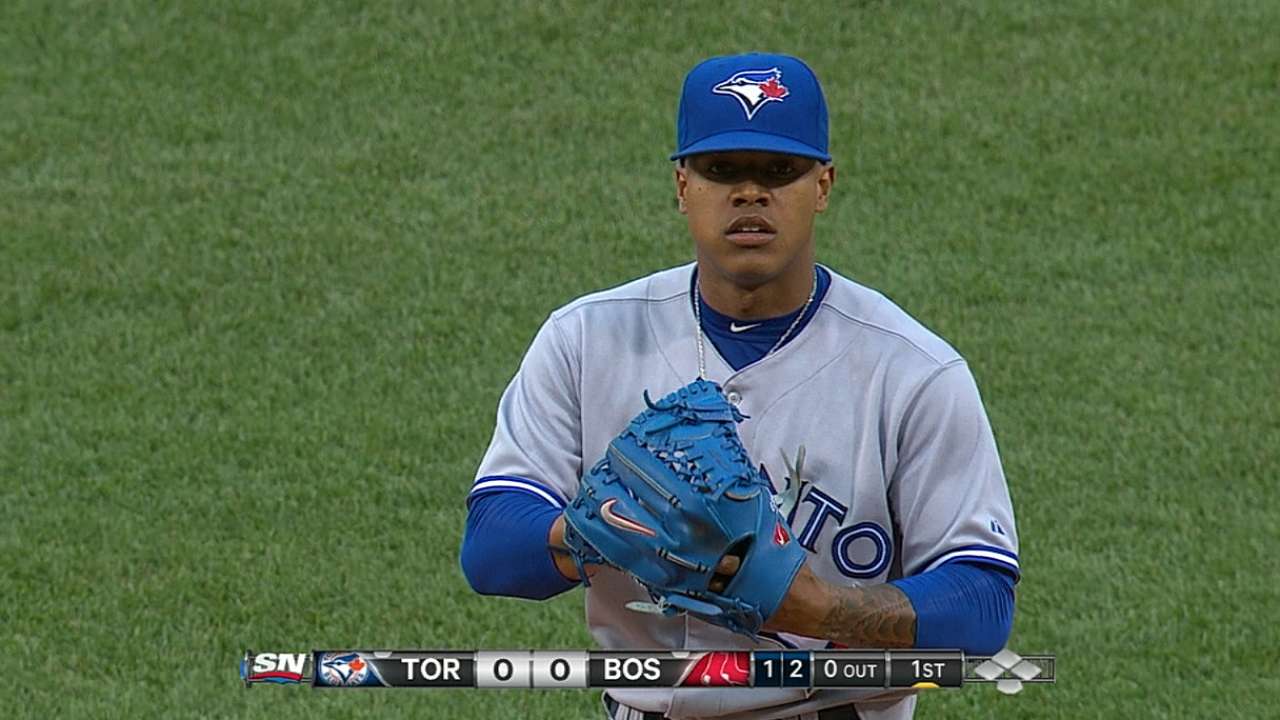 BOSTON -- Moving from Triple-A to the Major Leagues is usually the toughest transition a professional ballplayer will ever have, but so far Marcus Stroman has made it look easy.
Toronto's rookie right-hander hasn't just succeeded at the big league level, he has flat-out dominated. Since joining the rotation in late May, he's been everything the Blue Jays could have hoped for and more.
Stroman continued to impress Tuesday night as he tossed seven strong innings, while Colby Rasmus homered as the Blue Jays won their fourth consecutive game with a 4-2 victory over the Red Sox at Fenway Park.
"He's on some kind of roll right now, but the kid is good," Blue Jays manager John Gibbons said. "He believes in himself, he has all the confidence in the world, and he has the stuff for it, too.
"It's not easy, facing the same team in a week. In 14 innings, he has given up one run to them. That's hard to do. I tip my hat to the guy, he's pitched a lot better than I thought he was going to if you want to know the truth."
Stroman's strong outing vs. Boston is even more impressive considering he faced the same team in back-to-back starts -- taking a no-hitter into the seventh while striking out eight against the Red Sox at Rogers Centre on Thursday. Boston had time to make adjustments, but instead it was Stroman and the pitch selection from catcher Dioner Navarro that once again had the Red Sox feeling overmatched.
The 23-year-old improved his record as a starter to 6-2 with a sparkling 2.12 ERA and a 1.00 WHIP. He has struck out 63 batters compared to 16 walks as a starter and certainly hasn't shied away from attacking opposing hitters early and often.
Along the way, Stroman has done his part to redefine the meaning of a quality start. He has tossed at least six innings and allowed two runs or fewer in all but three of his starts. A quality start is when a pitcher goes at least six innings allowing three runs or fewer, and Stroman has nine of those as well.
"It's been a ride," Stroman said. "I just look forward to going out every fifth day and doing everything I can to put my team in a position to win. To be completely honest with you, Navarro has been huge. I can't express how unbelievable he's been.
"It's at the point now where he's throwing [the sign] down, I didn't shake once today. ... There's no thinking when I'm out there, he's doing all the thinking. I'm just trying to execute the pitches, and he has been huge."
The only rough start Stroman had this year came prior to the All-Star break, when he allowed six runs (five earned) to the Angels. On Tuesday, he battled early but got stronger as the game went on and cruised through most of the outing.
Boston's only run came in the third, when Brock Holt hit a one-out single and came around to score on an RBI double by Dustin Pedroia. That snapped Stroman's streak of consecutive scoreless innings at 16 after he tossed back-to-back starts of seven scoreless innings vs. the Rangers and the Red Sox in Toronto.
Stroman also clearly has earned the trust of Gibbons. He threw 96 pitches by the end of the fifth, but Gibbons brought him back for two more innings despite a slim 3-1 lead. Stroman responded by getting through two scoreless innings as he allowed a total of six hits and two walks on 115 pitches.
"I faced him coming up in the Minors, but he's a really different pitcher right now," said Red Sox infielder Xander Bogaerts, who hit a solo home run off Casey Janssen in the ninth inning. "He's got that slider and that cutter right now, and he didn't have that. He's pitched us good. We saw him twice, so hopefully we see him again."
Rasmus put the Blue Jays on the scoreboard in the second with a solo shot to straightaway center field. Rasmus' 14th of the year came on a 3-2 pitch, and he now has a four-game hitting streak after struggling through most of July.
Toronto added two more runs in the fourth. Juan Francisco and Rasmus led off the inning with back-to-back singles and then came around to score later in the frame on a double to right field by center fielder Anthony Gose. All three runs were charged to right-hander Rubby De La Rosa, who allowed nine hits and issued two walks.
"I was just trying to work myself to get more fastballs," Rasmus said. "Tonight, he's a fastball pitcher, so I thought I was going to have a good chance, caught a couple of balls late."
After taking the final two in New York and the first two in Boston, Toronto is 9-3 and has yet to lose a series since the All-Star break. The Blue Jays will be going for the three-game sweep on Wednesday before finishing their lengthy road trip with four games in Houston.
Gregor Chisholm is a reporter for MLB.com. Read his blog, North of the Border, and follow him on Twitter @gregorMLB. This story was not subject to the approval of Major League Baseball or its clubs.