Halos can't 'pen winning script in extras defeat
Rasmus serves up home run in 12th to spoil bullpen's solid work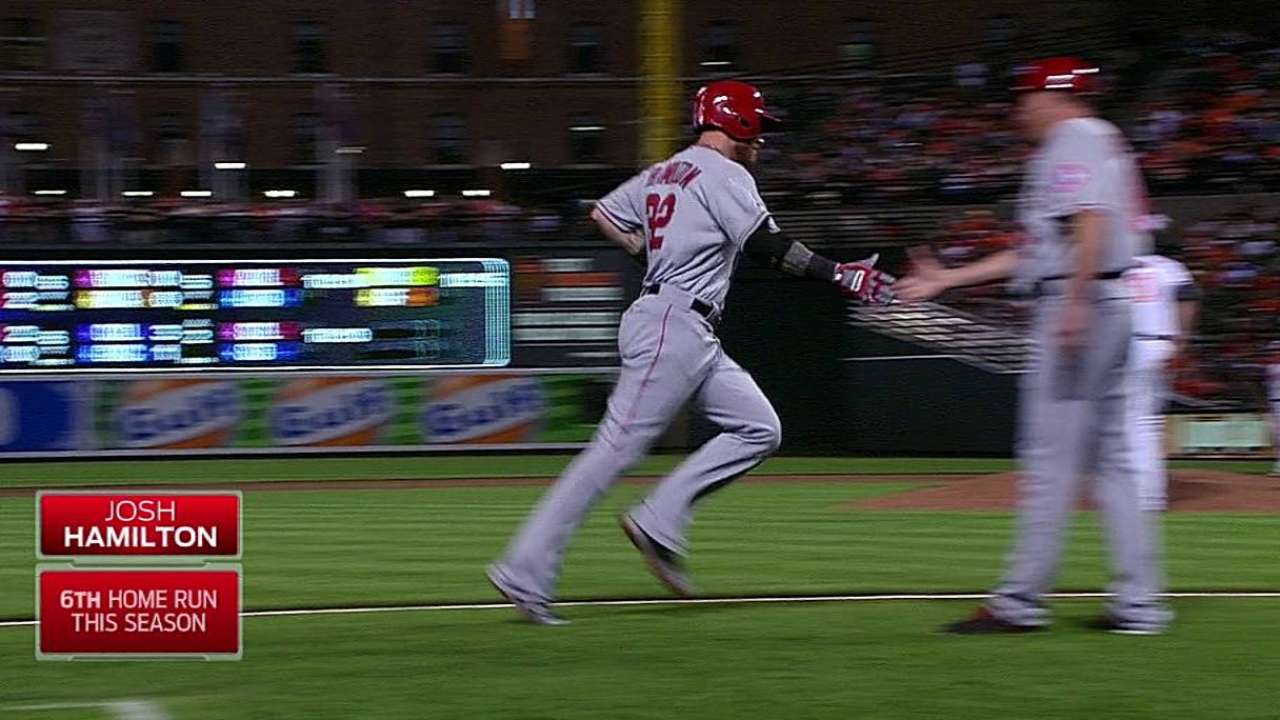 BALTIMORE -- The Angels' bullpen finally cracked.
It happened in the 12th, after five consecutive scoreless innings in yet another tight game, when Cory Rasmus' breaking ball stayed up and Orioles third baseman Manny Machado blasted it over the left-field fence, good for the leadoff homer that dealt the Angels a 7-6, walk-off loss and snapped their three-game winning streak.
"We were an eyelash away from getting a lead in that game and holding it," manager Mike Scioscia said. "Their 'pen is terrific, our 'pen is terrific, and you're going to see some games like that from teams that have good bullpens."
The inning began with a two-out single from Albert Pujols, who moved to third on a double in the right-center-field gap by Josh Hamilton. But the next batter, Erick Aybar, lined out to first baseman Steve Pearce, capping an 0-for-6 night and paving the way for the Orioles' seventh consecutive win in extra innings.
"That's exactly what I thought about when he hit the ball and the walk-off happened," Hamilton said. "That's why we love the game."
Aybar's liner was hit in the wrong spot, the A's came back from being down by three in the ninth against the Astros, and in an instant, the Angels went from a half-game out of first to 2 1/2 back of Oakland in the American League West race.
Jered Weaver entered with only six earned runs in his last 23 innings, then gave up that many in the first four to set a season high. Five relievers from a vastly improved bullpen -- Mike Morin, Jason Grilli, Kevin Jepsen, Joe Smith and Rasmus -- limited the first-place Orioles to three baserunners from the start of the sixth to the end of the 11th, but their run ended with one swing in the 12th.
Rasmus came out for his second frame, his ERA at 1.90 in 23 2/3 innings, but his 1-2 breaking ball to the Orioles' young phenom sailed a little too high, and Machado turned it into his first career walk-off homer.
"Once I hit it, I knew it was out," Machado said.
"Obviously looking back on it, it would've been better in the dirt," Rasmus said. "But he had a good hack on it. That's what they get paid to do."
The Angels (63-42) are 6-5 to start the second half, and those 11 games have been decided by a total of 17 runs. The Orioles (59-46) have now won six of their last eight, including two of three at Angel Stadium last week, to keep their lead in the wide-open AL East at 2 1/2 games.
"Guys are doing it collectively," Hamilton said of the O's. "They have a great bullpen, their starting pitching has done well, they can pick it and play defense -- all the things needed to be a championship team."
The Angels have looked like a championship team ever since Grilli, Joe Thatcher and Huston Street joined a bullpen that entered third in the AL in July ERA and tied for first with the Orioles in WHIP.
They'll look even more like one if Hamilton can carry over what he displayed on Tuesday.
The cleanup hitter made it a one-run game with a solo homer in the fifth, his first since July 2, his fourth since coming off the disabled list on June 3 and his sixth on the year. He then tied it in the seventh on a two-out infield single off lefty Brian Matusz, beating out a throw from J.J. Hardy after the Orioles' shortstop initially tried for the force at second. Hamilton's 12th-inning double was his third hard-hit ball of the game, if you count a lineout to left earlier.
"That was great to see," Scioscia said, "and we need him."
Prior to Hamilton's double, Scioscia elected not to pinch-run for the slow-footed Pujols, even though he represented the potential go-ahead run and Street was ready to close out the bottom half. The Orioles were playing no-doubles defense, Scioscia said, and nobody "except maybe Mike Trout" was going to score on one hit.
"It was going to take two hits to score anybody, unless Josh hits one out of the park," Scioscia added. "It wasn't a great opportunity to steal, and I don't think there was anybody who was going to score on that ball."
So Scioscia pressed his luck, against a bullpen that was at home and had been just as dominant, and lived with the result.
It's easier to, when you know you have the relievers who will get it done on most nights.
"We had some opportunities," Scioscia said. "We couldn't get it done, but I'm proud of the way our guys got after it, especially the bullpen."
Alden Gonzalez is a reporter for MLB.com. Read his blog, Gonzo and "The Show", and follow him on Twitter @Alden_Gonzalez. This story was not subject to the approval of Major League Baseball or its clubs.