Machado's first walk-off blast sinks Halos in 12th
Orioles are 12-3 in extra-innings contests, including seven in a row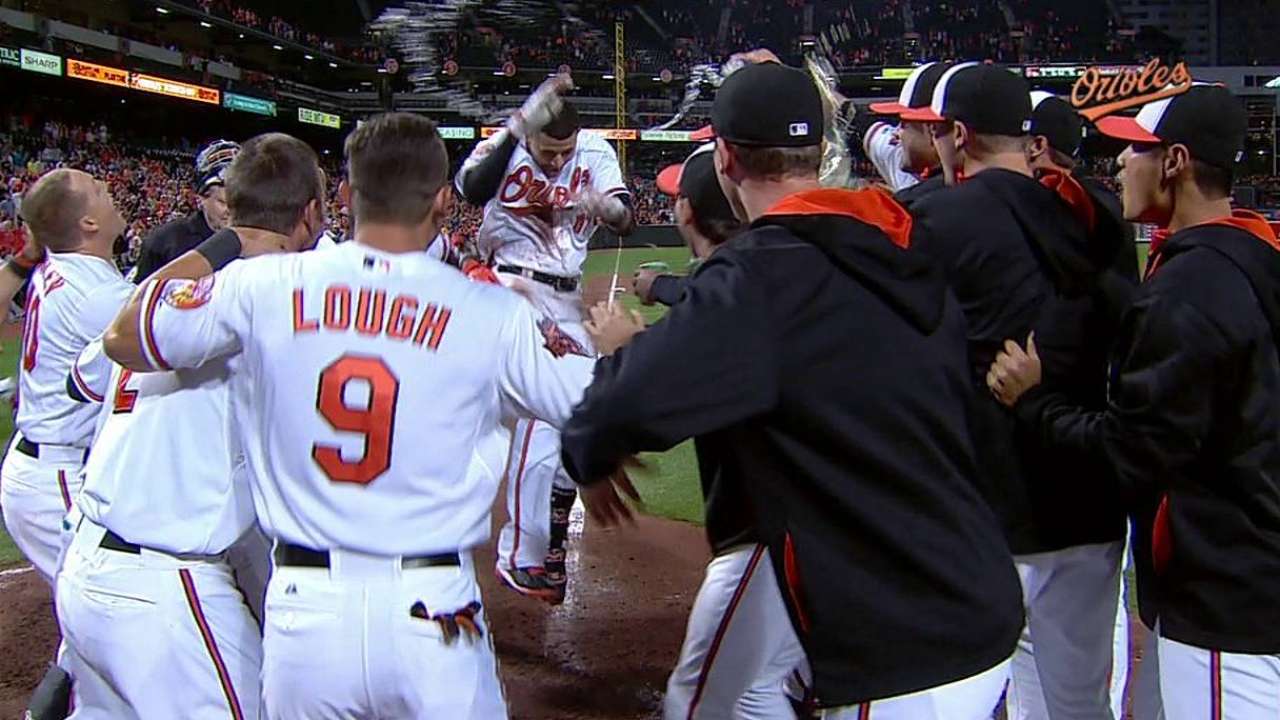 BALTIMORE -- It's becoming routine for the Orioles. Extra innings come and eventually they get the all-important hit.
Despite a litany of stars that had delivered a walk-off home run for an O's team that so frequently notches them, Manny Machado never had one -- until Tuesday night.
On a 1-2 count, Angels reliever Cory Rasmus dropped a curveball over the middle of the plate and Machado launched it over the left-field wall for his 11th home run of the year to give the Orioles a 7-6 victory in front of 36,882 at Camden Yards.
"Once I hit it, I knew it was out," Machado said. "At that point, it was just excitement running through my body. The first one ... got it out of the way."
Baltimore (59-46) is now 12-3 in extra-inning games, including seven in a row dating to June 25. In 2012, the O's went 16-2 in extras.
Since the All-Star break, in particular, the 2014 Orioles have shown a striking resemblance to the 2012 iteration. Eight of their last 11 games have been decided by two runs or fewer and the last four were one-run contests.
"We've got the same core, same big guys in the clubhouse, and I think that's the most important thing, is what happens in here," said starting pitcher Chris Tillman, who allowed five runs in five innings. "These guys, they lead is what they do. They go out every day, show up to play and give it 100 percent every single night. You don't see that very often, even from other teams in the league."
On Tuesday, that group needed a comeback. Before Adam Jones even batted in the bottom of the first inning, Baltimore trailed, 1-0.
Three pitches later, the outfielder smashed his 20th home run of the year over the left-field wall to tie the score, and by the end of the frame a two-out rally had given the O's a 2-1 lead.
"I actually thought Adam's home run to answer right away gave a good mentality to the game," Orioles manager Buck Showalter said.
In total, there were four lead changes, although the Angels never led after the fourth inning.
Los Angeles answered Baltimore's two-run first with two more in the second and by the end of that inning the O's had tied the game again.
The Angels took the lead back in the fourth, but that didn't last long. A three-run home run by outfielder Nick Markakis tagged Jered Weaver for a season-high six earned runs and gave the Orioles a 6-4 lead.
"It's just one of the few games where Weave was really out of sync," Halos manager Mike Scioscia said. "I don't know if Weave ever got settled in and felt good about repeating pitches."
Baltimore held that lead until the seventh inning when Ryan Flaherty was a bit too slow to cover second on a grounder to shortstop J.J. Hardy, allowing Josh Hamilton to leg out a game-tying infield single.
Once the 10th came around, though, it was the O's time. Reliever Darren O'Day made it through the 10th and 11th without allowing a hit, while Ryan Webb (3-1) survived the 12th despite a single by Albert Pujols and a double by Hamilton to set up Machado's heroics.
It's not that anyone expects an extra-innings win, but it's becoming tough to ignore the trend. Once the game hits extras, the Orioles are at their best.
"I guess you can say that, in a way," Machado said. "We don't think about it that way. We just go out there and play. Once you go into extras, it's our bullpen in key situations, so we got to go out there and do what you got to do. That's how we see it. We just go out there and try to grind it out.
"One pitch at a time ... one batter at a time. That's just how we play baseball in here."
David Wilson is an associate reporter for MLB.com. This story was not subject to the approval of Major League Baseball or its clubs.