Managers Parrish, DeShields headline AFL campaign
League names coaches, organizations; eight-time All-Star and 13-year vet lead list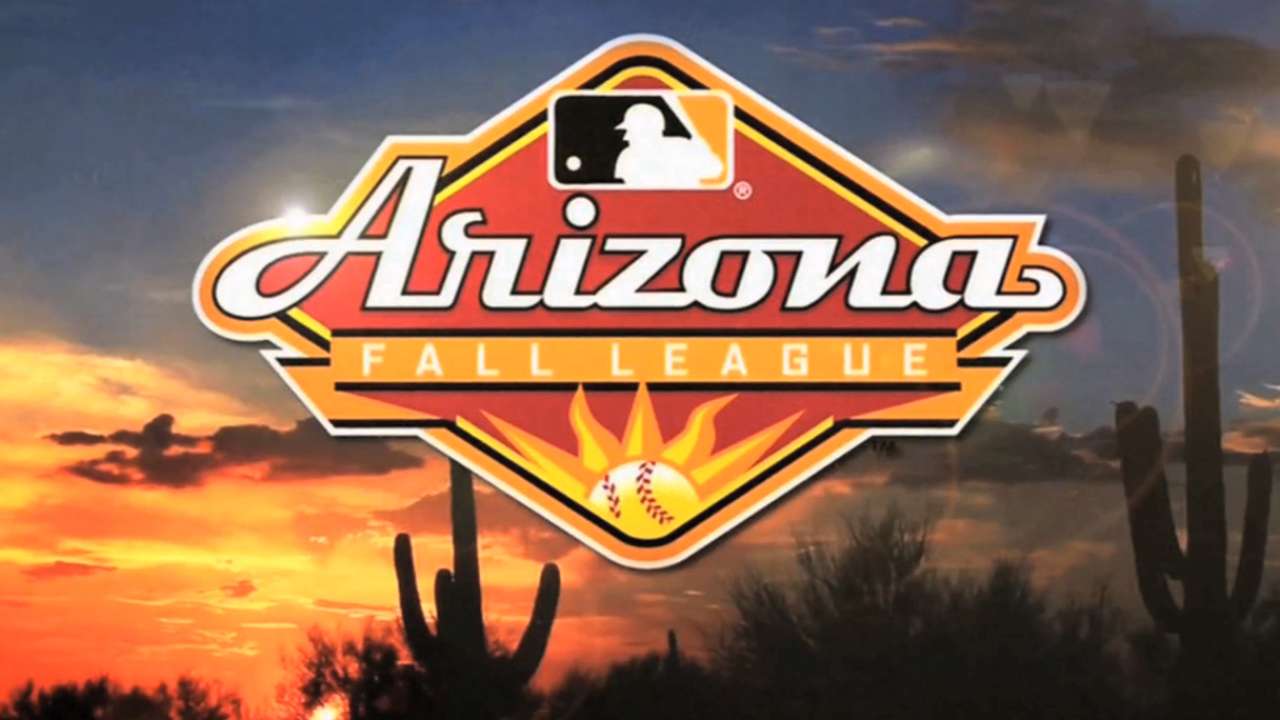 It's never too early to start dreaming about the fall. The Arizona Fall League announced its organization and staff Tuesday for the upcoming AFL campaign that will begin on October 7.
The Arizona Fall League has six teams and will play in five stadiums this season, thanks to the addition of the new Cubs park in Mesa. The other AFL venues will be Camelback Ranch-Glendale, Salt River Fields at Talking Stick, Scottsdale Stadium and two teams at Surprise Stadium.
This year, the Arizona Fall League will boast a coaching staff that comprises men who played for a combined 107 years in the Major Leagues. Lance Parrish, an eight-time All-Star, will manage the Glendale Desert Dogs, and former infielder Delino DeShields will manage the Surprise Saguaros.
Parrish's team, the Desert Dogs, will feature prospects from the Tigers, Orioles, White Sox, Dodgers and Brewers. The pitching coaches will be Chris Hook of the Brewers' organization and Alan Mills from the Orioles, and Andy Tromberlin of the White Sox's system will serve as the hitting coach.
DeShields will manage the Saguaros, who will consist of prospects from the Reds, Red Sox, Padres, Mariners and Rangers. Jody Davis, a two-time All-Star, will serve as the hitting coach, and the pitching coaches will be Jeff Andrews of the Rangers' organization and Andrew Lorraine from Seattle.
Mike Mordecai, a former big league infielder, will manage the Mesa Solar Sox, which will have players from the Cubs, Angels, Athletics, Blue Jays and Nationals. Southpaw Ron Villone and Matt Wise will serve as the pitching coaches, and Greg Sparks of Oakland's organization will be hitting coach.
Former catcher Vance Wilson, a native of Mesa, will manage the Peoria Javelinas, who will have players from the farm systems of the Royals, Indians, Braves, Cardinals and Rays. R.C. Lichtenstein and Jason Simontacchi will be pitching coaches, and Gary Ingram will be the hitting coach.
The Salt River Rafters will house prospects from the Diamondbacks, Rockies, Astros, Marlins and Twins, and Andy Haines will be the team's manager. Josh Miller of the Astros' organization will be the team's pitching coach, and Colorado's Kevin Riggs will be the team's hitting coach.
The Scottsdale Scorpions, rounding out the list, will be managed by Jeff Bannister and will have players from the Mets, Yankees, Phillies, Pirates and Giants. Ray Burris and Mike Couchee will serve as the team's pitching coaches, and the Yankees' P.J. Pilittre will be the team's hitting coach.
Spencer Fordin is a reporter for MLB.com. This story was not subject to the approval of Major League Baseball or its clubs.