Deadline roundup: Is Hamels on his way out?
Phillies may be getting ready to deal veterans; teams checking in on Lester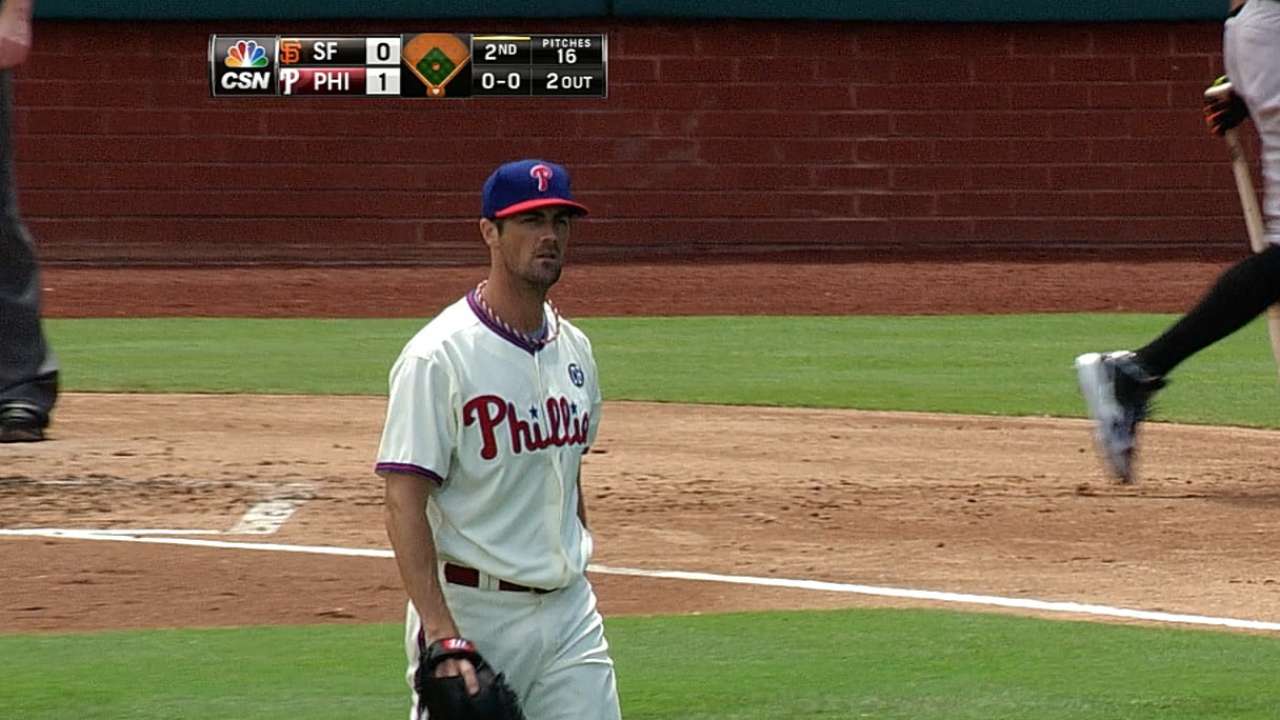 The July 31 non-waiver Trade Deadline is coming Thursday at 4 p.m. ET as contenders look to bolster their squads for a potential run at October.
From now until the Deadline, we'll be checking in on the trade news around baseball, with help from MLB.com's reporters. The countdown is underway.
The Phillies phile: So many intriguing players, so few answers. That was the state of affairs in the City of Brotherly Love on Monday, three days before the Deadline.
Everyone around baseball is wondering if Cole Hamels, Cliff Lee, Jonathan Papelbon, A.J. Burnett, Marlon Byrd, Antonio Bastardo and possibly other players will be moved. And according to MLB.com's Todd Zolecki, the front office has been "frustrated lately with its lack of success on the trade market."
That doesn't mean something won't happen before the Deadline, of course, and to that end, general manager Ruben Amaro Jr. traveled with the team to New York.
"Am I expecting any [trades]?" Phillies manager Ryne Sandberg said to reporters. "I don't know one way or another. Just from what I hear, if there is [a trade], it'll be very late in the process."
Zolecki said Byrd and Bastardo are the most likely Phils to be traded. Hamels is available, but the price "remains extraordinarily high," Zolecki reports.
The latest on Lester: It appears that most of the pre-Deadline buzz when it comes to starting pitchers has settled on veteran Red Sox left-hander Jon Lester. This was reiterated Monday by multiple media outlets and from different angles.
WEEI.com in Boston reported that the chances of Lester being traded appear to be gathering momentum heading to the Trade Deadline, and Ken Rosenthal of FOXSports.com wrote that the Red Sox are taking a lot of calls about not only Lester but also right-hander John Lackey.
Rosenthal tweeted that the Mariners have kicked the tires on Lester, who grew up near the Seattle area, and FOXSports.com's Jon Paul Morosi tweeted that the Orioles might be interested, too.
Houston, we have some offers? In the somewhat surprising category, Astros GM Jeff Luhnow said Monday that Houston would be willing to trade a starting pitcher, according to MLB.com's Brian McTaggart. There's nothing happening imminently, McTaggart writes, but Luhnow said essentially having six starters -- Dallas Keuchel, Scott Feldman, Brett Oberholtzer, Jarred Cosart, Collin McHugh and Brad Peacock -- could lend itself to the right deal for a bat.
"Our offense has been struggling, so as we have conversations, we'll explore options that might give us some help offensively," Luhnow said.
Fish story: According to the Miami Herald, the Marlins, who came back in a stirring rally Monday night to beat the first-place Nationals, could possibly be buyers at the Deadline and might be in the mix for pitching.
The story, written by Clark Spencer, mentions D-backs left-hander Wade Miley, Padres righty Ian Kennedy and A's southpaw Tommy Milone.
Norf star: To those of you who never thought you'd hear the term "Chris Denorfia Sweepstakes," well, it looks like you're hearing it today.
The veteran Padres outfielder is a hot commodity at this Deadline, and Monday's news had him being targeted by the Mariners and Braves, according to Joel Sherman of the New York Post.
Other teams that have been linked to Denorfia, who will become a free agent this offseason, include the Giants, Blue Jays and Royals.
Justin time: Cleveland righty and impending free agent Justin Masterson was having a down year before he landed on the disabled list, from which he's scheduled to be activated on Friday.
That could be a reason Jeff Passan of Yahoo! Sports wrote Monday that the Tribe could deal Masterson, who has had a disconcerting velocity drop that has led to a 5.51 ERA this season.
San Francisc-Zo? Sure, the Giants picked up Dan Uggla, but they might not be done adding infielders, and the latest name to land on San Francisco's radar is Ben Zobrist of the Tampa Bay Rays.
Granted, the Rays' resurgent play could have them rethinking trading Zobrist or ace David Price or just about anyone from a club that's still very much in a wide-open American League East, but according to MLB.com's Chris Haft, "the Giants' interest in acquiring … Zobrist … could be deepening."
Haft cited Morosi's report that San Francisco had a pair of scouts watching Zobrist this past weekend.
Doug Miller is a reporter for MLB.com. Follow him on Twitter @DougMillerMLB. This story was not subject to the approval of Major League Baseball or its clubs.