Worley tosses shutout after Pirates' early outburst
Righty faces two over minimum in second career complete game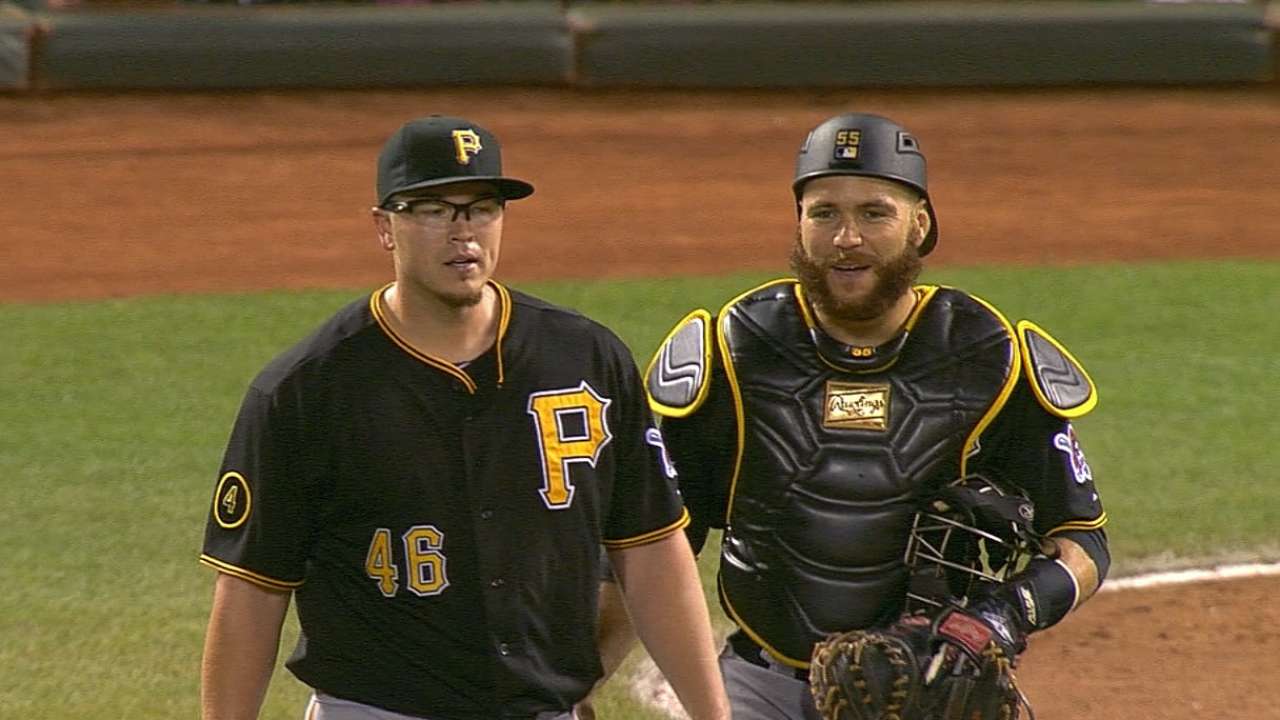 SAN FRANCISCO -- Vance Worley isn't quite yet the Pirates' new king of the hill. Seven starts into a reborn career is too soon for coronations.
For one cool night by The Bay, however, Worley definitely wielded the royal staff for the Pirates, who affirmed their new identity as West Coast kingpins.
Worley went the route on a cool four-hitter to give the Bucs a 5-0 victory over the Giants in front of an AT&T Park crowd that included nearly three dozen friends and family from his nearby hometown of Sacramento.
"I'm just glad I gave them something fun to watch," said Worley, who did not grow up as a Giants fan but as a grownup has become a fan of beating them.
His first career shutout came in his second career complete game, on the near-third anniversary of the first, July 26, 2011 -- against the Giants.
After two errors and some other loose defense helped the Bucs to a four-run first inning, it was all Worley: He took a no-hitter into the fifth, some brilliant defense limited him to facing only two over the minimum of 27 batters, and only 29 of his 100 pitches were out of the strike zone.
"Russell is pretty smart back there," said Worley, trying to defer to catcher Russell Martin. "The less I have to think, the more I can just focus on pitching."
Of course there was a lot more to this masterpiece than just following Martin's direction.
"I know we're not swinging the bats well, but I also don't want to take away from how he pitched," said San Francisco manager Bruce Bochy. "He pounded the strike zone and made great pitches all night. He's been throwing the ball."
"His stuff was crisp," noted Pirates manager Clint Hurdle. "I love the way he made the pitches he needed to make when he did get a baserunner. He had command of all of his pitches and kept up a very good pace. When the pitcher throws strikes, the defense really has a chance to show up."
It showed up big in the seconds following the Giants' first hit, a single by Pablo Sandoval to open the fifth.
The play's star appeared to be shortstop Jordy Mercer for lunging to snare Michael Morse's grounder up the middle -- but only until his glove-flip to Neil Walker was off the mark.
Walker contorted himself to barehand the ball and had enough torso torque to also make an accurate relay to first to double up Morse.
It was a new flavor for a double-play combination that last year was dubbed Vanilla Twice -- after Walker had called themselves "vanilla," meaning steady but not flashy.
"That could be as un-vanilla as you'll see me," Walker said, smiling. "I wouldn't have been able to make the out at second without barehanding it, then it was just trying to follow through."
The Pirates edged within two games of the National League Central lead in the Brewers' slippery grip with their sixth win in eight games on the West Coast this season -- and 15th in their last 20 in sight of the Pacific Ocean. It hasn't always been like this for the Pirates, but finding some breakthrough success here is another item crossed off Hurdle's to-do list.
"You've got to figure out a way," he said. "It had been a major burden for us, as an organization. We were able to turn it last year. We've been able to play very competitive baseball here, but we've got to stay focused."
The Bucs settled this one out of the gate, two run-scoring singles and two sacrifice flies meshing with some sloppy Giants defense into a four-run first inning. Josh Harrison added a solo homer off Madison Bumgarner in the second, before the Pittsburgh offense took the rest of the night off.
That's 16 consecutive wins for the Pirates following a first-inning score, a streak begun May 20. The club last won 17 such games in 1928, when, in No. 17, Pie Traynor and Paul Waner each drove in two runs off Grover Cleveland Alexander -- not to Hall of Fame name-drop.
Worley is playing "keeper" with his place in the rotation. He has essentially borrowed it from Gerrit Cole, who, in his first rehab start, spun five shutout innings Monday night.
So, taking the mound a couple of hours later, Worley went considerably better, posting the Bucs' first blanking since June 12, and only their third of the season.
Tom Singer is a reporter for MLB.com and writes an MLBlog Change for a Nickel. He can also be found on Twitter @Tom_Singer. This story was not subject to the approval of Major League Baseball or its clubs.