Giants' home woes continue in loss to Pirates
Bumgarner gives up four runs in 42-pitch first inning; offense shut out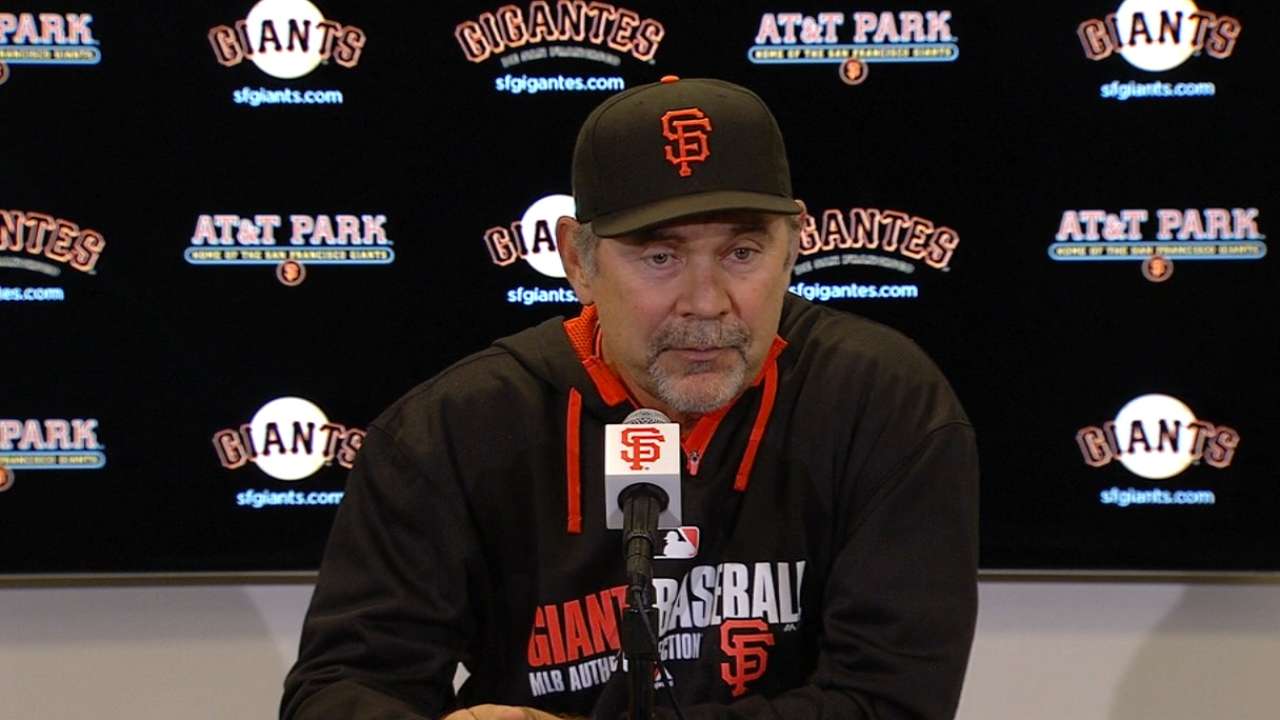 SAN FRANCISCO -- Brandon Belt and Angel Pagan could regain full health, Jake Peavy can solidify the starting rotation and general manager Brian Sabean could engineer a Trade Deadline steal. None of that will further the Giants' bid to reach the postseason unless they resume winning at home, which didn't happen Monday as they dropped a 5-0 decision to the Pittsburgh Pirates.
San Francisco lost its fifth consecutive game, one short of its worst stretch of the season June 13-20. The Giants also endured their 12th shutout defeat, which already exceeds their 2013 total of 11.
The Giants also slipped a season-high two games behind first-place Los Angeles in the National League West standings. Common sense offers one method of closing that gap. The Giants play more games at AT&T Park than anyplace else. They've thrived on the road (29-20), but they'll be hard-pressed to maintain that pace with a schedule that includes three more visits to teams based in the Eastern time zone and a pair of three-city trips. Not much in baseball is given, but prerequisites do exist, and capitalizing on home-field advantage is among them.
"We're going to have to turn it around if we want to be in this thing," Giants left-hander Madison Bumgarner said. "You can't play good only on the road."
Lately, the Giants' home performance suggests that they're allergic to the aroma of garlic fries and frightened by the sight of seagulls. They've lost 20 of their last 26 games at the corner of Third and King streets. They've averaged 2.65 runs per game in this span, which reflects the club's troubles at home but doesn't explain why they occur. In the first four games of this six-game homestand, the Giants hit .169 (21-for-124) and scored four runs.
"There's no reason I can give you," Giants manager Bruce Bochy said. "It's a park we [historically] have played very well in. You look at our struggles the last three weeks or so, they've been at home. For the life of me, I can't figure out why. I know [players] can't. It's a great park for these guys, with the kind of support that we have. They've done well here, so there's no reason why we've had our struggles, but it shouldn't happen at home. That's what's gotten me buffaloed a little bit."
"Usually you play your best ball at home, especially in a park like this one," Bumgarner echoed. "That's where you make your money at. It's really weird. I wish I had an answer for it."
The Giants genuinely wish that they could please their faithful legions of fans more often.
"They've done a great job of supporting us," left-hander Jeremy Affeldt said. "They've sold out the last 300-some games, so you want to win for them."
Instead, the Pirates dominated this series opener from the outset. They scored four first-inning runs off Bumgarner (12-8), who matched a season-low by working four innings. By contrast, Pirates right-hander Vance Worley (4-1) yielded four hits in his first career shutout. The Sacramento native retired the first 12 Giants he faced and didn't allow a runner to reach scoring position until Hunter Pence tripled with two outs in the ninth inning.
"We didn't do anything," Bochy said.
The Giants lost their previous four games to elite starting pitchers -- Cole Hamels of the Phillies and Zack Greinke, Clayton Kershaw and Hyun-Jin Ryu of the Dodgers. Worley was a late-Spring Training acquisition from Minnesota who began the season in Triple-A and joined Pittsburgh's starting rotation only after injuries to Gerrit Cole and Francisco Liriano.
"He may not have the stats, but tonight, Worley threw very well," Bochy said. "I know we're not swinging the bats that well, but I won't take away from how well he pitched. He pounded that strike zone and made pitches all night."
The outcome was essentially settled in the first inning, which Bumgarner needed 42 pitches to escape. He walked two of the first three hitters he confronted, matching the number of free passes he issued during the three-game winning streak he took into the game. The Pirates had scored only twice when Bumgarner trapped Andrew McCutchen leading off second base. But Bumgarner one-hopped his pickoff attempt, which caromed off McCutchen's backside and trickled into short right field. That allowed McCutchen to reach third and Pittsburgh to add two more runs.
"I should have gotten rid of [the ball] a little sooner," Bumgarner said.
Chris Haft is a reporter for MLB.com. Read his blog, Haft-Baked Ideas, and follow him on Twitter at @sfgiantsbeat. This story was not subject to the approval of Major League Baseball or its clubs.