Marlins stun Nats with relentless four-run ninth
Miami wins fifth straight on Baker's walk-off drive to left-field wall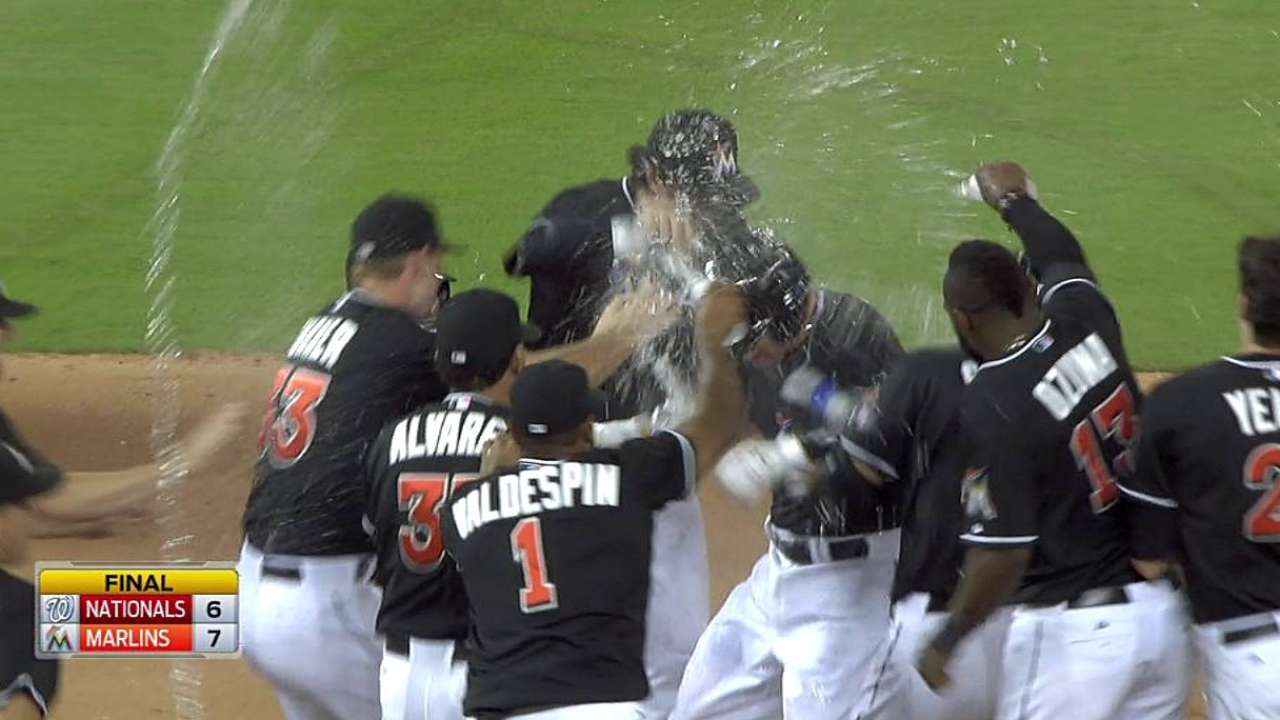 MIAMI -- Before Monday night's contest against the Nationals, Marlins manager Mike Redmond gushed about how his team was able to scrape out six wins on the road with contributions from players other than Giancarlo Stanton and Casey McGehee.
As it turned out, Miami's 7-6 victory at Marlins Park was, once again, an effort of other players' heroics. This time, it was Jeff Baker and his second walk-off hit of the season that sealed it for the Marlins.
"We're not going to be able to rely on one or two guys all year. We know that," Baker said. "I think guys collectively are trying to pull their end of the rope, and I think tonight everybody contributed really well."
For a team that needed to make up ground in the National League East, the Marlins' ninth-inning rally gave them the chance to do just that against the division-leading Nationals. The frame started innocently enough, with McGehee drawing a four-pitch walk. But then Garrett Jones doubled to right field, Marcell Ozuna singled to center and Jarrod Saltalamacchia lifted a ball deep enough for a sacrifice fly. Just like that, the Marlins were one run behind for Adeiny Hechavarria, who tripled in the tying run after working an 11-pitch at-bat.
Baker eventually came up with the Marlins one out away of going into their 16th extra-inning game of the year. He took a chance on the first pitch he saw, drove it deep to left field and said he wouldn't have been surprised if Bryce Harper had caught it. But when the ball hit off the wall over Harper's head, "I was obviously glad he didn't."
"At this stage, that's got to be the biggest game of the year for us," Baker said. "It just is. From where we are in the standings, from where we've got to go, and these guys understand that."
But before all the hysteria and water throwing that's come with a walk-off win for Miami -- and these Marlins know how to celebrate such feats, considering they're second in the Majors with eight walk-offs this season -- the Marlins had to slowly eat at the Nationals' 6-0 lead.
Starter Nathan Eovaldi's pitching line didn't show it -- he was charged with five earned runs in 5 1/3 innings -- but the right-hander had been coasting before the sixth inning. Entering the frame down a run and having retired 12 of his last 14 batters, Eovaldi proceeded to allow three straight singles, one of which drove in a run, and a walk.
He was pulled from the game down 2-0, but reliever Dan Jennings couldn't stop the Nationals from tacking on four more runs before he too was taken out of the game. Eleven batters came to the plate for the Nationals that inning.
But the Marlins didn't let that stop them from mounting a two-out rally in the seventh inning on a couple of Nationals miscues. With Stanton aboard via walk, right fielder Nate McLouth dove in an attempt to rob Jones of a hit to end the inning. But McLouth landed short of where the ball fell and it rolled to the warning track, giving Jones an RBI triple.
Jones scored on Ozuna's infield single that hopped up the glove of shortstop Ian Desmond and out into left field. Ozuna, however, was left stranded. The Marlins added a third run in the eighth inning, but it would have been hard to guess that they could put together another rally after that attempt was squashed.
Warming up in the bullpen was closer Rafael Soriano, who was coming in with a 1.10 ERA and 25 saves this season, and had stumped the Marlins in the past. He had a 1.68 ERA in 38 2/3 innings against them entering Monday.
Furthermore, the largest deficit the Marlins had overcome this season was four runs, which they last did against the Cardinals on July 5.
Although statistically the odds weren't in Miami's favor, Redmond felt a buzz of confidence work its way down the bench as soon as his team got on the board. Then the hits started coming.
"If the team do it like that through the rest of the season, we have a chance to make the playoffs," Ozuna said.
Remarkably enough, the last time the Marlins won after trailing by six or more runs in the seventh inning or later was on June 28, 2003 -- the same year the Marlins won their last World Series.
Maria Torres is an associate reporter for MLB.com. This story was not subject to the approval of Major League Baseball or its clubs.