MLB.com Columnist
Bill Ladson
Bullpen erupts after Zimmermann's strong start
Soriano struggles as Marlins storm back from six-run deficit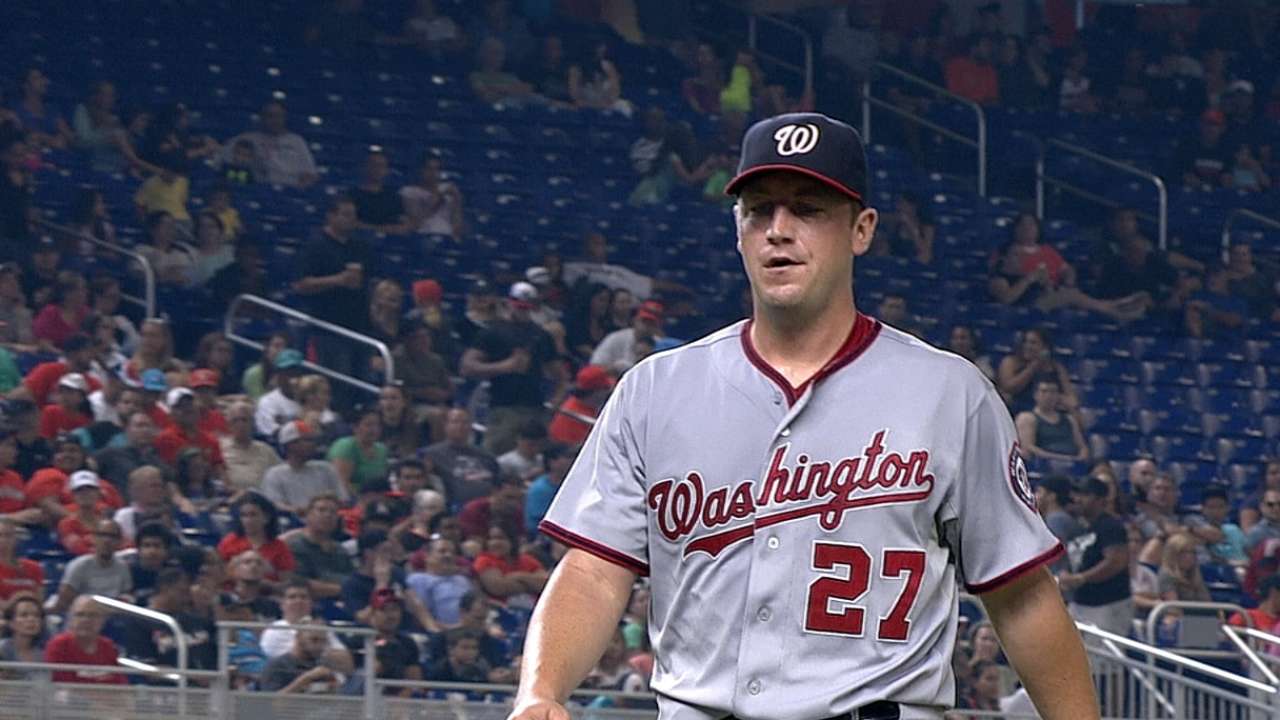 MIAMI -- The Nationals had arguably their worst loss of the season Monday night. A day after saving his 200th career game, Rafael Soriano blew his fourth of the season as the Marlins edged the Nationals, 7-6, at Marlins Park.
The Nationals had a 6-3 lead going into the ninth inning, but Soriano, looking for his 26th save of the season, had nothing in the tank. Every pitch he threw was up in the zone.
After Casey McGehee walked and Garrett Jones doubled to put runners on second and third, Marcell Ozuna singled to center field, scoring McGehee. Jarrod Saltalamacchia hit a sacrifice fly to right fielder Nate McLouth to send home Jones and make it a one-run game. Adeiny Hechavarria was next and tripled to right-center field, sending Ozuna home.
"We feel like collectively as a group we're going to make that closer earn it," Marlins manager Mike Redmond said. "We've been able to pull together and put some pressure on some really good closers. That's, I think, the makeup of this team. Like, hey, we're going to keep fighting down to the last out, and you may get us but we're going to battle you and we might get you, too."
Soriano was clearly upset after the game. He didn't have any excuses as to why he prevented Jordan Zimmermann from winning his seventh game of the season. Soriano said everything he threw -- two-seam fastball, cutter and slider -- didn't work.
"It was a bad day for me. I felt sorry for Jordan because I think he pitched a great game and he was supposed to win that game," Soriano said. "I didn't have the good command that I had before. Bad day for me and my team."
After Donovan Solano was hit by a pitch, manager Matt Williams took out Soriano in favor of left-hander Jerry Blevins. Christian Yelich struck out, but Jeff Baker doubled over Bryce Harper's head in left field, scoring Hechavarria to end the game.
Tyler Clippard, arguably Washington's best reliever, was unavailable. He had been overused of late.
"We had it set up for Jerry to come in there," Williams said. "We don't want to leave [Soriano] out there for too many because we lose him for days in a row. The game had been already tied, so we went to Jerry."
The Nationals are now a half-game ahead of the Braves in the National League East. Atlanta blanked the Padres, 2-0, at Turner Field.
If there was any worry about Zimmermann's right biceps strain, it came to an end Monday night. He pitched seven solid innings, allowed two runs on four hits and struck out six while the Marlins didn't have a runner in scoring position against the right-hander until the seventh inning, when they scored twice.
Zimmermann had great command of his pitches and started the game by retiring 14 out of the first 15 hitters he faced. His fastball reached 94 mph, and he had a slider that was fooling the Marlins' hitters.
"He was really good tonight. He was down in the zone, he had a great slider," Williams said. "Much better than his last one. The last one was just rust. Tonight, he proved that he is back on it."
Right-hander Nathan Eovaldi was Zimmermann's counterpart, and the Nationals took a 1-0 lead in the first inning when Anthony Rendon scored on a sacrifice fly by Adam LaRoche. Washington pulled away in the sixth inning as the team batted around and scored five runs against Eovaldi and reliever Dan Jennings. Danny Espinosa highlighted the scoring with a two-run single off Jennings.
But the Nationals lost their 46th game of the season, and Jayson Werth believes the team can bounce back from a devastating loss.
"These guys in the bullpen have been really good. We move on," said Werth, who exited in the seventh inning with sprained right ankle and is considered day to day. "Things happen, we'll be fine. We are a resilient team. We have a long way to go. We have a good club. I like the way things set up for us, the way we are playing. It's just one game."
Williams doesn't have any doubt that his team will be ready for Tuesday's game.
"It stings a little more, even when you have the lead late and it doesn't happen for you," Williams said. "They are resilient. If they have showed me anything this year, they are that. They are professionals. They will be ready to play tomorrow."
Bill Ladson is a reporter for MLB.com and writes an MLBlog, All Nats All the Time. He also can be found on Twitter @WashingNats. This story was not subject to the approval of Major League Baseball or its clubs.