Mets continue surge toward .500, rout Phillies
Colon earns 10th victory; d'Arnaud rips three-run homer, two doubles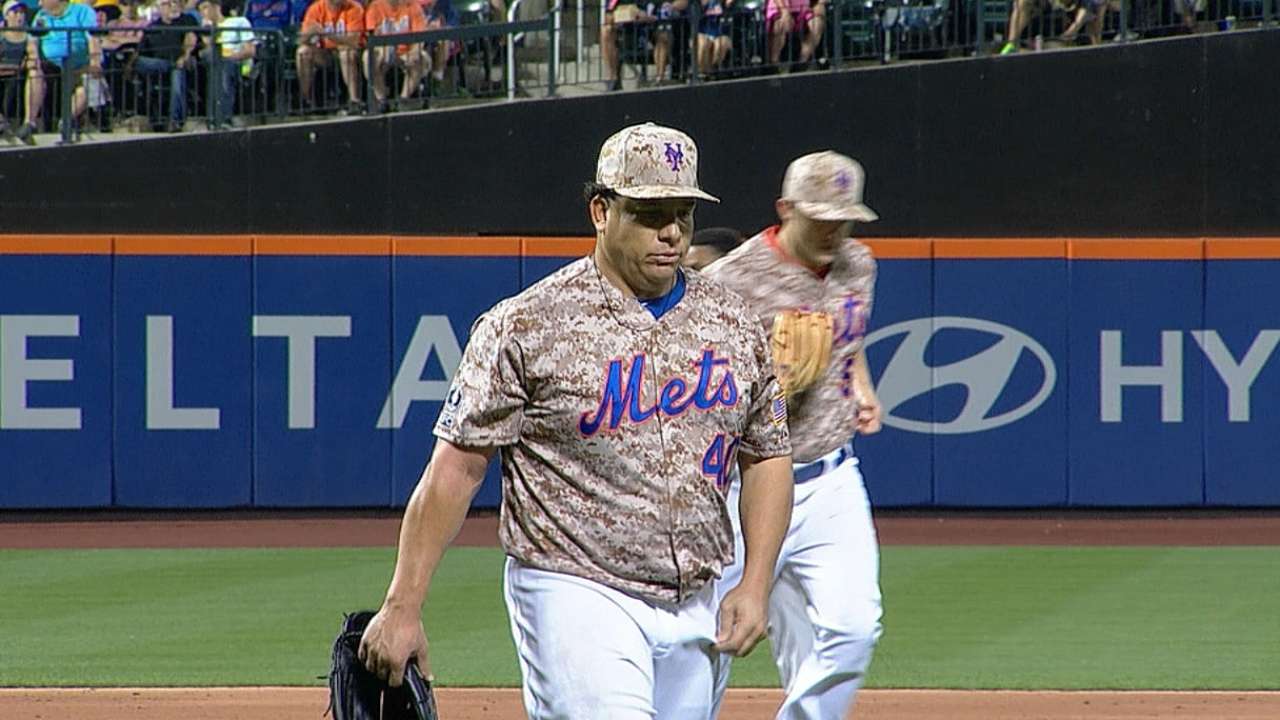 NEW YORK -- These days, each win carries with it implications. The Mets are relevant again, or at least relatively relevant, sitting four games under .500 after Monday's 7-1 dismantling of the Phillies at Citi Field. They are demonstrating obvious growth on a daily basis. They are -- dare it be said -- thriving.
Continued success might force general manager Sandy Alderson to rethink his cautious approach leading up to Thursday's non-waiver Trade Deadline. It may not convince Alderson to pay any price for the ambiguously available Troy Tulowitzki of the Rockies, but buyers need not always shoot so high. At the least, the Mets' recent surge -- five wins in seven games, 14 in their last 21 -- has greatly lessened the chances of them doing anything dramatic in the other direction.
"We're not anxious to be sellers," Alderson said.
One player the Mets had to consider shopping, Bartolo Colon, led the way Monday with 7 2/3 innings of one-run ball, one start after taking a perfect game into the seventh inning in Seattle. Though Colon was not quite as flawless this time, scattering 10 hits and a walk on 121 pitches, the end result was just as lucrative; after escaping a bases-loaded jam in the sixth, Colon cruised to his team-leading 14th start of seven or more innings and his seventh of at least 110 pitches.
The cynic might say he upped his trade value. Those inside the home clubhouse are trying not to think that way.
"If anybody comes after Bartolo Colon, they're getting one of the real true veteran guys," manager Terry Collins said. "You're not just looking at a guy that's got experience. This guy is down to earth. He is calm. He's not rattled by anything. He's an inning-eating machine. He doesn't change his plan for anybody. He knows what he's doing. When you're talking about a veteran guy, you don't want to ruin a clubhouse. This guy brings something to the clubhouse."
More often than not this year, Colon has brought something to the mound, as well.
"He had his fastball working both ways," Phillies manager Ryne Sandberg said. "He was throwing front-door sinkers to lefties. He was throwing cut fastballs and spotting his pitches real well. The guys had a hard time, especially with men on base, connecting on him. He comes right at you with fastballs, but they're basically three to five different pitches with different speeds."
It helped that the Mets supported Colon with more runs in the first inning -- four -- than they had scored in any of their previous nine games. After Curtis Granderson walked and Daniel Murphy doubled him home against Phillies starter A.J. Burnett, Lucas Duda singled in Murphy. Three batters later, Juan Lagares doubled home two runs to give the Mets a four-run cushion.
Burnett lasted until the fifth, when he served up a three-run homer to Travis d'Arnaud that turned the game into a laugher.
"We've been playing really well at home," said d'Arnaud, who also ripped a pair of doubles. "This win was huge for us."
All told, it was a banner night for the Mets, from the 26,525 fans who filled up Citi Field's lower two decks to the players who appeared in the game. It was also a telling night. Earlier in the day, Alderson reiterated that the team is unlikely to make any moves prior to Thursday's non-waiver Trade Deadline -- unlikely to add a significant piece a la Tulowitzki, in other words, but also unlikely to subtract a productive veteran such as Murphy or Colon.
That's comforting news for Colon, who said after the game that he would prefer to stay with the Mets than ship out to a contender. Early in Colon's career, while the Indians considered trading him to the Expos in a 2002 Deadline blockbuster, Colon said he hung on every news report. Constantly wondering about his future, the right-hander realized then that "this is a business."
More than a decade and a half-dozen teams later, Colon no longer frets over Trade Deadline rumors. If he goes to a contender, he goes to a contender. If he stays, he'll enjoy the growing energy in Flushing.
"Whatever they choose to do with me, it is what it is," Colon said. "I accept it."
Anthony DiComo is a reporter for MLB.com. Follow him on Twitter @AnthonyDicomo. This story was not subject to the approval of Major League Baseball or its clubs.