Bats back Yu as Rangers take series opener vs. Yanks
Four-run fifth puts Texas on top to stay as Darvish goes seven in win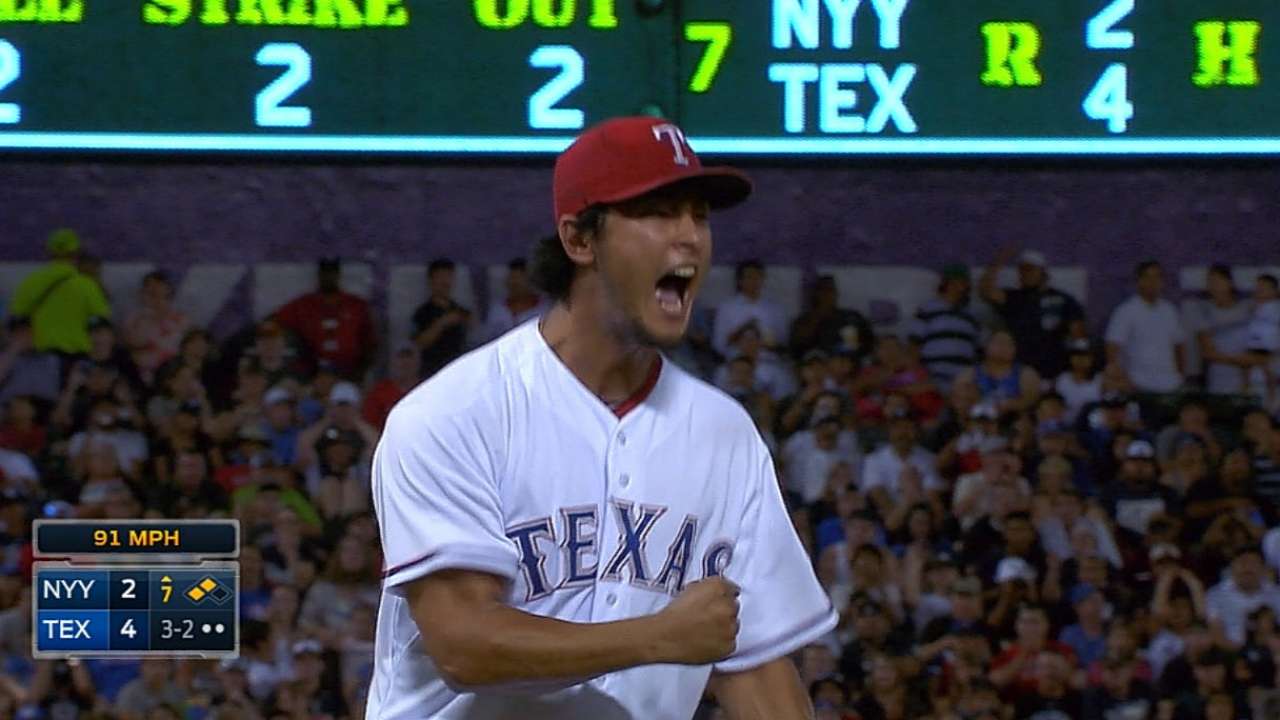 ARLINGTON -- Winning matters to Rangers pitcher Yu Darvish, even on a team that's in last place.
Darvish showed that with a rare display of celebratory emotion at a pivotal moment during the Rangers' 4-2 victory over the Yankees before 44,508 on Monday night at Globe Life Park.
Darvish was trying to hold that lead with runners at second and third with two out in the seventh. The Yankees had No. 3 hitter Brian McCann at the plate, but Darvish struck him out on a 2-2 pitch to end the threat.
Darvish reacted by pumping his fist as he bolted off the mound.
"It was late in the game, it was a close game, and we were close to winning," Darvish said. "I was just glad they didn't tie the game."
Darvish was done after seven innings, but Neal Cotts and Neftali Feliz did the rest on a night when there was some of the old electricity from recent years past coming back to life in Arlington.
"Every win counts at this point," catcher Chris Gimenez said. "I know that's kind of cliche to say. Every win obviously counts, but I think at this point, it's by all means one game at a time. We're looking for stuff to build off of. We have played a lot better the second half. I know our record doesn't exactly show it, but we've had some tough luck."
This win was Darvish's 10th of the season, giving him double figures in that department for three straight years with the Rangers.
"I don't look at the numbers, I'm just glad we won the game, especially with the way the team is not doing good," Darvish said. "There was no pitch that was especially working. But I was able to command my slider and curveball in key situations."
Darvish held the Yankees to two runs on nine hits. He walked one and struck out eight, raising his record to 10-6 with a 2.90 ERA. The strikeout of McCann left the Yankees 0-for-5 with runners in scoring position off him.
"He's got outstanding stuff," Yankees manager Joe Girardi said. "The guy really knows how to pitch. He's able to change speeds on his breaking balls, he uses his slider extremely well, and he's got a good fastball. The guy knows how to pitch."
Yankees shortstop Derek Jeter had three of the hits off Darvish, giving him 3,420 for his career. That allowed him to pass Hall of Famer Carl Yastrzemski for seventh place all-time. Jeter, in his final series in Arlington, also received a big ovation before his first inning at-bat.
"That's respect," Rangers manager Ron Washington said. "He deserves it."
Rangers first baseman J.P. Arencibia also had a big moment to celebrate. Arencibia delivered the two-out, two-run single that finished off a four-run fifth inning against Yankees starter David Phelps. The Rangers trailed, 2-0, going into the inning before bringing home four runs after two were out.
Gimenez led off the fifth with a single, and he went to second on Rougned Odor's grounder to second. After Shin-Soo Choo flied to left, Elvis Andrus grounded a single through the left side to bring home the first run.
Alex Rios followed with a single to center, moving Andrus to third, and Adrian Beltre doubled into the left-field corner to tie the game. Phelps walked Jim Adduci to load the bases, and Arencibia put the Rangers ahead with a single up the middle to bring home two runs.
"You want to be able to come up in that opportunity," Arencibia said. "[Phelps] had gotten me out, and he's got good numbers against me. So I knew they were going to kind of throw around Adduci a little bit. For me, I was like, 'All right, cool. That's what you wanna do, let's battle.' I was able to hit a good pitch and score those two runs, that's always fun."
Brett Gardner put the Yankees up early with a pair of solo home runs. He hit one in third and another in the fifth, giving him four homers in 111 career at-bats against Darvish. The A's Brandon Moss and the Angels' Mike Trout are the only other opponents with four home runs off Darvish.
"Darvish bent but didn't break," Washington said. "A couple of innings, I could see he was getting upset with the results, but he never gave in. He kept pitching. He didn't have command of his fastball and had to go with his breaking balls. But once we got the lead, he really beared down."
Feliz pitched a perfect ninth, and he is now 2-for-2 in save opportunities since regaining the closer's role last Wednesday when Joakim Soria was traded to the Tigers.
T.R. Sullivan is a reporter for MLB.com. Read his blog, Postcards from Elysian Fields, and follow him on Twitter @Sullivan_Ranger. This story was not subject to the approval of Major League Baseball or its clubs.