Gardner has Yu's number, but Yanks fall in Texas
Jeter passes Yastrzemski for seventh place on all-time hits list in loss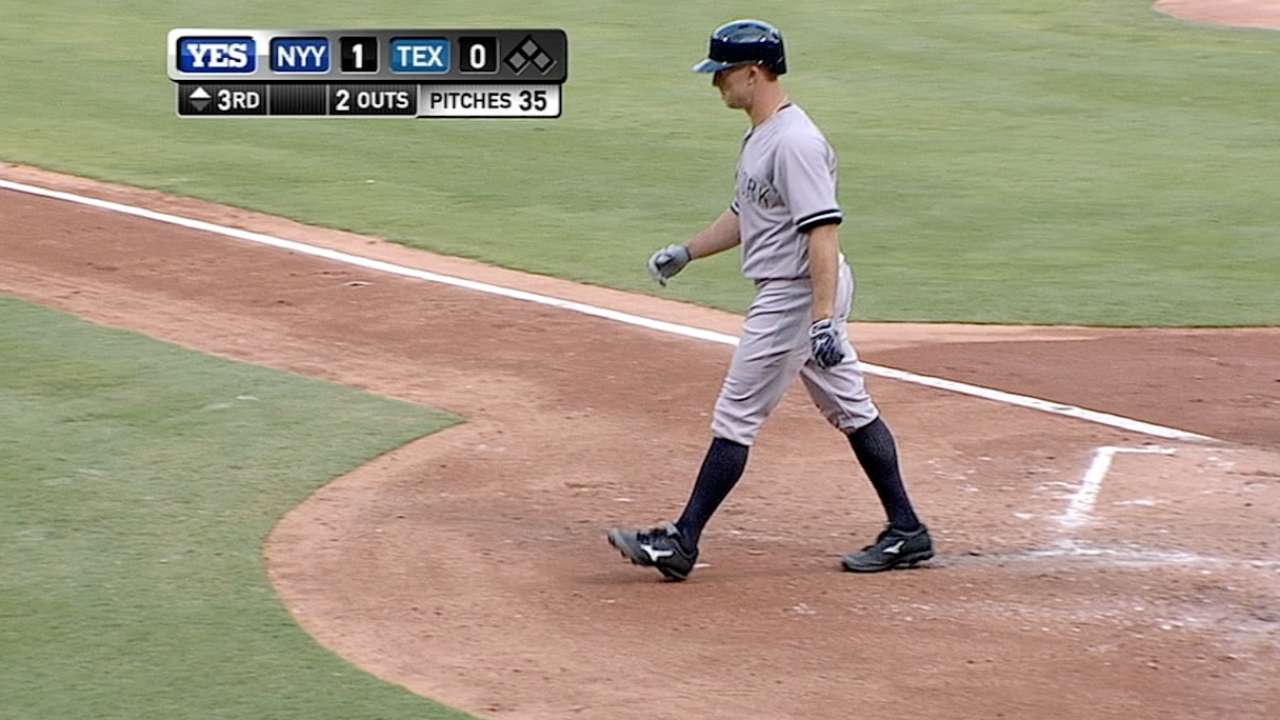 ARLINGTON -- You probably wouldn't figure that Brett Gardner, best known for contributing a mix of speed and defense, would be the most dangerous threat in a Yankees' batting order assigned to take on Yu Darvish.
That's exactly what happened once again, but perhaps that was part of the problem. Gardner homered twice and Derek Jeter reached a significant milestone, but a four-run Rangers fifth inning was enough to sink the Yankees in a 4-2 loss on Monday night at Globe Life Park.
"He's pretty good and he's got good stuff," Gardner said. "I'm fortunate I'm taking some good swings and had some good results. I would gladly trade [the homers] for a win, that's for sure."
New York lost its third straight game, with David Phelps flushing an early lead to spoil a night that saw Jeter go 3-for-4, passing Carl Yastrzemski with his 3,420th career hit and claiming sole possession of seventh place all-time.
Darvish recovered to give his club seven solid innings, striking out eight, and Neftali Feliz set the side down in order in the ninth for his second save.
"We haven't scored a ton of runs. We've pitched pretty decent," Yankees manager Joe Girardi said. "We didn't score much tonight."
Phelps looked good through four innings, but the Rangers put together some two-out thunder and batted around in the fifth. J.P. Arencibia's two-run single was the go-ahead knock, coming on a fat 0-2 fastball to a hitter who came into the game with a .147 average.
"It honestly just hit me that it all happened with two outs," Phelps said. "That's incredibly frustrating. Thinking back, they weren't bad pitches; they weren't the right pitches. It's frustrating. As a team, we put up seven zeros, and then a four spot. You're facing a guy like Darvish, it's tough."
Elvis Andrus had a run-scoring single and Adrian Beltre blasted a sinker for a game-tying double earlier in the inning off Phelps, who scattered eight hits over six innings, with a walk and three strikeouts.
"He had that one inning and just couldn't get the third out. He pitched a pretty good game," Girardi said.
Phelps and Darvish locked up in a rain-shortened game on July 23 at Yankee Stadium; Gardner had homered before the grounds crew struggled for 14 minutes to pin the tarpaulin on the diamond, rendering the soggy infield unplayable.
Gardner doubled his fun on Monday, clearing the fences in the third and fifth innings. He now counts a career-high 12 blasts to his name for the season, and of his five lifetime hits off Darvish, four have been homers in just 11 at-bats.
"I just went up there taking good swings, trying to have a good at-bat," Gardner said. "Small sample size."
Mike Trout of the Angels (34 at-bats) and Brandon Moss of the Athletics (23 at-bats) are the only other players with as many homers off Darvish. Through an interpreter, Darvish drew laughter in his postgame news conference, cracking: "I blame Brett Gardner's parents for creating a great hitter."
Those were the only runs the Yankees were able to produce off Darvish, who lasted seven innings and permitted nine hits, recording eight strikeouts and a walk.
"He's tough. He's a handful," Jeter said. "Gardy hit those two home runs, and we just couldn't get the big hit after that."
Jeter did his best to contribute, knocking a first-inning single and then a third-inning ground rule double that tied him with Yastrzemski. Jeter singled through the right side of the infield in the seventh on a perfect run-and-hit for career hit No. 3,420.
That turned Jeter into potential tying run at first base, but Darvish had something left in the tank, zipping a low-and-in fastball past Brian McCann's bat. Darvish pumped his fist and howled as he came off the mound, his work done.
"It was late in the game, it was a close game, and we were close to winning," Darvish said. "I was just glad they didn't tie the game."
In the eighth, Girardi tried to shake out his bench for results, sending Mark Teixeira up to pinch-hit with two outs. Teixeira singled in his first game action since July 20, but Neal Cotts retired pinch-hitter Zelous Wheeler, and the Yankees went in order against Feliz in the ninth.
"We know that we're capable of doing it. We've done it at times," Girardi said. "We had a pretty good homestand. We didn't start this road trip off the way we want, but you can change the feeling tomorrow."
Bryan Hoch is a reporter for MLB.com. Follow him on Twitter @bryanhoch and read his MLBlog, Bombers Beat. This story was not subject to the approval of Major League Baseball or its clubs.