Astros belt four homers to top first-place A's
Carter, Castro, Krauss, Dominguez get behind Oberholtzer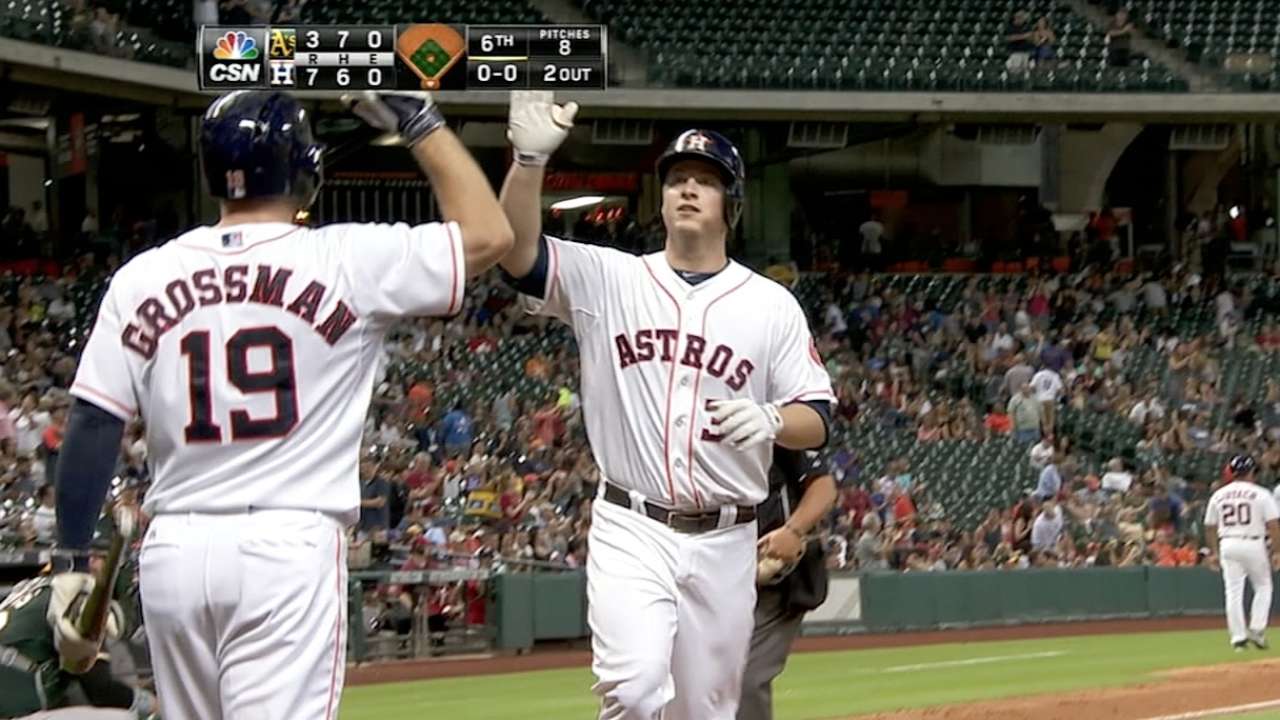 HOUSTON -- Chris Carter, whom manager Bo Porter repeatedly and accurately refers to as "a strong man," hit the longest homer of Monday night, a 420-foot shot to center field in the third inning that drove in three runs.
Jason Castro's tiebreaking, two-run homer in the sixth inning provided the biggest impact, giving the Astros a two-run lead and setting them up for a four-run outburst that included three homers. But the most impressive homer, at least according to Carter, came off the bat of Marc Krauss.
"Krauss went upper deck," he said. "Those are always pretty cool to see."
Yeah, but it was the shortest one of the four.
"It looked cooler," he said.
The Astros' dormant offense erupted for four homers, with Castro, Krauss and Matt Dominguez going deep in a span of four batters in the sixth inning, to beat the A's, 7-3, at Minute Maid Park and snap a five-game losing streak.
"Those are the big hits that we've been missing," Porter said. "It was good to see the middle of the lineup produce the way they produced tonight."
With George Springer and Dexter Fowler -- the Astros' two best offensive players not named Jose Altuve -- on the disabled list, it's been tough sledding for Houston. One thing it does do well, though, is hit the long ball.
The Astros are in third place in the American League with 115 homers, just ahead of the A's (110). They are 11-1 this season when hitting three or more home runs in a game.
"We were able to put some good swings on it a few times tonight, and it paid off for us," Krauss said.
The run support was welcomed by Astros left-hander Brett Oberholtzer, who won for the first time in a span of five Major League starts to improve to 3-7. He held the A's to three runs and eight hits in 6 2/3 innings and has pitched at least six innings in eight consecutive starts.
"I do take pride in it because it saves the bullpen, and obviously if you go deeper into the game, you're doing something right for the team and it gives them an opportunity to put some runs on the board," Oberholtzer said.
The lefty had faced the A's only six days earlier, giving up two runs and six hits in seven innings, so there wasn't too much of a need for adjustments.
"Same thing he did in Oakland when he threw," Castro said. "His changeup was really working tonight. He was able to kind of move around his fastball and then execute with his changeup when he needed to. He did a good job attacking hitters and not being aggressive and shying away and pitching in and things like that."
Carter's homer off A's starter Jesse Chavez (8-7) gave the Astros a 3-2 lead in the third, and the game was tied when Castro crushed an 0-1 pitch with one out and a runner on base in the seventh and sent it 416 feet over the right-center-field wall for a 5-3 lead. Krauss followed with a solo blast to right to chase Chavez from the game.
"To sum up the whole day, it was three pitches and a walk that led to it, and that can't happen, especially with a lead," Chavez said. "It's something that's been my Achilles' heel, giving back the runs that we have and not being able to get through six. Something's gotta change, and I think it's gonna happen next time."
Carter is hitting .307 with six doubles, eight homers and 19 RBIs in July. He entered the night leading the AL in slugging percentage in that span at 1.076.
"Just continues to have a short swing," Porter said. "You look at the home run tonight. It's a ball up out of the zone that he put a short, compact swing on it, and that ball was hit pretty well. Success just continues to breed confidence. You're talking about a guy that once he gets going -- and we're witnessing it right now -- this guy has the ability to carry a ballclub."
The Astros nearly had back-to-back-to-back homers when Jon Singleton just missed taking Dan Otero deep down the right-field line before he flied out to left. Dominguez followed with a solo homer to left field to push the lead to 7-4.
"Castro's home run to put us up, that was huge," Oberholtzer said. "It gave me a little breathing room. I didn't have to be so fine. A solo shot or two-run bomb didn't really mean much. I got some late runs there, too, with Carter and Domingo putting good wood on the ball."
Brian McTaggart is reporter for MLB.com and writes an MLBlog, Tag's Lines. Follow @brianmctaggart on Twitter. This story was not subject to the approval of Major League Baseball or its clubs.