Chavez gets hit hard in loss to Astros
A's righty gives up three of four Houston homers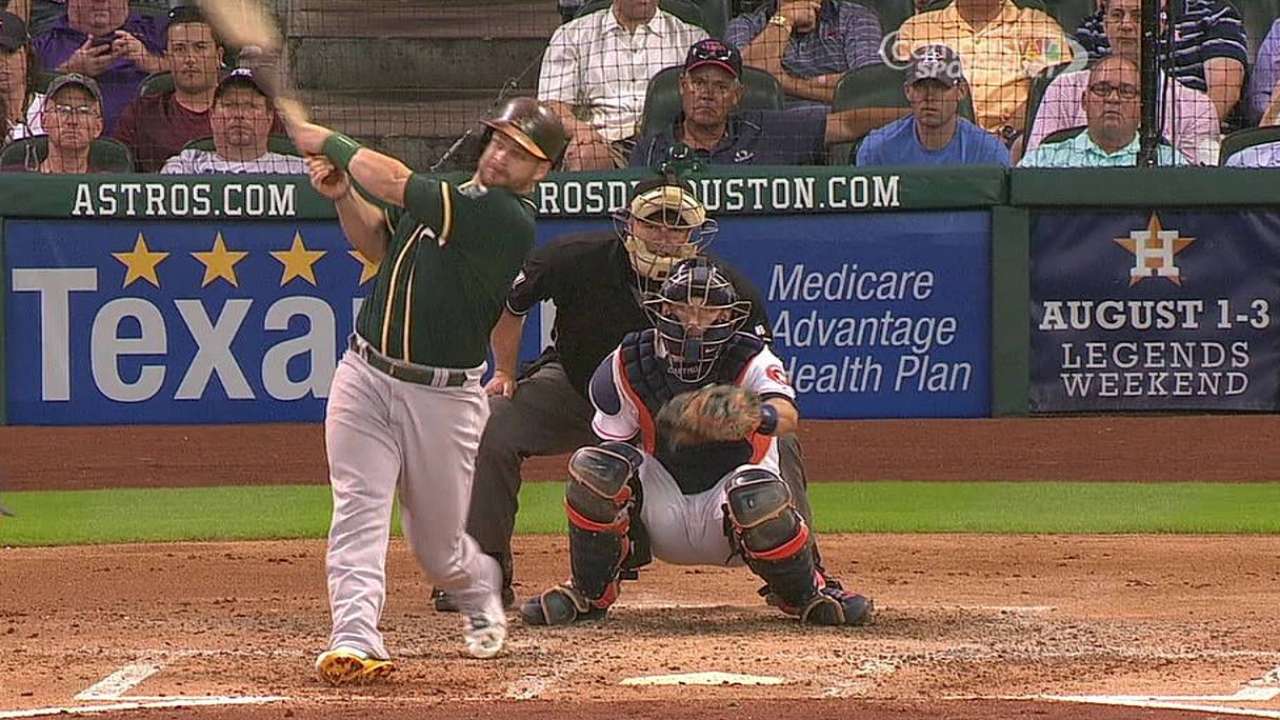 HOUSTON -- The hot-hitting Stephen Vogt homered on Monday night, but so did the Astros -- four times.
A's righty Jesse Chavez, who is typically successful in keeping ball in the yard, was on the hook for three of them in a 7-3 series-opening loss at Minute Maid Park.
Dan Otero took responsibility for the fourth, a sixth-inning solo shot to Matt Dominguez and the Astros' third long ball in a span of four batters.
"It's tough when three pitches out of 100 dictates a game," said Chavez.
If recent history repeats itself, though, the A's will win their next two games.
Three series in a row, they've dropped the opener. Each of the previous two times, against the Astros and Rangers, they've come back to win the series.
That they maintain this resiliency is becoming all the more significant with each passing day. August arrives before week's end, and the Angels are just 1 1/2 games behind the A's in the American League West.
Chavez would like to be extended a mulligan for Monday's beating, promising, "I'll get back after it tomorrow, and it won't happen again."
That it happened at all was something of a rarity. Just one other time this year did A's pitchers allow as many as four homers: June 16 vs. Texas.
"It's a little bit of a surprise because we're not only stingy about giving up runs but certainly homers," said manager Bob Melvin. "Just sometimes you tire, and it happens quickly."
Chavez was ahead in the count when allowing two of the three homers, and he's often kicked himself for things like this in the past, particularly after giving up two-strike hits, as he did to Chris Carter.
The former A's player crushed a 1-2 pitch from Chavez 420 feet over the left-center-field wall for a three-run homer in the third, quickly erasing Oakland's two-run lead.
"It was a pitch out of the zone," said Carter, "and I was able to get on top of it and square it up."
"I wanted to go up and away and it just flattened out a little bit to where he got on top of it and hit it to center field," said Chavez. "With that approach, I was like 'OK, hit it to biggest part of the field and let Cespy [center fielder Yoenis Cespedes] run it down like he did the last at-bat.
"It's something that's been my Achilles' heel, giving back the runs that we have and not being able to get through six. Something's gotta change, and I think it's gonna happen next time."
Chavez faced the minimum over the next two innings but found trouble again in the sixth, issuing a one-out walk to Carter in advance of Jason Castro's ensuing two-run homer. Only a visit from pitching coach Curt Young separated Marc Krauss' home run, which marked the end of the line for Chavez.
The three homers are a career high for Chavez, who was responsible for a season-high six runs in 5 1/3 innings.
On the other side, the A's only got one homer, a solo shot off the bat of the streaking Vogt, who finished with two hits to boost his average to .363.
Josh Donaldson was the first to score, leading off the second with a double against lefty Brett Oberholtzer and coming home on a base hit from Derek Norris.
But the A's were quieted in their final four innings, and not even the appearance of newly promoted Billy Burns, who flied out his in his first Major League at-bat in the ninth, could save this one.
"Today was one of those head-scratchers," said Chavez.
Jane Lee is a reporter for MLB.com. Read her blog, Major Lee-ague, and follow her on Twitter @JaneMLB. This story was not subject to the approval of Major League Baseball or its clubs.