Cubs start set on right note, get Wada first win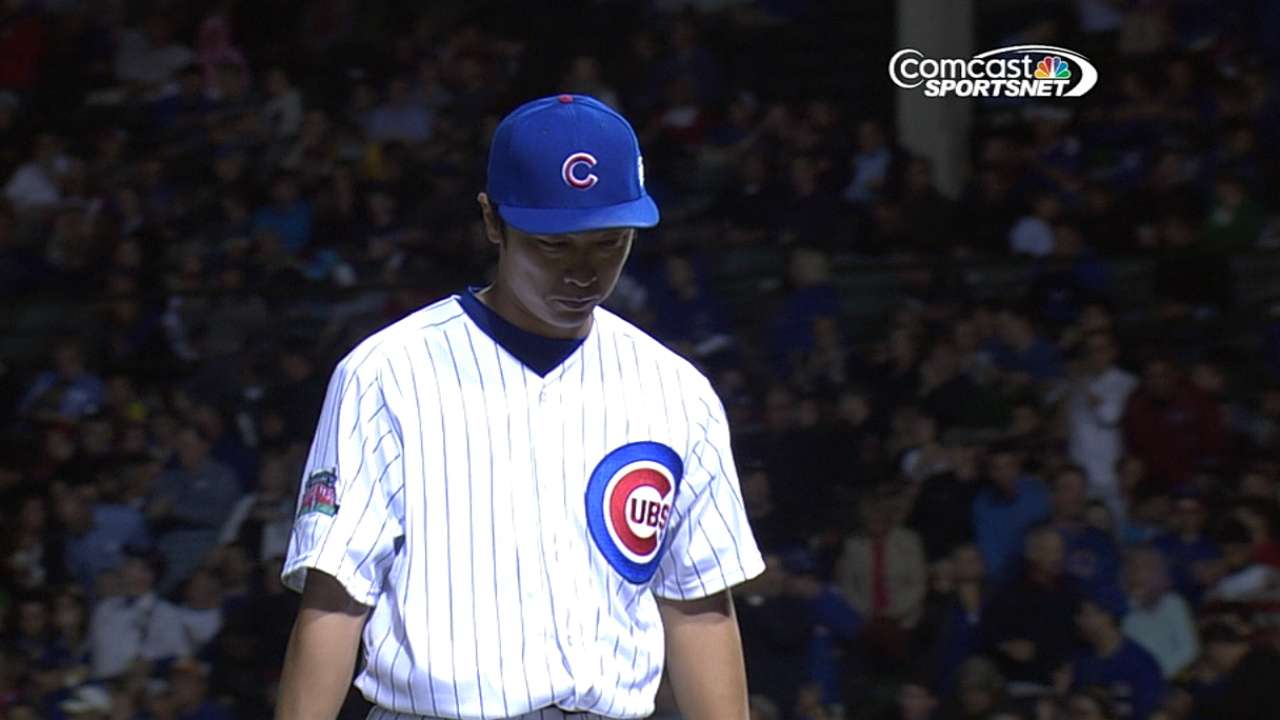 CHICAGO -- Give catcher Eli Whiteside an assist for Tsuyoshi Wada's first Major League win.
Whiteside, who worked with Wada at Triple-A Iowa, sent catcher John Baker a novel-length text message with some tips, and it paid off, as Wada held the Rockies to five hits over seven innings in the Cubs' 4-1 win on Monday night.
"I'm so happy for him," Baker said of Wada. "You could see the smile on his face when the game ended, and watching him high-five guys on the field, and knowing what he's been through with Baltimore and getting hurt, it's great when you're having a tough season like we're having to have little victories like that."
After pitching nine seasons in Japan, Wada spent two years in the Orioles' Minor League system but never made it to the big leagues, needing Tommy John surgery on his left elbow during Spring Training 2012. He signed a Minor League contract with the Cubs this year and opened the season at Iowa, where Whiteside was his catcher.
When Wada, 33, was called up to pitch in a July 8 doubleheader against the Reds, Baker asked Whiteside for help, and he received the lengthy text detailing how the lefty likes to pitch, where he makes his mistakes and how to keep him on track. Baker, Wada and video coordinator Nao Masamoto went over the notes.
"This was a time for [Wada] when he was very comfortable with the pitches that were called, which is great," Baker said of Monday's game. "When you have a pitcher who is pitching during the game, the worst thing that can happen is him thinking about how he wants to get the hitters out. I have to take my hat off to Eli for giving me the game plan. His advice was perfect."
It certainly seemed as though they were in a groove, as Wada struck out the first three batters.
"The first inning was a microcosm of the game," Baker said. "He goes out and strikes out the first three guys of the game -- I don't know when the last time that happened for us this year. And we're not talking about bad hitters over there -- we're talking about guys hitting .300 and .280."
"There's obviously some deception there," Rockies manager Walt Weiss said. "He had a good changeup, and we certainly didn't get to him."
Colorado began the day ranked first in the National League in batting average but is seventh in batting on the road. Wada, who was the Japan League's Most Valuable Player in 2010, struck out six in his third Major League start.
"He commanded the zone, he executed pitches, got some big outs when he needed to," manager Rick Renteria said. "He had them taking some swings on fastballs that they seemed to be really late on. He was slowing them down and speeding it up really well."
Wada received the traditional celebratory beer shower after the game.
"I appreciate that the Cubs used me again after that outing I had [against San Diego], which wasn't very good," Wada said of his previous start, on July 23, when he lasted four innings. "My command was definitely better than last time, and it's the second time I pitched in Chicago, so I was a little more relaxed. The last time I was more excited and anxious about that game."
The win was a good start for the Cubs, who began an extended stretch against left-handed starters on Monday. They will face southpaws in at least four straight games, and the lineup reflected that with an overload of right-handed hitters. However, it was the left-handed-hitting Anthony Rizzo who collected two RBIs, hitting a run-scoring groundout in the fourth and an RBI single in the eighth.
Chicago is now 11-10 against left-handed starters this season.
Baker admitted that he doesn't speak much Japanese. How did he communicate with Wada during the game?
"We just didn't talk at all," he deadpanned.
Whatever they did, it worked.
"I don't know very much Japanese," Baker said, "but I know enough to tell him, 'Good job.'"
Carrie Muskat is a reporter for MLB.com. She writes a blog, Muskat Ramblings, and you can follow her on Twitter @CarrieMuskat. This story was not subject to the approval of Major League Baseball or its clubs.